Survivor: Clergy Abuse Exposure Ensures Children's Safety
The Des Moines Man, Who Has Won a Settlement from the Los Angeles Catholic Archdiocese, Praises the Elimination of Secrecy

By Shirley Ragsdale
Des Moines Register
August 12, 2007

http://desmoinesregister.com/apps/pbcs.dll/article?AID=/20070812/LIFE05/708120334/-1/SPORTS12

A Des Moines man, who will share a $660 million settlement from the Los Angeles Roman Catholic Archdiocese, said Catholic children are safer today because abuse survivors have pushed the church to atone for protecting pedophile priests.

Like many child victims, William LaHay, now 50 and a free-lance writer living in Des Moines, told no one his secret.

As a 12-year-old altar boy in Azuza, Calif., LaHay was being sexually abused by his priest. He said he believed that he was the only person this was happening to and that nobody would believe that a priest would do such a thing.

Decades later, he learned that he wasn't the Rev. Albert Duggan's only victim. The priest died in 1979.

LaHay is one of more than 500 people who filed sex abuse claims against 221 priests and church officials in the Los Angeles Archdiocese. Church officials settled with all claimants last month.

In 2004, LaHay finally received part of Duggan's personnel file, when it was released by the archdiocese as part of the discovery process of a lawsuit.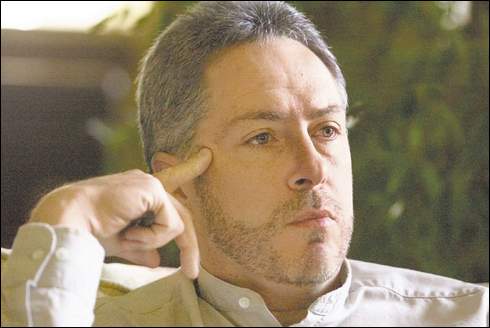 William LaHay of Des Moines will share a $660 million settlement with more than 500 victims of clergy sexual abuse from the Los Angeles Roman Catholic Archdiocese. It is the largest settlement since the nationwide clergy abuse scandal exploded in 2002.



LaHay said he had sinking feeling when he read a cryptic note that not only hinted he was not Duggan's only victim, but also that Duggan's superiors knew he was an abuser.

To read documents from his abuser's personnel file and to know that the archdiocese agreed to pay millions to the victims feels like vindication to LaHay.

The July 15 agreement is the largest settlement since the nationwide church scandal exploded in 2002.

"To me, it is the equivalent to a guilty plea in a criminal case on the part of the archdiocese," LaHay said.

"Nobody pays that much money when there wasn't wrongdoing. You can't dismiss this as a token payoff to get rid of a nuisance lawsuit and proclaim righteousness through all of this."

Under the settlement, LaHay will be receiving more documents from Duggan's personnel file - letters and reports that the archdiocese fought to keep secret and that LaHay believes are even more incriminating.

A mediation judge will determine the cash each abuse victim will receive, ranging from $100,000 to several million dollars.

The amount will be determined by the age of the victim at the time of the abuse, the severity and how long it continued, and the church's knowledge and response. The process is expected to be concluded by the end of the year.

"The significant numbers coming out of this are 508 and 221, not the $660 million," said David Clohessy, national director of the Survivors Network of those Abused by Priests.

He said that "508 is the number of victims who, through their courage and persistence, were able to achieve some level of justice, healing and closure."

And he added that " 221 is important because that's the number of sexual predators who were publicly exposed in the process."

The claims covered in the settlement flooded in when the California Legislature in 2003 changed its statute of limitations on civil lawsuits, opening a one-year window for victims of child sexual abuse to file claims, no matter how long ago the abuse occurred.

The law covered all childhood sexual abuse victims, whether the abuser was a cleric, family member or other trusted adult. The California Catholic archdioceses unsuccessfully argued that the law was unconstitutional on due process and First Amendment grounds.

Craig Levien, a Davenport attorney who assisted abuse victims' Los Angeles-based lawyers with depositions, said the eventual settlement of the victims' claims was "a wonderful day of justice and vindication."

In 2001, in a conversation with a friend who told him he had been abused by another priest, LaHay learned that the Los Angeles archdiocese had records of the abuse.

"I wanted to find out if other people were abused by the same priest who molested me," he said.

Survivors Network officials said that the common desire to determine what and when the archbishop knew about the abuse raised and bolstered the survivors' resolve.

"The victims in the Los Angeles archdiocese might well have settled more cheaply and quickly if church officials had agreed to have the information released," said Clohessy, the Survivors Network director.

Los Angeles County law enforcement in 2001 had an officer assigned to Catholic clergy sex abuse cases, even before the scandal broke in Boston.

Officers encouraged LaHay to file a report with the sheriff's department and Azusa police.

"It was just a formality. One officer said the criminal and civil statutes of limitation had run out," LaHay said.

"But when the Boston story broke, a lot of people came forward in California. And it became clear what happened to me wasn't an isolated incident - there was a larger pattern."

Said Clohessy: "Church officials and attorneys exploited every legal technicality."

It was that legal strategy that most disappointed LaHay.

"My real split with the church came from how it dealt with victims and the abusers," LaHay said.

"It was painful, finding out how many people this happened to and how it affected their adult lives.

"When they describe some of their life patterns, jobs, marriages and relationships, those stories are very familiar to me."

Even more important, LaHay said, if his abuser were still alive, he would be exposed as a child molester and no longer have access to children.

"The reality is, a lot of kids are safer now because the Catholic sex abuse scandal got as much public attention as it did," he said.

Religion Editor Shirley Ragsdale can be reached at (515) 284-8208 or sragsdale@dmreg.com