Allegation of Abuse Slow to Reach Police
Arrest Warrant Details Sexual Assault Case against Priest

By David Owens
The Hartford Courant
August 23, 2007

http://www.courant.com/news/local/hc-ctgrant0823.artaug23,0,4987749.story

Naugatuck (CT) — Sometime in February or March, a 16-year-old youth told his father he had been sexually involved for several months with a Naugatuck priest, but it wasn't until June 27 that police were notified, according to an arrest warrant for the Rev. Robert J. Grant unsealed Wednesday in Superior Court in Waterbury.

A Naugatuck police detective was assigned to the case July 2, and that day went to the boy's home to begin an investigation. The detective, however, was rebuffed by the boy's father, who'd been told by his attorney "not to speak with police at this time."

The father provided police with some information, but again deferred to his attorney, Leonard McDermott, of Naugatuck. Police tried several times to reach McDermott and were eventually able to schedule an interview with the boy on July 25. The boy's father and McDermott were present.

The boy provided a statement detailing abuse that allegedly began when he was 15. Grant, in a subsequent interview with police, denied the boy's allegations, and then, after consulting a lawyer, declined to answer any more questions.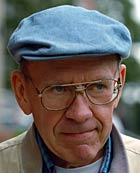 The Rev. Robert J. Grant



Days later, on Aug. 1, police obtained an arrest warrant charging Grant, 63, with second-degree sexual assault and risk of injury to a minor. He was arrested Aug. 2 and posted $200,000 bail. Grant remains the pastor of St. Mary's Church and St. Hedwig Church, both of which are in the Union City section of Naugatuck. He has, however, been stripped of his pastoral duties, a spokesman for the Hartford Archdiocese said.

"He's not allowed to function in ministry as a priest, he's not allowed to wear a Roman collar, he's not living at the rectory," said the Rev. John Gatzak. "He has remained, officially, the pastor of both parishes. But he has no ability to function as the pastor. He is [pastor] in name only at this particular point in time, pending the results of the court case."

During a brief appearance in Waterbury Superior Court Wednesday, Grant's case was transferred to Part A, where more serious allegations are handled. Judge Joan Alexander also ordered the unsealing of Grant's arrest warrant.

Outside court, Grant, who was accompanied by three supporters, declined to comment.

The arrest warrant affidavit describes a progression of events during 2006, from the boy meeting Grant, to the priest offering him wine, and then soliciting massages and eventually oral sex in exchange for cash.

The boy told police, according to the warrant, that he met Grant during the spring of 2006 while helping at the church.

In June 2006, the boy told police, Grant asked him about school and some hobbies, then asked him whether he wanted to try some wine.

"The victim stated he asked Father Grant if the wine would be good for him, and Father Grant replied 'yes,'" the warrant reads. The boy drank the wine and said he felt dizzy. Grant then gave him $20 "for helping ... around the church."

About three weeks later, in mid-July, the boy told police, Grant asked him to massage his back. Those massages continued for several weeks, the boy told police.

The boy "stated each time he gave Father Grant a back massage, he was given wine and $50 by Father Grant," the warrant reads.

In mid-August, the boy told police, Grant asked him to unbuckle his belt. He said Grant then gave him $100 and he complied with the priest's request. The boy said Grant then requested oral sex, which he said he performed. Afterward the priest gave him wine to drink, the boy said.

The boy told police that each time he performed oral sex on Grant, Grant would give him $100 or $150.

The boy said that after an incident in February or March he returned home, and his father smelled wine on his breath and asked him about it. The boy told police that his father became upset and grabbed him and discovered money in his pocket and asked him where he got it.

The boy said he told his father he'd gotten the money from Grant, then told his father what had gone on with Grant.

After telling his father about what had happened, the boy said he never returned to the church.

There was no explanation in the warrant about the delay in reporting the allegations to police, and McDermott could not be reached for comment. Grant's attorney, William St. John, also could not be reached.

Grant was ordained as a priest in 1993, and before his assignment to St. Hedwig and St. Mary's, he served at St. Mary's parish in East Hartford and St. Gabriel's in Windsor.

He also served for a short time as chaplain at St. Mary's Hospital in Waterbury.

Contact David Owens at dowens@courant.com