Anger Rises to the Papal Court

By Julia Duin
Washington Times
August 24, 2007

http://www.washingtontimes.com/article/20070824/METRO/108240087/-1/RSS_METRO1

The Rev. Joseph J. Clark, an Irish-Catholic bartender turned priest, never planned to be in the middle of a fracas involving him, the Vatican and the Diocese of Arlington.

But since he was suspended from the priesthood by Arlington Bishop Paul S. Loverde two years ago this month for arguing with a deacon, he has waged a quiet battle to win back his right under church law to preach and teach in the 400,000-member diocese.

His is the second case in five years in the Arlington Diocese to make its way into the papal court system. The first case, involving the Rev. James R. Haley — who was silenced in 2001 after he accused Bishop Loverde of sheltering homosexual priests — remains unresolved at the Vatican's Congregation for the Clergy.

Father Clark's case is now before the Signatura, the highest Vatican court.

Two cases at one time from one medium-sized diocese "is pretty rare unless there's a new trend starting," said the Rev. Thomas Reese, former editor of the Jesuit magazine America. "Maybe bishops have gotten these ideas on how to deal with troublesome priests" from the new zero-tolerance rules on sex abuse.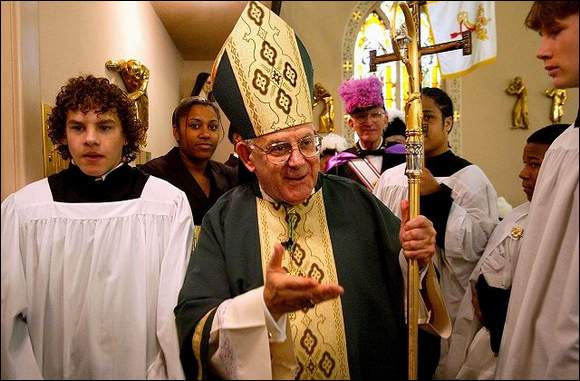 Bishop Paul S. Loverde



Like all clergy in the Arlington Diocese, Father Clark, 49, cannot talk to reporters without permission from the diocese. He did not respond to requests for an interview.

The story of his suspension — according to diocesan documents and interviews with several laity and priests — began with an 11 a.m. Mass on July 24, 2005, at Holy Family Church in Dale City, Va. Sometime after Mass ended, the priest got into an argument with a deacon, Gerald Moore, saying he improperly handled the consecrated Holy Communion wine, which the church teaches is the blood of Christ.

An Aug. 1 letter sent to the diocese by Julie Wheaton, Mr. Moore's daughter, said her father went into cardiac arrest a day after being "assaulted" by the priest in front of "dozens" of people.

"I have encouraged my father to press criminal charges as well as file a civil lawsuit," wrote Mrs. Wheaton, after identifying herself as a Denver police detective. "I ask you ... to immediately remove Clark from Holy Family and do not place him in any other parish where some other poor person would be subject to his uncontrollable anger."

On Aug. 6, Father Clark was summoned to the bishop's home in Arlington — "just for a chat," said Fairfax resident Dan Graham, a friend of the priest. "He figured the bishop just wanted to hear his side of the story."

But Father Clark was confronted by the bishop and two other priests, presented with a decree condemning him for "verbal assault and physical intimidation," told to vacate his residence within a few hours and spend a "month of penance" at a local monastery.

"He lost his temper in dealing with a deacon," another diocesan priest told The Washington Times on the condition of anonymity. "There is some dispute about exactly what happened there, but he does have a problem with his temper. However, the bishop should have sent him to anger management. The bishop does have the tendency to handle things with an iron club."

Contacted by The Times in September 2005, diocesan spokesman Soren Johnson said the incident with the deacon was "investigated thoroughly," and the bishop was working with the priest to resolve the issue "with the hopes of returning him to ministry as soon as possible."

But Father Clark never went to the monastery, Mr. Graham said. Instead, he sought an evaluation from an anger-management specialist in Philadelphia "and got a clean bill of health," Mr. Graham added. The priest then flew to Rome to seek out a canon lawyer to help him appeal to the Congregation for the Clergy.

Meanwhile, "all the priests were really disgusted by the Joe Clark incident," said a layman active in the diocese on the condition of anonymity. "One of the senior priests got up at a priests meeting and read Loverde the riot act."

The Arlington priest agreed local clergy were put off.

"The bishop doesn't realize what he does is alienate clergy," he said. "The morale is low in the diocese."

The Arlington priest said Bishop Loverde was summoned to the Vatican to discuss his handling of the case, in which he limited Father Clark's role without defrocking him. In June 2006, the Congregation for the Clergy issued a split decision: that Bishop Loverde didn't follow the proper procedures and Father Clark should not have dressed down the deacon, according to several sources.

"They said Loverde was right to remove [Father Clark] from the parish and preaching, but that he could celebrate Mass in the diocese and hear confessions," the Arlington priest said. "Basically, Loverde had gone beyond his authority because Clark had not done anything wrong to be suspended."

The Vatican will side with a bishop in most such cases, said Monsignor Thomas Green, a canon law professor at Catholic University, but not if the bishop failed to follow due process

"If the bishop suspended the guy and didn't talk to him before that; if he didn't give the priest a chance to seek counsel, then the Holy See could say you didn't proceed correctly," he said