Parishioners Withholding Judgment on Priest

By Paul Singley
Waterbury Republican-American
August 24, 2007

http://www.rep-am.com/articles/2007/08/24/news/279679.txt

Naugatuck — Parishioners at St. Mary's Church are supporting their suspended priest, who has been charged with sexual assault of a minor, pending the outcome of his court proceedings.

That's according to 20-year church member Rocky Vitale, a lector at St. Mary's who was once chairman of the parish council.

Vitale said all church members are withholding judgment about the Rev. Robert J. Grant, 63, who is charged with giving a 15-year-old boy money and wine in exchange for oral sex and back massages.

"Without exception, I haven't heard anyone (in the parish) who is outraged by this," said Vitale, who is also a longtime member of the borough's Board of Education. "Anyone can accuse anyone of anything. Barring proof otherwise, (Grant) has my full support."

Vitale believes the same goes for the rest of the parish, which serves about 500 households.

Since Grant was arrested Aug. 2, the parish council has had meetings about church functions, such as the parish's 100-year anniversary celebrations this year, he said. But there were few discussions about Grant at those meetings.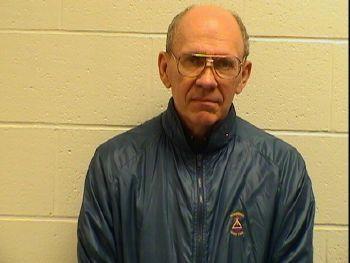 The Rev. Robert J. Grant



Vitale said he hasn't heard of anyone defecting from the church in light of the allegations and, in fact, the issue has pulled people closer together. He said Grant, a priest for 14 years who was appointed administrator at St. Mary's in 2005, has been an "excellent administrator" who has brought the congregation together.

"From what I've heard from people, everyone is considering the allegations just that: allegations," Vitale said.

Grant, who has been placed on leave by the Archdiocese of Hartford, is not allowed to work as a priest or live in the rectory while he is on leave.

Grant, who has also been the priest at St. Hedwig's Church here since June 11 and is suspended from that parish as well, was charged with second-degree sexual assault and risk of injury/impairing the morals of children. He is free after posting a $200,000 bond, and has not entered a plea. His case has been continued to Sept. 12 at Waterbury Superior Court.

Monsignor Gerard Schmitz, the vicar of priests for the archdiocese, is conducting Masses at the churches. Archdiocese officials said it will take a while before a permanent replacement is found.

An arrest warrant affidavit released Wednesday at Waterbury Superior Court says the boy, who is now 16, met with Grant at least once a week, sometimes twice a week, for sexual encounters from August 2006 to February or March of this year. The boy said every time he met with Grant, the priest would give him $100 or $150 to perform oral sex.

The boy also said Grant gave him wine and sometimes $50 for back massages during their encounters.

The affidavit said the boy's father noticed his son had been drinking in February or March of this year, and found money in his pockets. The boy told his father Grant had given him the money and wine, and the boy then told his father about the alleged sexual incidents.

The boy's father said he confronted Grant the following day, but the affidavit doesn't say how Grant responded. Grant has denied all allegations and said he doesn't remember the encounter with the boy's father.

The boy's father also said in the affidavit he waited until June 27 to contact police because his attorney, Leonard McDermott of Naugatuck, told him months earlier "not to speak with police at this time."

On Thursday, McDermott said that allegation is "not exactly true." He said he couldn't comment further about what he told his client, stating it was "attorney/client privilege."

"The family really struggled with this, and then we eventually knew it was time to make sure we reported it," McDermott said. "When something like this happens, it's so traumatic, and the family has to make a decision about what to do. And, later, we just decided it was time."

He would not comment further.