Sacramento Church Sues Alleged Sex Abuse Victim

By Sam Shane
CBS 13
August 28, 2007

http://cbs13.com/local/local_story_240193122.html

(CBS13) Sacramento In a move critics call bizarre and unprecedented, the Catholic Church in Sacramento is turning the tables. The church is suing a man who says he was sexually abused by a priest when he was a child.

The Sacramento Roman Catholic Diocese, headed by Bishop William Wiegand is suing Hector Rubio. Rubio says when he was a child he was sexually abused by father Gerardo Beltran who was once a priest in the Sacramento diocese. Advocates for those abused by priests are outraged.

"It's wrong for the bishop to play legal hardball. It's especially wrong for a bishop to sue a child sex abuse victim," says Nancy Sloan with S.N.A.P.

Rubio, who now lives in Texas, says Beltran sexually abused him more than twenty years ago, when both of them lived in California. In recent months, Rubio has filed and then withdrawn civil lawsuits against the Sacramento diocese.

Bishop Wiegand and the diocese say Rubio has no right to sue them and that he has missed his opportunity. On Monday a diocese attorney, Andrea Miller told CBS13, "we believe this is barred by the statute of limitations."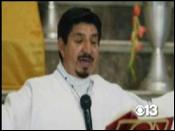 Gerardo Beltran



Leaders of a group called S.N.A.P., which stands for 'survivor's network of those abused by priests', say bishop Wiegand is trying to intimidate victims of priests.

"The bishops money could be used for something better than suing a child victim and it could be spent better trying to get the perpetrator back to Sacramento to face justice," says Joey Piscitelli with S.N.A.P.

The perpetrator in the case is Gerardo Beltran, a priest who fled Sacramento in the early 1990's after a warrant was issued for his arrest for molesting children. Less than a year ago CBS13 went to Iqualita, Mexico, a small village where Beltran has been hiding from U.S. authorities and saying mass for years. For nearly 15 years Sacramento County prosecutors and federal authorities have not been able to bring Beltran back to Sacramento to face justice.

CBS13 requested interviews with Bishop William Wiegand and the diocese lead attorney in the case James Sweeney. We never heard back from either of them. In fact, CBS13 first requested an interview with bishop Wiegand way back in January after returning from Igualita, where Gerardo Beltran is reportedly hiding. He said "no" then, and Bishop Wiegand continues to refuse to talk to CBS13 about Beltran.