Group Attacks Diocese's Lawsuit in Abuse Case
Catholic Church Says the Case Brought by a Texan Belongs in Federal Court

By Jennifer Garza
Sacramento Bee
August 29, 2007

http://www.sacbee.com/101/story/349688.html

A victims rights group criticized the Catholic Diocese of Sacramento Tuesday for suing an alleged clergy abuse victim, but church officials say they are just trying to clarify the law.

In a press conference in Sacramento, leaders of Survivors Network of those Abused by Priests (SNAP) accused the diocese of legal maneuvering. The diocese is challenging the legal standing of a Texas man trying to sue for alleged sexual abuse more than two decades ago.

"Instead of using hardball tactics, they should find the truth," said Nancy Sloan, of Sacramento SNAP.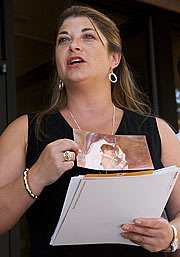 Victims rights advocate Nancy Sloan of Sacramento SNAP says the diocese is trying to intimidate alleged abuse victim Hector Rubio.
Photo by Randall Benton


Sloan and others called the lawsuit "unprecedented" and an "attempt to intimidate other victims."

The diocese has contended in a suit filed in July in U.S. District Court that because the man lives in Texas, the case should be handled on the federal level.

"This has nothing to do with intimidating a victim and everything to do with getting everybody into the same court," said Kevin Eckery, spokesman for the diocese.

Hector Rubio, 33, of Texas sued the diocese in March in Sacramento Superior Court, claiming he was abused by Gerardo Beltran between 1983 and 1986 while the priest served at St. Dominic Parish in Orland.

Beltran disappeared in 1991 after a warrant for his arrest was issued following allegations of molesting two young girls. He is believed to be serving as a priest in Mexico.

"It's a state court issue, not a federal issue," said Joseph George, Rubio's attorney. George said the diocese wants it out of the state courts "because our state Legislature has continuously extended statute of limitations for sexual abuse victims."

Eckery said church officials are following the law. "This man is a resident of another state. It belongs in the federal court," he said.

He added that church officials are not seeking monetary damages and that the suit is not meant to intimidate victims of clergy abuse. "We want to help them," said Eckery.

Sacramento church leaders have said they have contacted Mexican church officials over the years and reported their concerns about Beltran.

Sloan said the money spent on the lawsuit could be used on behalf of victims.

"It could help find the fugitive and bring him back to justice."

The Bee's Jennifer Garza can be reached at (916) 321-1133 or jgarza@sacbee.com.