Long Dead, a Revered Small-Town Priest Is Disgraced

By Michael Rubino
New York Times
August 30, 2007

http://www.nytimes.com/2007/08/30/us/30jasper.html?_r=2&ref=us&oref=slogin&oref=slogin

Jasper, Ind., Aug. 29 — Msgr. Othmar Schroeder was revered in this town of 12,000 for starting a parish and a school. The Knights of Columbus Council in Jasper was named for him. He served his entire 50-year career locally.

Now the bishop is calling on churches here to remove photos of the late priest and rescind honors that were given him, because he is suspected of having molested scores of young boys.

The bishop, Gerald A. Gettelfinger, has also prevailed upon the Knights of Columbus Council to change its name, and is considering what to do about a 12-foot stone crucifix dedicated in Monsignor Schroeder's memory at the cemetery of Sacred Heart Church in nearby Schnellville, where he is buried.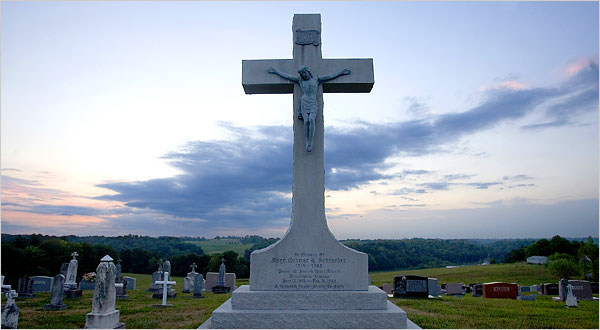 A crucifix in Schnellville, Ind., dedicated in memory of Msgr. Othmar Schroeder, who is now believed to have been a pedophile.
Photo by David Pierini


The developments in Jasper, some 40 miles northeast of Evansville, come 19 years after Monsignor Schroeder's death, and 11 after Bishop Gettelfinger first learned of accusations against him.

Monsignor Schroeder, the founding pastor of Holy Family Church, was never disciplined by the Diocese of Evansville or charged with a crime, and the diocese is under no threat of a lawsuit. Still, Bishop Gettelfinger said in an interview, he is sure the abuse occurred. And while he would not say how many victims had approached church authorities — none of the victims have spoken publicly — he did say that "in terms of potential numbers," this was the largest sexual abuse scandal in the history of the 70-parish diocese, which has seen others.

The bishop said he was acting now because it was only early this month that he began learning the scope of the abuse. Since then, he has spoken on consecutive weekends at parishes where Monsignor Schroeder served. Bishop Gettelfinger said those appearances had generated even more accusations against the monsignor.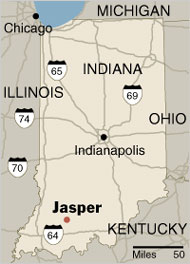 The New York Times



"This isn't ancient history" for the victims, the bishop said, speaking after Mass on a Saturday at one of Monsignor Schroeder's former parishes. "The pain they are experiencing is still very real."

Of all things, it was a parade float that appears to have set the current events in motion. On Aug. 5, the Knights of Columbus Council entered the float in a parade celebrating the community's German heritage. A banner with the priest's name adorned the entry, upsetting some paradegoers.

Bishop Gettelfinger said this and other symbols "were constant reminders."

"Any time a victim saw those," he said, "it reopened the wounds of a child."

Addressing the bishop's efforts to take action now, David Clohessy, executive director of the Survivors Network of Those Abused by Priests, agreed that the only thing worse than hiding the identity of a sexual predator was celebrating one.

"When wrongdoers are publicly praised," Mr. Clohessy said, "it fuels the hopelessness and helplessness that traps victims in silence."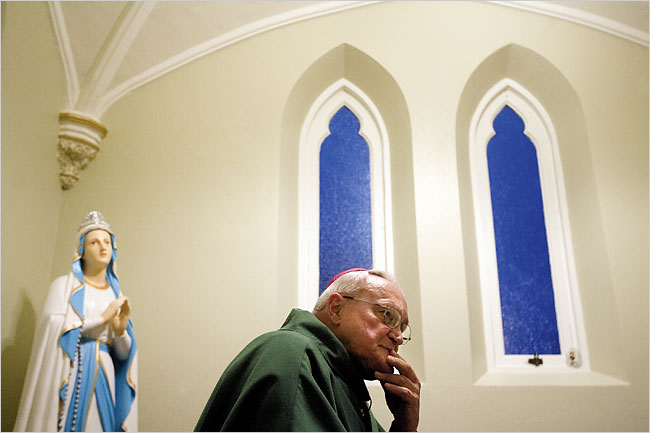 Bishop Gerald A. Gettelfinger of the Evansville Diocese has asked that honors given Monsignor Schroeder be rescinded.
Photo by David Pierini


But he was skeptical that Bishop Gettelfinger had acted at his own initiative.

"You almost never see a bishop truly voluntarily disclose knowledge of a predatory priest," he said, "much less rescind an honor, unless someone else has exerted a tremendous amount of pressure."

The community in which Monsignor Schroeder served is a regular on lists of the best small towns in America. German Catholics settled the area in the 1830s, and Jasper retains the flavor of its ethnic heritage: the maypole a few steps west of the courthouse, street names in German and a phone book that could have been lifted from any Black Forest town.

Catholicism also remains a cornerstone. The town has three Catholic churches with a combined membership of 9,054, and eight more are within 15 miles.

Monsignor Schroeder was a 33-year-old priest when he was chosen to become founding pastor of the Holy Family parish. He served there from 1947 until 1975, helping to start a school and a Boy Scout troop. A parish history says working with the Scouts "became one of his special ministries."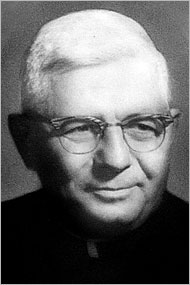 Othmar Schroeder



Parishioners who were children during his tenure at Holy Family say his appetites were an "open secret" among children, though not adults. Monsignor Schroeder, they say, often took boys on hunting and camping trips, and swimming at a lake.

Bishop Gettelfinger said he understood why children did not come forward at the time.

"The culture where I grew up, just up the road in a farm community, this kind of thing was not talked about," the 72-year-old bishop said. "And I also know that if someone had told a parent, they wouldn't believe him. When you take someone like Monsignor Schroeder, who was such a pillar of the community in so many other ways, who are you going to believe? A 10-year-old kid?"

On Monday, the local Knights of Columbus Council began the emotional process of choosing a new name. Bernard Fallon, grand knight of the council, said the process was hard, because the membership includes Monsignor Schroeder's brother, nephews and cousins.

Then, too, "a lot of the guys were married by him or served for him," Mr. Fallon said. "But at the same time, we're also aware of the victims, the families and their pain. We've all got quite a bit of healing to do ahead of us."