Convicted Priest Avoids Return to Jail

By Susan Hogan/Albach
Chicago Sun-Times
September 7, 2007

http://www.suntimes.com/lifestyles/religion/546302,CST-NWS-Priest07.article

A Jesuit priest from Chicago criminally convicted of molesting two students remains free after a Wisconsin judge on Thursday denied a petition to revoke his bond.

The Rev. Donald McGuire, 77, was convicted in Wisconsin last year of molesting two students in the 1960s. He was sentenced to seven years in prison and 20 years' probation, and has been jailed twice for violating probation.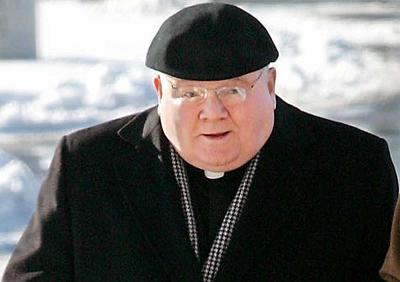 Rev. Donald J. McGuire, left, arrives at the Walworth County Judicial Center in February 2006. McGuire, a retired Chicago priest, was found guilty of sexually assualting two boys in the late 1960's.
Photo by AP/Janesville Gazette


A Walworth County district attorney moved to revoke the priest's bond after learning of a new abuse allegation involving a minor. The complainant, now 21, recently filed suit in Cook County against the priest and his religious order, formally known as the Chicago Province of the Society of Jesus.

The suit says McGuire molested the complainant over a three-year period, beginning in 1999. The abuse is alleged to have taken place in several countries and 12 states, including Wisconsin and Illinois. According to the Janesville (Wis.) Gazette, the suit says McGuire started abusing the plaintiff, then 13, when the boy stayed with McGuire at Canisus House, a Jesuit residence in Evanston.

McGuire is reportedly living in a private home in Oak Lawn. He was removed from ministry in 2003.