Facing Their Convent's Closure
L.A. Archdiocese Plans to Sell the Santa Barbara Site to Help Pay Its Priest Abuse Settlement. the Nuns Will Likely Have to Leave the City Where They've Served the Poor

By Rebecca Trounson
Los Angeles Times
September 7, 2007

http://www.latimes.com/news/local/la-me-nuns7sep07,0,1506149.story?coll=la-home-center

Santa Barbara — For 43 years, Sister Angela Escalera has lived and often worked out of her order's small convent on this city's east side, helping the area's many poor and undocumented residents with translation, counseling and other needs.

Now retired and partly disabled at 69, the nun thought she would live out her days here, in the community where she is still an active volunteer and in the dwelling that was built for the order in 1952.

But she and the other two nuns at the Sisters of Bethany house recently received word that their convent, which is owned by the Roman Catholic Archdiocese of Los Angeles, will be sold to help pay the bill for the church's recent, multimillion-dollar priest sex abuse settlement.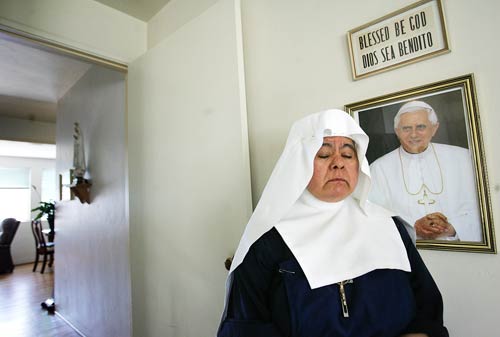 Sister Margarita Antonia Gonzalez reacts to a discussion of a plan by the Archdiocese of Los Angeles to close the Sisters of Bethany's convent in Santa Barbara and sell it to help pay for its $660-million settlement of priest sexual abuse cases. Gonzalez lives and works at the convent with two other nuns.
Photo by Spencer Weiner


The nuns have four months to move out, according to a letter from the archdiocese. The notice, which was dated June 28 but not received until the end of August, asked the women to vacate the property no later than Dec. 31 — and noted that an earlier departure "would be acceptable as well." Signed by Msgr. Royale M. Vadakin, the archdiocese's vicar general, the letter offers the nuns no recourse but thanks them for their understanding and cooperation during a difficult time.

"We're just so hurt by this," Escalera, the order's local superior, said this week. "And what hurts the most is what the money will be used for, to help pay for the pedophile priests. We have to sacrifice our home for that?"

Tod M. Tamberg, spokesman for the archdiocese, said Thursday that the decision to sell the Santa Barbara property was difficult but necessary.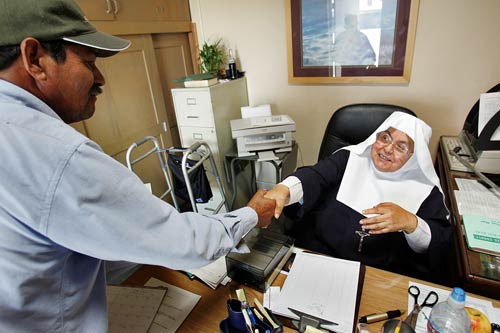 Alfredo Rodriguez thanks Sister Angela Escalera for helping with the paperwork to allow his wife in Mexico to join him in the U.S. Escalera and the two other nuns at the Sisters of Bethany convent help poor, mostly immigrant residents is east Santa Barbara.
Photo by Spencer Weiner


In July, the archdiocese announced a record, $660-million settlement with the victims of hundreds of clergy abuse cases. At least $250 million and up to $373 million of the total will be paid directly by the archdiocese, with the rest coming from insurers and various religious orders.

The archdiocese has said it will sell up to 50 non-parish properties, including its administrative headquarters on Wilshire Boulevard in Los Angeles, to cover the bill. Apart from those central offices, the Santa Barbara convent is the first property to be publicly identified as among those to be sold.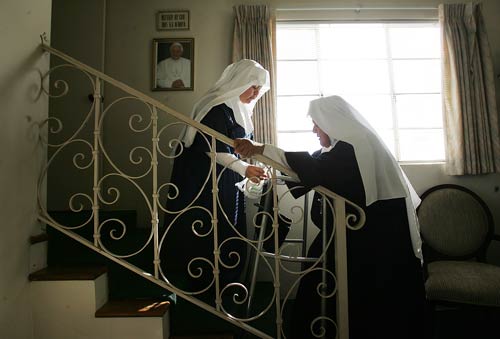 Gonzalez, left, helps Escalera, 69, up a flight of stairs at the convent, which was built by Sisters of Bethany in 1952. The archdiocese gave the nuns four months to move out before the building is sold.
Photo by Spencer Weiner


"The pain is being spread around," Tamberg said. "We're losing our headquarters here, and none of the employees got a pay raise this year. This is just part of making it right with the victims, and we all have to share in the process even though none of us — the nuns, myself — harmed anybody. All of us as a church have to pay for the sins of a few people."

But in Santa Barbara, where the beige stucco convent and its veiled nuns in navy blue habits have long been fixtures of the east-side landscape, the news was trickling through the community this week, sparking concern and some anger.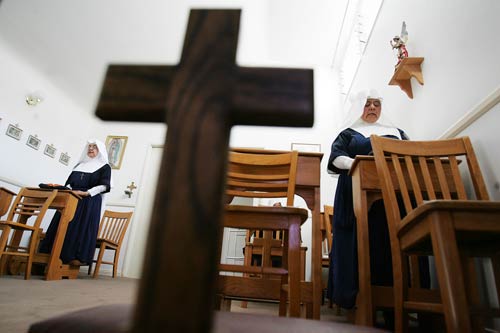 Sister Consuelo Cardenas, left, and Gonzalez attend evening Mass in the chapel at the Sisters of Bethany convent. The Archdiocese of Los Angeles has said it will sell up to 50 non-parish properties to help pay the priest sexual abuse settlement.
Photo by Spencer Weiner


On Wednesday morning, as Escalera spoke with several visitors, a woman knocked at the door. Carmen F. Torres, who lives nearby and attends the Catholic church adjacent to the convent, said she had just heard the news.

"I didn't want you to feel abandoned," Torres told the nun in Spanish, adding that she was hoping to raise money for the sisters by renting a small home she owns in Texas.

"We need to see what we can do to help you."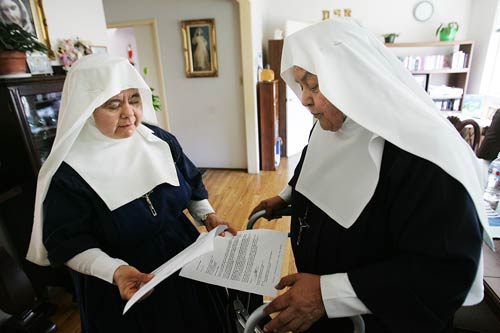 Gonzalez, left, and Escalera read the letter from the archdiocese telling them they were being evicted. "We're just so hurt by this," said Escalera, who has lived in the convent since 1964.
Photo by Spencer Weiner


Torres called the decision to sell the convent unjust, given the nuns' long history of care and service to their low-income community. Other supporters spoke even more strongly.

"It's outrageous," said Sally Sanchez, a community activist who added that she had known Escalera since 1964, when each had just arrived in Santa Barbara from the Los Angeles area. "Why should [the nuns] pay for the sins of the morons who did this? Why can't they sell something else?"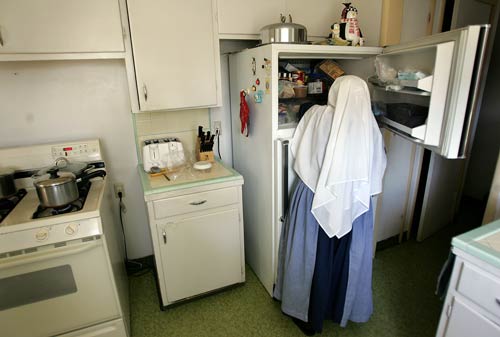 Gonzalez gets ready to prepare dinner for herself and the two other nuns at the Sisters of Bethany's convent.
Photo by Spencer Weiner


Tamberg said the nuns had lived rent-free in the archdiocesan-owned building, which he said was a fairly unusual arrangement, with most religious orders nowadays owning their own houses. He — and the nuns — said that if they had to leave Santa Barbara, they would probably move into their order's convent in Los Angeles, which is not owned by the archdiocese.

Although they do not pay rent, the three women have largely supported themselves, using the money they earn from outside jobs and disability income to pay for their utilities, for maintenance on their home and for their food and other needs. They and other sisters of their order were honored for their years of service to the community at a June luncheon that was attended by Santa Barbara Mayor Marty Blum.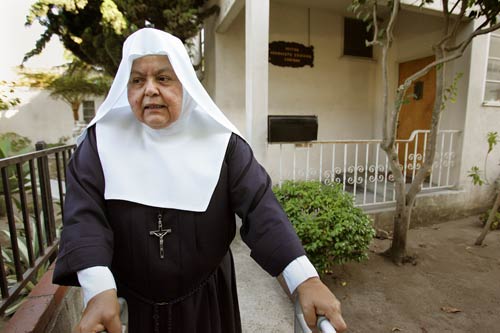 Escalera, 69, who is retired and partly disabled, had hoped to live out her days in the convent in east Santa Barbara — until the archdiocese decided to sell it.
Photo by Spencer Weiner


Escalera, whose energy belies her years, is a former notary public and social worker who retired from Catholic Charities in 2003 but still works as a volunteer each afternoon, mainly assisting residents with immigration and translation problems. A diabetic who has developed balance and other health problems in recent years, she uses a walker and receives a state disability stipend.

Sister Consuelo Cardenas, 55, is a native of Colombia who works full time as a religious education coordinator for a nearby parish, Our Lady of Sorrows, in Santa Barbara. She has lived at the convent about 25 years, a span broken briefly by a return to Colombia.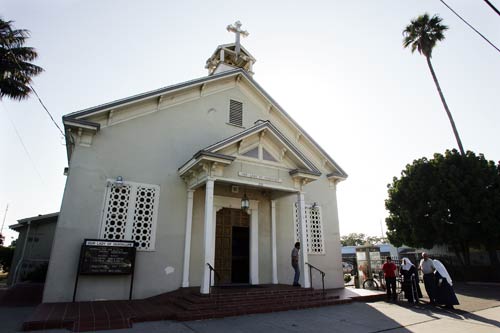 The Sisters of Bethany convent is next to Our Lady of Guadalupe Catholic Church in Santa Barbara.
Photo by Spencer Weiner


The third nun, Sister Margarita Antonia Gonzalez, 49, was born in El Salvador and has lived at the Santa Barbara facility about four years. She is the sisters' housekeeper and cook and assists with Mass at the adjacent church, Our Lady of Guadalupe.

The convent, which looks much like an ordinary house from the outside, has a warren of small rooms and sits on about a quarter of an acre. It includes a living room, dining area and chapel. Its bedrooms each have room enough for a single bed, a desk and a wash basin. The front garden, with an avocado tree and a stone fountain, was a surprise gift to the sisters from community members many years ago.

The Santa Barbara County assessor's office lists the property's value at $97,746, although it seems likely to sell for more, if a sale goes through. Even the small, older homes near the convent start at about $700,000, according to the Zillow real estate appraisal website.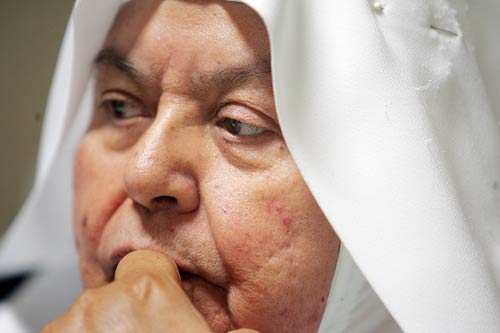 Escalera says the most hurtful part of the proposed sale of her convent is that the proceeds will be used to pay for the misdeeds of pedophile priests.
Photo by Spencer Weiner


As she sat this week in the convent's simple living room, where paintings of biblical scenes and framed photographs of the order's founders line the walls, Escalera said she was still wrestling with her feelings about the letter, shifting between pain, anger and resignation. She said she remained upset that the archdiocese had not contacted the nuns directly but had chosen instead to send a letter to the convent in Los Angeles, which then notified the Santa Barbara sisters.

"We're not even worth a phone call," she said. "That's one of the things that hurts so much."

She and the other sisters said that they were grateful for the support from many in the community, but that they knew they could not afford to pay for a rental in Santa Barbara on their own, making it likely that they would be forced to leave the area.

Escalera, looking weary after a stream of visitors, said, however, that she could not consider the future yet.

"I'm not ready right now," she said. "I'm still trying to think it through. I do trust in God and I will accept his will. . . . But if something happens to change this, that would be wonderful."

Contact: rebecca.trounson@latimes.com