Settled: $198 Million
Victims Tearful, Elated after Deal with Diocese

By Sandi Dolbee and Mark Sauer
Union-Tribune
September 8, 2007

http://www.signonsandiego.com/news/metro/20070908-9999-1n8settle.html

Childhood sexual abuse victims yesterday traded decades of suffering for a $198.1 million settlement from the Catholic Church, along with repeated apologies from the San Diego bishop and assurances that the offenders' histories will be made public.

It was an emotional, tumultuous day. There was strong reaction from parishioners and a striking debate by attorneys over whether the Roman Catholic Diocese of San Diego could have settled for tens of millions of dollars less had it not filed for bankruptcy six months ago.

San Diego Bishop Robert Brom was remorseful during an afternoon news conference. "I apologize to the victims of abuse by ministers of the church in the Diocese of San Diego. I apologize, as well, to their families and friends who have been affected by these crimes and this abuse of power."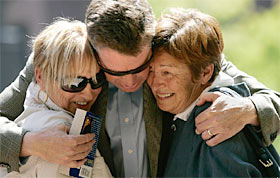 Attorney Rich Schoenberger hugged abuse victims Christine (left) and Genevieve, outside the federal building downtown after the settlement was announced. Several victims said at a news conference that no religion should be allowed to hide abuse and transfer offenders.
Photo by John Gastaldo


Church officials said the diocese's portion of the settlement – more than $107 million – will come from a combination of cash, stocks and bonds, the sale of real estate, and loans that have yet to be arranged. Insurance will cover an additional $76 million. The rest will come from the San Bernardino diocese.

Brom said no churches or schools will have to close. But the settlement, which mirrors the one in the Los Angeles archdiocese this summer, "will result in some damaging consequences for the mission of the church in this diocese for a number of years."

Still, the day belonged to the 144 men and women who will receive an average payout of $1.38 million for sexual abuse they suffered from priests and church workers when they were minors.

"This day will forever be remembered by people for what is most important, that you can't abuse a child and expect not to be held accountable," said Guy Lowry, 48, of Temecula.

At a noon news conference, he and other victims and their attorneys walked hand in hand out of the downtown federal building for a tearful tribute.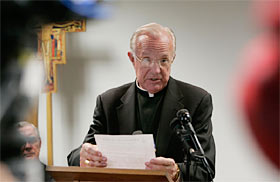 At the Diocesan Pastoral Center, San Diego Bishop Robert Brom apologized to victims.
Photo by John Gibbins


Lowry and other victims thanked the attorneys who believed in them and the judges who rallied around them. The attorneys praised their clients for having the courage to come forward.

Between sobs, several victims said no religion should be allowed to hide acts of abuse and transfer offenders from church to church.

"What happened to us should never happen to any child," said Nancy Mass, 60, of San Diego, who was among dozens of people who say they were abused by the late Rev. Franz Robier. "They knew this priest was molesting us, and they moved him around and let him molest other children."

Betty Aron Schneider, 62, another person who says she was abused by Robier, said she has grandchildren who are about the same age she was when she was molested. "I hope that all this will help to protect them more than we were protected," said Schneider, who lives in Temecula.

Michael Bang's face reddened with anger as he recounted how his lawsuit was scheduled to go to trial after four years of delays only to be put on hold after the diocese filed for bankruptcy.

"I'm angry as hell that it took that long to get here," said Bang, 46, who lives in Atlanta. He said he was sexually abused for several years by the late Monsignor William Kraft in San Diego and that the diocese didn't believe him.

Chapter 11 complications

Much of the hostility from victims and their lawyers was focused on the Chapter 11 bankruptcy filing Feb. 27, one day before the first trial was to start. San Diego was the fifth and largest diocese in the nation to seek bankruptcy protection.

Attorneys said the diocese could have settled for significantly less money during an intense week of negotiations in February just before the filing.

But then came the July settlement of more than 500 abuse cases by the Roman Catholic Archdiocese of Los Angeles. Attorneys said that deal established the "going rate" for future Southern California cases at about $1.3 million apiece. This was perhaps one-third more than plaintiffs were willing to settle for before the bankruptcy filing.

In addition, the transparency of the Chapter 11 process worked to the church's disadvantage, said Terry Giles, an attorney representing 13 victims.

"Besides the attorneys' and experts' fees, going the bankruptcy route cost them more in the final settlement because we became far more aware of the finances they had compared with what they had been saying," Giles said.

"That cost the diocese something in the range of $40 million to $50 million," he said.

Diocese attorney Micheal Webb disputed that.



DETAILS

The settlement: $198.1 million will be paid to 144 abuse victims with allegations dating from 1938 to 1993. The Catholic Church will release records of perpetrators.

The dioceses' payments: $107 million from the Diocese of San Diego. Catholic Mutual, the main insurance carrier, will pay $76 million. The San Bernardino diocese, which was once part of this diocese, will pay $15 million.

The victims' awards: Average payout will be $1.38 million per person for lawsuits, which were filed in 2003. Attorneys generally get 30 percent to 40 percent of the awards.


"I am not at liberty to discuss specific amounts that were offered, but a settlement figure of $50 million less is very incorrect," Webb said.

Asked if filing for bankruptcy was worth it, he replied, "Yes."

Richard Mirando, chief financial officer for the diocese, said the church – which must pay bankruptcy-related fees for both sides – had spent "in excess of $5 million" on the case through July.

"More fees are coming in, and while I don't believe that $5 million figure will double, it will go higher," Mirando said. Brom said the diocese will attempt to get its chief insurer, Catholic Mutual, to pay part of those costs.

San Diego Catholics' responses ranged from disgust with church hierarchy to outrage at lawyers filing the lawsuits. "The whole San Diego Catholic Church, all 1 million of us, will suffer for the sins of those priests," is how one parishioner put it.

'Can't be bought back'

Hundreds of lawsuits were filed throughout California under a special state law in 2003, including more than 120 against the San Diego diocese.

The exact awards that each victim will receive from the settlement will be determined by a state judge during a valuation process, said San Diego attorney Irwin Zalkin, one of the chief negotiators on behalf of the victims.

Under the agreement announced yesterday, Zalkin said two lump sums will be paid in January and next September. Most of the funds will come from the San Diego diocese and Catholic Mutual.

In addition, the Diocese of San Bernardino, which was part of San Diego's until 1978, will pay $15 million. Officials there said that about half of that amount will come from insurance and that weekly donations from parishioners will not be used.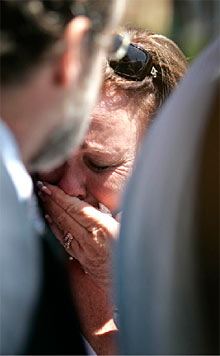 Diane Williams said she was abused at Nazareth House, a now-defunct Mission Valley orphanage in the 1970s.
Photo by John Gastaldo


Diocese settlements
By the numbers

Among the largest known payouts to victims since the sexual abuse crisis emerged in 2002:

$660 million: Los Angeles, for about 500 cases

$100 million: Orange County, for 90 cases

$84 million: Covington, Ky., to more than 350 people

$84 million: Boston, for 552 claims

$56 million: Oakland, to 56 people

$52 million: Portland, Ore., to 175 victims

$48 million: Spokane, Wash., for about 150 claims

$35 million: Sacramento, to 33 people

$25.7 million: Louisville, Ky., to 243 victims

$22 million: Tucson, for more than 50 victims


San Bernardino Bishop Gerald Barnes said in a statement that the settlement "cannot be, in any way, an end to the church's commitment to end the sexual abuse of children in the church and in society."

Victims did not want to dwell on the money. "We lost something that can't be bought back," said Jacob Olivas, 38, of Ontario.

He and others said they do not begrudge the fact that 30 percent to 40 percent of their checks will go to their attorneys, pointing out that the lawyers have worked for years on these cases without any compensation. "They realized what we were living with and the unfairness of it," said Olivas, who was abused by a priest in San Bernardino County in the 1970s.

Heidi Lynch, 50, of El Cajon said she plans to use her share of her award for therapy and to repay people who have helped her. She also hopes to start an outreach program for other victims.

She was less charitable about Brom's apology, in which he said he was "very, very sorry for the suffering we have caused them."

Lynch said, "It's too little, too late."

Attorneys for the victims credited bankruptcy Judge Louise DeCarl Adler for putting pressure on the diocese to settle – including her recent threat to dismiss the case altogether because of questions over diocese financial irregularities.

"I think it's apparent that this bankruptcy was a train wreck for the diocese," Zalkin said.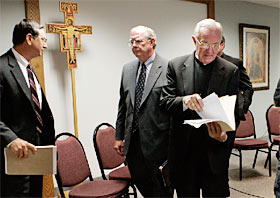 Bishop Robert Brom (right) left a news conference at the Diocesan Pastoral Center accompanied by diocese CFO Richard Mirando (left) and diocese attorney Micheal Webb.
Photo by Nadia Borowski Scott


Larry Drivon, another attorney, noted that the diocese wound up paying twice as much money as it offered in its initial postbankruptcy offer. "The filing of this bankruptcy has been a complete, unmitigated disaster for the bishop," Drivon said.

The agreement announced yesterday calls for the diocese to ask Adler to dismiss the bankruptcy case.

The settlement also calls for a Web site to be created in the next few months on which church documents will be posted about the abusers and their history. "There will be as much information as you can get short of a jury trial," Zalkin promised.

Bang, one of the victims, said he plans to release the documents he gathered for his derailed lawsuit. "I want to make sure that this information gets out, that the public understands that this was going on for decades," he said.

Yesterday's announcement came after two grueling days of closed-door deliberations with U.S. Magistrate Judge Leo Papas, who began holding mediation sessions in June at the behest of Adler.

On Thursday, attorneys and victims met with Papas from noon to past midnight. They returned at 8:30 a.m. yesterday and emerged just before noon. They said they could not discuss what went on during the mediation sessions.

Both sides praised Papas for his persistence and professionalism. Victims and their attorneys also praised Adler. She did a "masterful, masterful job," said San Diego attorney Andrea Leavitt. "This day, today, could not have occurred without her and Judge Papas."

Sandi Dolbee: (619) 293-2082; sandi.dolbee@uniontrib.com
Mark Sauer: (619) 293-2227; mark.sauer@uniontrib.com