Retired Priest Apologizes for Abusing Teen
Gets 60 Days in Jail, Six Years of Probation

By Beth Miller
News Journal
September 11, 2007

http://www.delawareonline.com/apps/pbcs.dll/article?AID=/20070911/NEWS/709110398/1006/NEWS

Syracuse, N.Y. mdash; In a barely audible voice, retired Delaware priest Rev. Francis G. DeLuca on Monday apologized for molesting a Syracuse teen over a period of about four years.

"I am sorry from the bottom of my heart," said DeLuca, 77, a short, slender man who wore khakis and a charcoal gray pullover shirt as he stood before Syracuse City Court Judge Kate Rosenthal.

Rosenthal sentenced him to 60 days in jail and six years of probation. Just before 2:30 p.m., a court official put handcuffs on DeLuca and led him out of the courtroom to the vehicle that would take him to the Onondaga County Correctional Facility in Jamesville, N.Y.

DeLuca's sentence is called "shock probation," Assistant District Attorney Kari Armstrong said, a sentence consisting of a maximum of 60 days incarceration to give the convicted person at least a taste of incarceration. By New York calculations, DeLuca will serve about 51 days in jail, Armstrong said.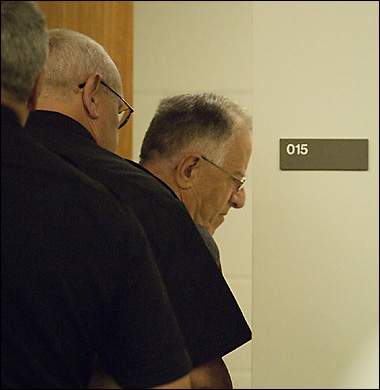 The Rev. Francis G. DeLuca is led from the courtroom in Syracuse, N.Y., after sentencing Monday.
Photo by Jacob N. Bailey


"The family is pleased that he is going to see the inside of a jail cell," said Wilmington attorney Thomas S. Neuberger, who has been retained by the Syracuse victim's family. "They thank the New York courts for giving them partial justice. They'll seek the remainder of their justice civilly mdash; from those who caused it to happen, the Diocese of Wilmington, the bishop, the monsignor."

Originally, Rosenthal had said she would not give DeLuca any jail time if he pleaded guilty to all five misdemeanor charges. She said she considered his age, his lack of a criminal history and his health issues in reaching that decision.

She changed her mind, she said, after reading the report from DeLuca's probation officer and what she called a "heart-wrenching" letter from the teen's mother.

Not 'an iota of insight'

"Your probation officer asked if you were surprised that the victim had disclosed this," Rosenthal told DeLuca, "and you said you were surprised. You felt you had done a lot for this young man. ... With regard to your Delaware victims, you thought of yourself as a parental figure. You were well-liked by those victims. It does not appear to me that you have gained an iota of insight into your actions or the impact of the abuse on this man."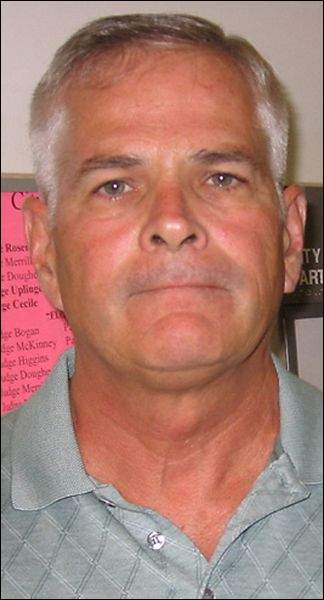 Mike Schulte, who grew up in Wilmington and says he was molested by the Rev. Francis G. DeLuca, was disappointed by the sentencing.
Photo by Jacob N. Bailey


In addition to imposing jail time, the judge dropped three of the lesser counts, keeping DeLuca's guilty pleas to one count of second-degree sexual abuse and one count of endangering the welfare of a child. DeLuca also must register as a Level 1 sex offender.

"Mr. DeLuca accepted that," said his attorney, Emil Rossi. "I think everybody has the same thoughts about going to jail mdash; for even a minute. I don't know anything in the world worse than the loss of liberty. He was offered an opportunity to change his plea, and he chose not to do so."

Rosenthal said the victim's mother wrote that her son used to be happy, energetic and witty. He now is a "shell of a person," she wrote, who turned to drugs and alcohol. The mother said she later learned similar allegations had been made in Delaware before DeLuca retired to Syracuse in 1993. That is the year allegations from the 1960s were brought again to officials of the Diocese of Wilmington, who allowed DeLuca to retire quietly to his hometown of Syracuse.

"I don't know how I would have reacted in 1993 had I known," the mother wrote, "but at least I would have had choices. There were others in Delaware who had choices."

Her son, now 18, was not in court Monday. But Mike Schulte was.

Schulte, 59, who grew up in Wilmington and says he was molested by DeLuca more than 40 years ago, drove 13 hours from his Virginia home to attend the sentencing. He was disappointed. "I've waited 40 years for this," Schulte said later. "But to be honest with you, my concern goes with the victim here. I can just imagine what he is going through now. ... I'm very dissatisfied with the judge's decision."

Monday's sentencing is not the end of DeLuca's court troubles. He faces a lawsuit filed this summer by Robert Quill, a Wilmington native now living in Florida, who was the first to file under Delaware's new Child Victims Act. The act, signed into law in July, allows victims of child sexual abuse a two-year period during which they can file claims that would have been barred by the statute of limitations.

DeLuca is the first Delaware priest to be criminally prosecuted for sexually abusing a minor since 1982.

Arrest sparked names' release

Syracuse police arrested DeLuca on Oct. 19 after the victim told his parents the retired priest molested him periodically from March 2002, when he was 13, until September 2005.

Within a month of DeLuca's arrest, Diocese of Wilmington Bishop Michael A. Saltarelli released the names of 20 priests he said had "admitted, corroborated or otherwise substantiated" allegations of sexual abuse. DeLuca's name was on the list, and Saltarelli cited DeLuca's arrest in Syracuse as a prime reason for his decision to release the names. DeLuca's arrest also was cited by the bishop of Maine when he, too, decided to release the names of priests against whom substantiated allegations had been made.

Robert G. Krebs, spokesman for the Diocese of Wilmington, released the following statement after DeLuca's sentencing:

"We believe that anyone who sexually molests children must be punished.

"Sexual abuse of any person is deplorable, but the sexual abuse of children and minors is a particularly horrible crime. The Catholic Church and the Catholic Diocese of Wilmington have pledged to work unceasingly to protect children and young people and to reach out in healing and reconciliation to those who have been abused in the past.

"We have pledged to cooperate in every possible way with civil authority to bring to justice any clergy or other church personnel who are guilty of such crimes."

In 2002, when child sexual abuse by priests became a national scandal, the U.S. Catholic Conference of Bishops adopted new reporting requirements and mandated that each diocese adopt new policies to protect children and prevent future abuses. In October 2003, Saltarelli complied with those new requirements by writing to Syracuse Bishop John Moynihan to notify him that DeLuca mdash; a priest with credible allegations of sexually abusing minors mdash; was living in Syracuse.

Though DeLuca has been forbidden to perform public ministry, Saltarelli last year petitioned Pope Benedict XVI to remove DeLuca from the priesthood, a "defrocking" process that only the pope can perform. The process still is pending, Krebs said Monday.

Contact Beth Miller at 324-2784 or bmiller@delawareonline.com.