Deposition Reveals Abuse Allegations against O.C. Bishop Brown
A Judge's Unsealing of Testimony in the Mater Dei High School Case Leads to the Disclosure.

By Christine Hanley
Los Angeles Times
September 14, 2007

http://www.latimes.com/news/printedition/california/la-me-
bishop14sep14,0,7242667.story?coll=la-headlines-pe-california

As the Diocese of Orange's written pledge of transparency was burned to ashes by protesters outside an Orange County courthouse, a judge unsealed testimony Thursday revealing that Bishop Tod Brown had been accused of molesting a boy early in his priesthood.

The allegation was privately denied by Brown when it was lodged 10 years ago, dismissed as baseless after an internal investigation by church officials, and a short time later found not credible by police and prosecutors who looked into the complaint.

But lawyers representing a woman suing the diocese in a sex-abuse case argue that Brown's decision to keep the accusation from the public contradicts a central tenet of his "Covenant With the Faithful" promising openness with followers.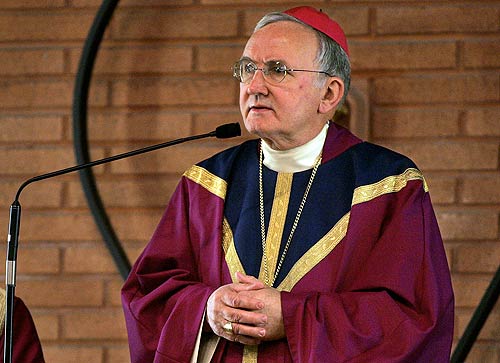 A 2004 photo of Bishop Tod Brown at the Holy Family Cathedral in Orange.
Photo by Rick Loomis / LAT


They say his suppression of the information also raises questions about his leadership and about what else he and church officials might be hiding.

"Given that you've asserted your innocence . . . did you ever consider simply making this allegation public . . . so if it ever came out, you wouldn't look like you were trying to hide something?" attorney John Manly asked Brown on Monday during his deposition in the abuse case.

No, Brown responded, explaining that he kept it secret because he "knew it wasn't true" and "it was very embarrassing and very painful. And to be very honest, I think that kind of an allegation is difficult to deal with regardless of how innocent a person may be."

Brown's testimony, which marked the first time he has ever spoken under oath in a sex-abuse case, was taken as part of the lawsuit accusing a former assistant basketball coach at Mater Dei, a Roman Catholic high school in Santa Ana, of sexually abusing a 16-year-old student.

Lawyers for the student want to find out what Brown knew about other sex-abuse complaints made against the diocese during the 10 or so years that coach Jeff Andrade worked at the school.

Parts of Brown's deposition were unsealed against the wishes of diocese attorneys, who sought to protect what they characterized as private medical information about Msgr. John Urell. The monsignor, now a pastor at St. Norbert's Catholic Church in Orange, investigated many sex-abuse complaints against the diocese and has been accused by alleged abuse victims of covering up some of them.

In July he abruptly walked out of his own deposition in the case, in tears.

Brown testified that Urell was sent last week to the Southdown Institute in Canada, a facility that treats Catholic priests.

Brown said he did not know the specifics of Urell's medical condition, only that he "was obviously not well."

"He was very emotionally and psychologically distraught by those who worked with him and knew him, and that's what I think brought this about," he said.

The student's lawyers insinuated that the diocese intentionally removed Urell from the country, out of the jurisdiction of the courts, to keep him from testifying.

"What the diocese wants to do is what they've been doing for a hundred years . . . which is hide it, conceal it, and don't let anybody find out," Manly said.

Brown acknowledged that he had been accused in 1997 of molesting a boy 30 years earlier while he served as a priest in Bakersfield. When the allegation was lodged, he was the bishop in Boise, Idaho.

He testified that he was "shocked by the accusation," which he learned of in a phone call from Bishop John T. Steinbock of the Diocese of Fresno. He said he was never interviewed by church officials or criminal investigators.

"Steinbock told me about the accusation, and I told him immediately that [the alleged abuse] never happened," Brown testified. "That was it."

Brown said he called Los Angeles Cardinal Roger M. Mahony that day and told him the same thing.

Kern County Dist. Atty. Edward R. Jagels said he and some of his supervisors vaguely remembered reviewing the case and believed "it amounted to a completely uncorroborated allegation."

"I remember someone telling me [Brown] was absolutely furious," Jagels said. "I remember we looked into it. I doubt we have our reports anymore."

During his career, Brown said, he has been aware of at least six priests who were accused of molesting children -- two while in Boise and four in Orange County -- but has never reported any to police.

In the Idaho cases, Brown said, he did not inform police because the accusers were adults when they reported it to him and "it was my thought that they should call the police if they wished to do that."

The Orange County cases include Msgr. Michael A. Harris and Father John Lenihan.

Nine men sued the diocese in 2003, alleging that Harris sexually assaulted them when they attended Mater Dei or Santa Margarita High School in Rancho Santa Margarita. Harris has denied the charges, and quit the priesthood after the L.A. and Orange dioceses paid $5.2 million to one of his alleged victims.

Lenihan, a former pastor of St. Edward Catholic Church in Dana Point, admitted to sexual misconduct starting in 1978 with two teenage girls, one of whom received a $1.2-million payment from the church after accusing the priest of impregnating her and paying for an abortion. He was removed from the priesthood in 2003.

Brown, who took over the Diocese of Orange in 1998, said he didn't take action against Harris because by then he had already left the diocese. In Lenihan's case, he said he relied on the judgment of his predecessor, Msgr. Norman MacFarland, who had decided to leave the accused priest in a position of leadership.

"I think earlier on, with regard to molestation cases, that a lot of bishops, including myself, were not fully aware of the seriousness of the problem in terms of putting other people at risk," Brown testified.

The abuse case is scheduled to begin trial next week, but may be postponed.

christine.hanley@latimes.com