Accused Morris Priest Sentenced to Probation

By Margaret McHugh
The Star-Ledger
September 21, 2007

http://www.nj.com/news/index.ssf/2007/09/accused_priest_sentenced_to_pr.html

A Roman Catholic priest from Morris County was sentenced this morning to five years probation and 300 hours of community service.

The Rev. Richard Mieliwocki, 60, of Madison, was accused of molesting four teenage boys at a drug treatment center but pleaded guilty to two counts of child abuse. He was forced to surrender his social work license and can never hold public office. Mieliwocki had worked at Daytop New Jersey in Mendham when the alleged incidents occurred in 2004.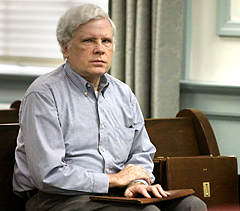 The Rev. Richard Mieliwocki, 60, of Madison, a former Roman Catholic priest in court today.
Photo by Robert Sciarrino


Morris County Assistant Prosecutor Meg Rodriguez said her office only agreed to the no-jail plea deal because the case had fallen apart with the death of one of the victims and a partial recantation by a second. The one teen died of a drug overdose, defense attorney Thomas C. Pluciennik said.

Rodriguez said she hated to think that it looks as though Mieliwocki got a slap on the wrist.

Mieliwocki has contended his actions were part of his therapy work with the boys.

Mieliwocki had no prior criminal record, but the Diocese of Newark placed him on administrative leave in 1994 after finding he had committed sexual misconduct against two men at Our Lady of Sorrows Church in South Orange.