Alleged Perv Priest Stalls Trial

By Dave Wedge
Boston Herald
September 26, 2007

http://news.bostonherald.com/news/regional/general/view.bg?articleid=1034120

The case against an accused pedophile priest has been delayed for a whopping 34th time as his lawyer contests a new doctor's opinion that the embattled holy man is fit to stand trial.

John Szantyr, who's accused of molesting a Worcester altar boy in the mid-1980s, once again did not appear in Worcester District Court yesterday when a judge continued his case again. Szantyr, 76, has been ruled incompetent but prosecutors pushed for a new evaluation based on complaints from the victim and the victim's supporters.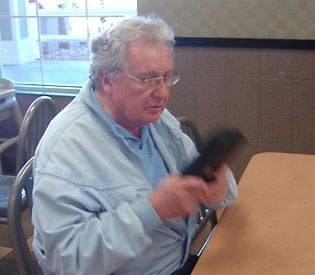 Critics say John Szantyr is well enough to stand trial for molesting an altar boy.



The new opinion, which is being reviewed by a judge and will be the subject of a Nov. 19 hearing, reportedly contradicts a defense report that says Szantyr is too ill to face the charges.

"The defense and the DA have their own experts determine whether he's competent to stand trial. Our report found that he was," said Tim Connolly, spokesman for Worcester District Attorney Joseph Early Jr.

Szantyr's attorney, Ed Ryan, who has maintained that his client is too sick to go on trial, wants the new report tossed out, arguing that prosecutors failed to challenge the initial competency ruling.

The latest continuance has victims' advocates fuming.

"I'm very frustrated and the victims are frustrated. We expected more," said Mary Jean, spokeswoman for Worcester Voice, a clergy sex abuse support group.

Worcester Voice and the victim have challenged Szantyr's incompetency, arguing that he has a valid Connecticut driver's license, has been spotted walking normally after appearing in court in a wheelchair, and has continued to oversee religious services.

Contact: dwedge@bostonherald.com