Officials Looking for Priest Accused of Sex Abuse

CBS 2
October 2, 2007

http://cbs2.com/topstories/local_story_275162636.html

MURRIETA, Calif. Riverside County authorities are looking for a former Roman Catholic priest charged with child molestation for allegedly sexually assaulting at least two altar boys at St. James church in Perris in the late 1980s, authorities said Tuesday.

Jesus Armando Dominguez is named in a January 2005 case of alleged abuse, but much of the documentation has been sealed, according to court records.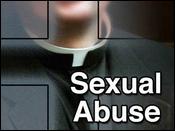 Authorities are looking for a former Roman Catholic priest allegedly wanted for sexually abusing two altar boys in the late 80s.



"It's just an outstanding warrant and, until they capture him, it will remain outstanding," said Ingrid Wyatt of the District Attorney's Office, referring to an arrest warrant issued for Dominguez.

In 2001, Dominguez was convicted of child annoying for soliciting a 15-year-old boy to take nude photos, according to the "America's Most Wanted" Web site, which lists Dominguez as a fugitive.

He is charged with 11 counts involving one altar boy and 58 involving another, according to the charges. The crimes allegedly occurred between Jan. 1, 1988 and April 1989.