Unforgiven
The Diocese of New Ulm Knew Father David Roney Was a Pedophile When It Sent Him to Live Among Orphan Schoolchildren in Guatemala

By Jonathan Kaminsky
City Pages
October 3, 2007

http://articles.citypages.com/2007-10-03/news/unforgiven/full/

On a warm summer day nearly 40 years ago, Father David Roney, the widely revered parish priest in Willmar, took a sprightly six-year-old girl and her two brothers to a clear-blue lake outside of town.

After sending the two boys out on a long swim, the bespectacled, handsome clergyman, then in his late 40s, turned his attention to the brown-eyed girl with short hair sitting beside him. He put his hand on hers, she recalls, guiding it inside his pants.

"You're God's chosen one," he told her. "He has a special job for you."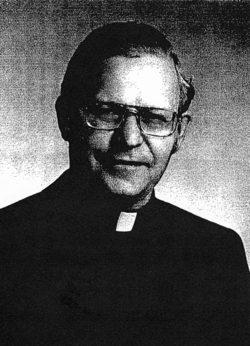 Father David Roney
Photo by Jeff Anderson


A few minutes later, after Roney's sexual urges had been satisfied, he told her something else: She must never, under any circumstances, tell anyone what had happened. If she told, he warned, God would show his fury by harming someone she loved. Roney pointed to the younger of her brothers as they swam to shore. "He's not a strong swimmer," the priest remarked.

It would take nearly 40 years for that little girl—now a gray-haired, overprotective mother of three—to come forward with her story. In 2005, she and four other women filed a lawsuit against the Diocese of New Ulm and their parishes, alleging not only that Roney repeatedly sexually abused them, but also that the diocese did nothing to stop him.

The mountain of documents constituting Roney's personnel file paints a deeply disturbing picture of a pedophile priest whose taste for young children went unchecked and unpunished for decades. And it doesn't end in Minnesota. According to a sworn affidavit secured by the women's lawyer, Roney spent his retirement years at the diocese's mission in Guatemala, where he took up with a prepubescent orphan girl whom he planned to adopt.

"Their attitude was, 'It's okay for him to abuse kids in Guatemala, because they probably won't say anything,'" Kathleen Stafford, an attorney representing the women in the suit, says of the church leadership. "The whole thing makes me sick."

David Roney, a square-jawed manwith a reassuring air of quietconfidence, grew up the second oldest of four in a strict working-class family in Depression-era St. Paul. His bookkeeper father and receptionist mother, neither of whom went to high school, had big dreams for their children.

Young David, bookish and bright, showed great promise. At age seven, he skipped second grade. As the youngest in his class all through school, Roney was also the smallest boy. As a consequence, he became cripplingly shy, he would write years later in a self-evaluation handed over in the lawsuit. Although he got good grades, Roney didn't make any close friends as a kid. He never figured out how to talk to girls, and despite a passion for baseball, he was always one of the last chosen for ball games. "I always felt kind of on the outside," Roney wrote.

As he hit adolescence, growing six inches in a single year, his ingrained shyness morphed into the suppression of his sexual urges, his self-evaluation makes plain. Aside from an awkward, fruitless attempt by his father to explain the birds and the bees, everything Roney learned about sex came from books. In 10th grade, the gawky teenager followed his few friends into the preparatory seminary.

From the occasional offhand joke, Roney knew that his fellow seminarians were sexual creatures, he wrote in his self-evaluation, but felt certain that "none were as bad as I."

Years later, reflecting on his decision to become a priest, Roney conceded that he didn't know why he'd done it. "Maybe it was inertia," he wrote, "maybe it was a genuine vocation but it wore out." Ordained in 1945, Roney would struggle with his spirituality throughout his life.

A kindly man with simple tastes,Bishop Raymond Lucker eschewed a house of his own to take up residence in the diocese's main pastoral center. It sits atop a hill on the outskirts of New Ulm, where he kept a vegetable garden.

In spring 1987, he received a startling letter. "I have prayed and agonized over this for at least five years," it began. In unsparing detail, the writer told the story of a day nearly 20 years earlier when her 13-year-old daughter was practicing the organ at St. Mary's Church in Willmar. Father Roney, the parish priest, walked over to the girl and exposed himself. It happened only once, the woman wrote, and Roney had never touched her daughter. Still, she felt "sick with loathing and confused emotions to hear that our pastor, friend, sacramental celebrant, confessor, and guest in our home could have subjected our daughter to this kind of behavior."

Lucker was staggered by the news. Roney, in his estimation, was one of his finest men: intelligent, capable, and always eager to serve his parishioners. Yet only two weeks later, Lucker got another letter even more disturbing than the first.

"This letter is long overdue," it began. "I've composed parts of it in my head many times in the last decade."

The writer was a 29-year-old woman from Willmar. As a girl of about 10, she wrote, she and her friend, having gone to church, found Roney standing near the organ. He called the girls over to him, and guided their hands inside his pants. "He wore no underwear," she wrote, and "if we tried to pull away and remove our hands, he held them there—until he decided we could remove them." Afterward, Roney took the girls to his office, offering them M&M's from his brandy snifter.

Lucker thanked each of the women for coming forward and told them they were in his prayers. Roney needed help, the bishop acknowledged, and he would get it.

Lucker quietly shipped Roney off to Foundation House, a remote facility alongside a dusty two-lane road in the high desert of New Mexico. For nearly 20 years, between 1976 and 1995, Foundation House was the place where the Catholic Church sent its wayward clergymen. All told, some 500 priests and monks underwent the "program," which mingled psychotherapy, medication, and various tests that purported to both diagnose and treat sexually troubled men of the cloth. Among the tools reportedly in use was a plethysmograph, a contraption that hooks on to the penis and gauges its responses to various erotic images and sounds in order to diagnose sexual preferences.

Roney spent a week at the center. While there, he completed a "personal history" form. It paints a picture of a man who, despite his chosen vocation, never felt spiritually satisfied. "I really want to feel a closeness to God and I have not so far experienced it," he wrote. "I enjoy presiding at baptisms and, strangely, funerals. I would be happy if I never had to preside at a wedding again. I feel old."

After returning home from his week in New Mexico, Roney got a letter from William Perri, Foundation House's director. Perri advised that it would be best if Roney enrolled in the six-month treatment program. But Perri didn't expect Roney to sign up. "We feel that we need to make other recommendations since you may decide not to come," he wrote.

Among the recommendations was therapy, and Roney duly started seeing a shrink the following year. From 1988 to 1990, Roney met 15 times with Ken Pierre, a St. Paul psychologist and priest with a history of treating pedophile pastors. Although Pierre didn't return calls for comment, his September 1990 report on Roney, prepared for Bishop Lucker, spells out how far he felt the priest had come during their time together. Upon completing the course of therapy, Pierre wrote, Roney seemed to have more energy for life, and a better understanding of the terrible price others had paid for his sexual gratification. Roney was, he wrote, "motivated to move beyond that behavior now."

But Pierre still had some concerns. Although Roney hadn't molested young girls in more than a decade, the psychologist wrote, he continued to have "strong sexual curiosity" and admitted "touching a woman in Guatemala in an inappropriate way." Pierre, who didn't expand on this revelation, didn't know quite what to make of the incident, given the "cultural differences" and Roney's "role in the Guatemalan mission."

Nestled amongst the green hills of central Guatemala on the shores of Lake Atitlan, the Diocese of New Ulm's mission in the small town of San Lucas Toliman was established in 1962. Almost from the start, it has been run by Greg Schaffer, an outgoing pastor who has maintained a pale Minnesota complexion despite more than 40 years living near the equator. Schaffer has established programs to train people to plant and sell coffee, build houses, and grow trees. He has also helped found a clinic, a school with several hundred kids, and an orphanage for victims of the brutal civil war that raged there from 1960 to 1996.

Schaffer first welcomed Roney to the mission in 1974, when Roney organized a weeklong trip for a group of his parishioners. Roney was instantly smitten with the place, both for its rugged beauty and the people. Going there, he later wrote, "probably changed the course of my life as much as anything."

He organized another trip the following summer, then another. In 1976, Roney arranged to spend five weeks at the mission studying Spanish. A few days after he got there, a massive earthquake hit, killing 25,000 people. The town—and particularly the mission—became a command center for getting food and medical care to survivors. Roney's language classes were canceled, but his bond to the mission was sealed.

In 1980, Roney started to help run the mission office in New Ulm, raising money, organizing trips, and prepping parishioners who planned to visit the mission. The job required frequent trips to Guatemala.

In time, the bishop would be faced with a decision: Should he allow Roney to keep going there, what with all the young children at the mission's school and orphanage?

In 1990, amid a slowly dawning acknowledgement of the nationwide clergy sexual abuse epidemic, Bishop Lucker established the New Ulm Diocese Sexual Abuse Review Board. Set up to advise the bishop on cases of sexual misconduct within the diocese, it was among the first of what became a national trend toward reconciling the church's history of sexual abuse.

Three years after Lucker set up the board, a third woman came forward with allegations against Roney.

Like the others, she was a young girl during Roney's time in Willmar. As she recounted, on a cool but sunny fall day in the early 1970s, the girl and her three sisters were waiting for their mother to pick them up after a morning at the nursery. As they stood in the sun, Roney joined them, giving each a hug and a kiss.

But when it was her turn to embrace the priest, Roney took her hand under his cape, she recounted. As he chatted with the other girls about school, he pulled her hand down and she felt something strange. Confused, she pulled up his cape. His erection exposed, Roney embarrassedly told the girls he was late for a meeting, and rushed off.

The following Sunday, the girl told her mother she was sick and refused to go to church. She never went back. The loss of church in her life, the woman wrote, was devastating. It had been a lifeline, and then it was gone. "How did I survive?" the woman wrote. "Why did I survive? I ask myself these things continually."

Eugene Burke, the bishop's point man on sexual abuse, was charged by the sex-abuse board with taking a fresh look at Roney's misdeeds.

But the board wasn't just worried about Roney's past. With three complaints now lodged against the priest, it also asked Burke, a punctilious priest-turned-therapist, to look into Roney's frequent trips to Guatemala.

With Father Greg Schaffer in town for a visit, Burke took him aside for a frank conversation about Roney, as Burke noted in a memo later obtained in the lawsuit. Roney had abused young girls in the past, Burke told Schaffer, and he needed to know: Was there any chance of that happening in Guatemala?

Schaffer, who had known Roney for 20 years, told Burke that on Roney's visits to the mission, he spent a lot of time with kids there—mostly with young girls. When Roney read books to the children, Schaffer said, they would sit in his lap and hug him. But Schaffer didn't think it was a problem. He'd never seen Roney alone with a girl, he pointed out, and he'd never received any complaints.

Burke asked the mission boss to "keep his eye on Fr. Roney's conduct" during his visits, according to the memo, and Schaffer told him he would.

At the August 18, 1993, meeting of the sexual abuse review board, Roney was a prominent item on the agenda. Speaking before the board, Burke presented his findings on the problem priest's time in Guatemala and handed out Roney's history of abuse, including summaries of the three complaints lodged against him, as well as a contrite apology the priest had written to one of his victims. ("I cried when I read your letter," Roney wrote, adding that he "never intended harm even when I caused it.") Burke presented the board members three options for dealing with Roney: They could advise the bishop to defrock him, recommend that Roney be limited in his work to stay away from girls under 13, or, in the words of the report, they could recommend that the bishop "do nothing."

Roney had left parish work that summer after the death of his mother, and was not the spry man of his years in Willmar. He was 72, had a bad heart, and was living at the pastoral center.

Seeing no advantage in publicly acknowledging the sins of the otherwise well-liked priest, the board decided to handle the situation quietly. Bishop Lucker, following the board's advice, took no action against Roney.

All the same, Roney remained a concern. In late 1993, Roney told Burke he was considering retiring to St. Peter to live with the parish priest. Burke, in a memo for Roney's file obtained in the lawsuit, recorded his response: "I told him I thought it would be better if he could find some other alternative, one without a school."

Roney opted instead for Guatemala. But as he packed his bags, another complaint came in against him. The victim, like the previous ones who'd come forward, was from Willmar. According to her mother, who reported the allegation, the girl was nine years old when Roney started abusing her. Both on the playground and in his office, Roney had on numerous occasions forced her hand into his pants, and made her masturbate him to ejaculation.

The mother invited Burke to her house to talk. Over coffee and freshly baked muffins, she told Burke that she was uneasy with Roney going to Guatemala. Would the kids at the mission be safe?

Not to worry, Burke told her. All that stuff was in the past. And besides, Roney was being watched.

"I felt that he wasn't totally honest with us," the woman recalls of her meeting with Burke. "I felt he was just trying to say what needed to be said to protect the diocese. I lost trust in him."

Two weeks later, Roney received the highest honor of his long career: the Diocesan Distinguished Service Award for "50 years of priestly ministry to the People of God." The next day, he flew to Guatemala.

In fall 2001, Bishop Lucker, dying of melanoma, was replaced by John Nienstedt, a silver-haired, doctrinaire clergyman from Detroit.

Just a few months after Nienstedt started, the Boston Globe reported that the Archdiocese of Boston had, over the previous decade, quietly settled more than 70 cases of sexual molestation against its priests. The Globe's reporting confirmed what many had long suspected: There was an epidemic of priest sex abuse, and the church covered it up.

Amid the fallout, the new bishop, having established himself as a strict, detail-oriented administrator, ordered a fresh review of all priest sex abuse files in the diocese. New Ulm's sex abuse board also instituted a new policy: zero tolerance for priests confirmed to be child molesters.

On April 18, 2002, after conferring with the board, Nienstedt sent Roney a letter informing him that his priestly faculties had been suspended. "I very much regret the necessity of this canonical action, which you have brought about by your own activity," Nienstedt wrote. The bishop also asked that Roney return to New Ulm to discuss "what limited options are available for the future."

But Roney didn't fly home to face the stern taskmaster now running the show. The 81-year-old was in failing health, his heart and lungs giving out. Just a couple of months after Nienstedt's letter, doctors in Guatemala City discovered an aortic aneurism on Roney's abdomen. He refused an operation, preferring to spend his last months in his house across the street from the mission's school. He died the following winter.

Just months after Roney died, the church was sued by Jeff Anderson, a hard-nosed St. Paul lawyer with slicked gray hair who is among the preeminent clergy sex abuse lawyers in the country. Anderson had already sued the church once over Roney—in 1996, a male convicted of child abuse claimed that he had been abused as a boy by Roney. The case was quietly settled in 1998 with a $30,000 payout from the diocese.

This time, the cases involved women who alleged that Roney abused them while they were young, obedient parishioners in Willmar. As Anderson prepared to take their stories public, Bishop Nienstedt, realizing he had a full-fledged scandal on his hands, made a public statement.

In an August 2003 press release, the diocese acknowledged knowing about Roney's "alleged" history of sex abuse since 1987. It also noted the lawsuits stemming from "two women's allegations of sexual misconduct by Roney."

But even as the two women worked toward settlements with the diocese—they would settle two years after filing their suits, for undisclosed sums of money—Anderson was readying a fresh set of plaintiffs.

There were five of them, all women, each with her own terrible story. They accused Roney of everything from forcing his hands inside underpants to demanding oral, vaginal, and anal sex.

The years of abuse among them spanned a decade, from 1965 to 1975, and included two parishes.

Roney didn't act alone, the lawsuit alleged. The diocese had willfully turned a blind eye, allowing him to be around children despite a track record of sexually molesting them.

Acting on a tip, Anderson's associate Kathleen Stafford got in touch with the principal of the Catholic school in Willmar at the time Roney was there. Sister Virginia McCall declined to be interviewed for this story, but in an affidavit filed for the lawsuit, she wrote that she'd banned Roney from the school's playground and lunchroom after being alerted by another priest of allegations that Roney was rubbing up against girls in the school.

That priest was Francis Garvey. He was a member of the nascent but highly influential Priest Personnel Board, which advised the bishop on where priests were placed within the diocese.

So if Garvey knew about the abuse in 1970, why didn't the information reach the bishop until 1987? To find out, Stafford drove to Litchfield last April, where she took the deposition of the elderly Garvey at the Church of St. Philip.

Stafford asked the priest when he first heard reports of Roney sexually abusing girls.

It was in 1970, Garvey confirmed, when a girl's father came to his office at the Willmar State Hospital—he was a chaplain at the mental institution—and accused Roney of rubbing his groin against the man's daughter on the playground. Other parents had similar complaints, Garvey recalled the man telling him.

"Did you speak with any of the children?" Stafford asked the priest.

"No," he responded.

"Any of the other parents?"

"No."

Stafford pressed on: "So, what did you do in response?"

"I called and made an appointment to see Father Roney," Garvey said. "And I went to see him."

Stafford continued: "And what did Father Roney say?"

"Nothing."

"Nothing?"

"Nothing verbally," the priest explained, matter-of-factly. "His emotional expression was very bland. Not expressive. The encounter was very short. He didn't respond to my report, so I left."

"That sounds very strange," she remarked. "Did it seem strange to you?"

"I was—" the priest hesitated. "Yes. Yes, it did."

"Did you report the information to the bishop?" Stafford asked.

"No," Garvey responded impassively. "I didn't."

"And why didn't you?" the lawyer asked him.

"I don't know," the clergyman said. "It didn't seem to be the thing that we did in those days. I confronted the priest and I figured I did what I had to do."

As Stafford wrote in a subsequent amendment to the original lawsuit, Garvey's inaction constituted "willful and wanton" misconduct on the part of the diocese. It is a charge, if the judge allows it, that would open the door to potentially lucrative punitive damages payouts should the case make it to a jury this January.

The Diocese of New Ulm referred all questions about Roney to Thomas Wieser, the lawyer representing it in this case. Weiser rejects the idea that Garvey's knowing about the allegations against Roney implicates the diocese. As a hospital chaplain, Garvey was an employee of the state, not an agent of the church, Wieser argues.

In addition, Wieser says, three of the four women in the suit—the fifth settled this summer for an undisclosed sum—don't even have legal standing as plaintiffs. State law stipulates that victims of sexual abuse have no more than six years to come forward after the abuse occurs or after they remember it, and the three all acknowledge knowing of the abuse for decades.

But no matter the outcome of the case—there is a hearing on statute of limitation issues scheduled for later this month—the discovery process has brought to light troubling new information about Roney's last decade in San Lucas Toliman.

Upon his arrival in Guatemala in 1994, Roney wasted little time ingratiating himself with the children there. One girl in particular attracted his attention. Sabina, whose mother had died and whose father was unable to take care of her, was only two years old when Roney moved to town, according to an internal church memo turned over by the diocese. Within months, rumors swirled about Roney's relationship with the girl. Had she moved into his house? Was he trying to adopt her?

By early 1995, the scuttlebutt reached Sister Sandra Spencer, a nun who had spent years at the mission, but had since moved back to the States. She called Burke to relay the disturbing stories she'd been hearing. Burke sought to put her at ease. There was no truth to any of the rumors, he assured her. "She does not live there, let alone with Father Roney, especially not in his room," Burke wrote the nun, according to another of his memos obtained in the lawsuit.

But Spencer wasn't so sure. She also called Bishop Lucker, who in a handwritten note wrote that "this new report of his 'raising' this little girl is a concern to me."

Bonnie Iverson, a Willmar parishioner who has had several extended stays at the mission, declined to be interviewed for this story. But in an affidavit obtained by Stafford, she is less reticent. "I learned that Father Roney was planning to adopt a six-year-old orphan girl," she wrote, adding that the girl "spent her days at Father Roney's home, along with his housekeeper."

Iverson, knowing of Roney's taste for young girls in Willmar, was "very upset" when she found this out. "I was afraid that something inappropriate might be going on," she wrote.

It isn't known exactly what Roney did with little Sabina, but there is this: She stands to inherit most of his worldly possessions—$10,000—on her 18th birthday, in 2010.

Contact: jkaminsky@citypages.com