New R.I. Report Raises Questions on Clergy Abuse
Diocese Says Vague Cases behind Rise; AG Concerned

By Michael Paulson
Boston Globe
October 20, 2007

http://www.boston.com/news/local/articles/2007/10/20/new_ri_report_raises_questions_on_clergy_abuse/

[Note from BishopAccountability.org: See the Tobin document with additional links.]
Between 1971 and 2007, 125 priests in Rhode Island were accused of sexual assault or sexual misconduct, including 95 accused of child molestation or sexual assault of a minor, according to a court document filed by Bishop Thomas J. Tobin, head of the Roman Catholic Diocese of Providence.

That number is higher than the 56 priests that Tobin's predecessor, Bishop Robert E. Mulvee, reported in 2004 as having been accused of sexual abuse of a minor between 1950 and 2002.

The diocese said yesterday that the discrepancy is because the number reported three years ago included only credible allegations, while the number in the more recent court filing included an unspecified number of allegations that were "vague, anonymous, withdrawn, or ultimately found to be false." The diocese also said the higher number, which it said was adjusted to 85 after a careful document review, also includes allegations made after 2002, when a large number of alleged victims came forward as the clergy sexual abuse crisis erupted nationally.

But Rhode Island Attorney General Patrick C. Lynch expressed concern about the previously unreported cases and said he intended to look into the matter.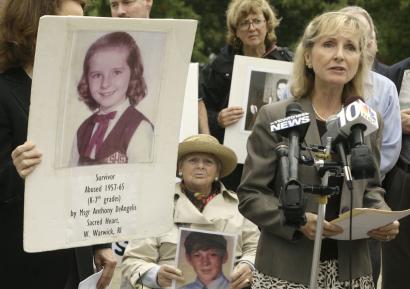 Ann Hagan Webb (right) of Wellesley, who is a sexual abuse survivor, spoke yesterday during a press conference in Providence held by BishopAccountability.org.
Photo by Stew Milne


BishopAccountability.org, a victim advocacy organization that maintains an electronic archive of abuse scandal documents, discovered the document in a court file and released it yesterday. The organization said it has calculated that more than 10 percent of Rhode Island priests have been accused of abuse since 1950, which could give the tiny state the highest rate of abuse allegations in the nation. By contrast, 4 percent of priests nationally and about 7 percent of priests in Boston were accused of abuse between 1950 and 2002.

The exact rate of alleged abuse in Rhode Island, the most Catholic state in the nation, is not possible to determine, because the diocese has not said how many priests served there since 1971 and has not revised Mulvee's figure of 56 accused priests since 1950 to reflect the new data contained in the court document.

Yesterday, victims' advocates called on federal or state officials in Rhode Island to launch an investigation into the conduct of the Providence Diocese, which includes the entire state. They said Rhode Island prosecutors have not conducted as thorough an investigation of the local church as have law enforcement officials in Boston, Philadelphia, and Manchester, N.H.

"The Providence Diocese is sitting on secrets of crime, and they don't have a right to these secrets anymore," said Anne Barrett Doyle, codirector of BishopAccountability.org. "This diocese is surely keeping secrets of men who are molesting today, and the diocese has such clout in Rhode Island that the only hope is going to be a prosecutor seeing it as his moral obligation to find out what secrets they're keeping."

The diocese issued a statement attributing the varying numbers of accused priests to different reporting requirements for different documents.

"A difference in reporting criteria and methodology necessarily resulted in the difference in numbers reported," said the statement, from diocesan spokesman Michael Guilfoyle.

In an interview, diocesan attorney James T. Murphy said that comparing the numbers in the court case with those in the church report issued in 2004 is "a Rembrandt on one side and a Picasso on the other - they're two different portraits." He said the fairest way to assess how Providence stacks up against other dioceses is by relying on the 2004 data.

Murphy also said that "virtually every case involving a living priest" has been reported to local law enforcement officials.

Lynch issued a statement less than an hour after the press conference by BishopAccountability, saying that the number of alleged abusers is "many more . . . than the diocese has previously disclosed to the department of the attorney general." Lynch said that his office had repeatedly requested the names of priests accused of sex crimes against children and that in the past the diocese has been cooperative and truthful.

"If, however, through the information released today by BishopAccountability.org, we find that the diocese has withheld names and/or has not been fully candid in the many conversations we've had over time, this will be very troubling news," Lynch said. "Nothing is as repugnant to me as adults who abuse their positions of respect and authority and molest children. We will review this newly disclosed information very carefully. We will pursue all credible leads, and, if appropriate, we will prosecute any and all resulting cases to the fullest extent of the law."

Robert Corrente, the US attorney in Rhode Island, declined to comment through his spokesman, Thomas Connell.

The number of alleged abusers was reported in a civil court case in which a lawyer for an alleged victim of abuse by a Providence priest was asking the diocese to disclose all documents referring to allegations of sexual assault or sexual misconduct by Catholic priests serving in the diocese since 1971.

The bishop has resisted the request, saying the request would generate 100,000 to 130,000 pages of documents that would cost $30,000 to $60,000 to copy, and require release of allegations that were "frequently uncorroborated and unsubstantiated."

Michael Paulson can be reached at mpaulson@globe.com.