Accused Priest Deserves Closure

By Patrice O'Shaughnessy
New York Daily News
October 23, 2007

http://www.nydailynews.com/boroughs/bronx/2007/10/23/2007-10-23_accused_priest_deserves_closure.html

From a distance, Msgr. Charles Kavanagh looked like he was wearing a clerical collar and black sweater, typical "off-duty" attire for a priest, but he was actually dressed in a buttoned- up white shirt and a dark brown sweater, which seemed appropriate for the limbo he has been in for more than five years.

Kavanagh was accused in May 2002 of having an improper relationship with a minor 24 years before. A former seminarian said Kavanagh molested him when he was a teenager.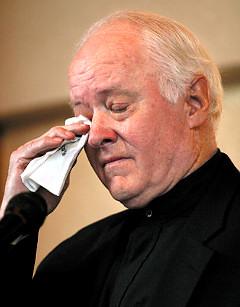 Msgr. Charles Kavanagh wipes away tears during 2003 rally led by his supporters.



Kavanagh, then the pastor of St. Raymond's parish in the Parkchester/Castle Hill section and the chief fund-raiser for the New York Archdiocese, was the most prominent clergyman in New York to be accused in the widening sex abuse scandal unfolding at churches across the nation.

The 70-year-old has been on leave from the priesthood; that means he cannot perform priestly duties in public. He couldn't say a funeral Mass for his brother when he died last month.

But he said the years have been "a time of grace."

"If I had not been on leave, I wouldn't have experienced such phenomenal moments," he said. "One of the most rewarding things is that thousands of people stepped forward to support me in their prayers; they've ceaselessly spoken on my behalf.

"It's amazing," he said of the support he continues to receive from his old parish.

It certainly is, that after all this time, supporters are still calling, writing. They threw him a party to celebrate his 40th anniversary in the priesthood in 2003. Last May, 300 people showed up at Maestro's for his 70th birthday.

Now a new campaign is underway by his friends, who range from the middle class Latino and black families who fill the parish today to wealthy alumni far from the Bronx.

James Duncan, an alumnus of the Boys High School, sent a letter to supporters asking that 1,000 letters be sent to the apostolic nuncio in the Vatican Embassy in Washington, "letting him know how essential it is for the Church to heal this injustice."

Parishioners feel that Kavanagh deserves a conclusion. They believe he is innocent, but if he is found guilty, he should be told, and face the consequences, without the matter dragging on further.

"All I've ever asked was for a full and fair hearing since this process started," he said over coffee at a diner. "From the beginning, I expected to be cleared."

He was removed as pastor and placed on indefinite leave based on allegations he had an inappropriate relationship from 1977 to 1985 with 14-year-old student Daniel Donohue, starting when Kavanagh was rector of Cathedral Preparatory Seminary in Manhattan.

Donohue brought the allegations to the Manhattan district attorney's office, but no criminal charges were filed.

Donohue has said that he had pushed aside the memory, but the experience left him shattered, and that he lost his vocation and suffers from anxiety.

The allegations were shocking, but current and former members of the parish rallied around Kavanagh, holding Masses, candlelight processions, 54-day novenas, posting yellow ribbons around the church and school complex, and staunchly proclaiming his innocence.

It was stark contrast to a situation two years earlier, a couple miles down E. Tremont Ave. from St. Raymond's, when parishioners at St. Benedict Church howled in protest to swiftly remove a priest with multiple accusations of molesting children.

Kavanagh pressed Rome to give him a full church trial.

His was held in the Diocese of Erie, Pa., in Millcreek Township, last November.

Kavanagh said he couldn't talk about the canon law proceedings, which seem as secretive as the Guantanamo Bay trials of alleged terrorists.

That was nearly a year ago, and there has been no word.

The Church should resolve this one way or another; it's not fair to anyone - Donohue, Kavanagh or the parishioners and supporters working tirelessly to help him.

"I'm not bitter, I'm not angry," Kavanagh said. "I'm disappointed it's taken five years. I understand the need to put me on leave, given the climate back then. But with all the evidence and testimony I presented, I'm disappointed it's taken so long.

"It's five years of my life I'll never get back."