'He Did Horrid Things'
Civil Suit | Priest Convicted of Child Molestation Accused of Abusing 2 More Boys

By Susan Hogan
Chicago Sun-Times
October 24, 2007

http://www.suntimes.com/news/616856,CST-NWS-Priest24.article

An anguished and tearful Arizona dad said Tuesday that a Chicago Jesuit priest molested his two sons during confession.

And the dad said the priest showed the boys "dirty" magazines, such as Hustler and Penthouse, before "cleansing them" of their sins.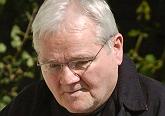 An anguished dad said Tuesday that the Rev. Donald McGuire molested his two sons during confession.
Photo by Rich Hein


"He made a mockery of the priesthood and the confessional," said the dad, a devout Catholic who was in Chicago for the filing of a lawsuit against the Rev. Donald McGuire and his religious order.

McGuire, who was convicted last year of molesting two other boys in the 1960s, is living in Oak Lawn while he appeals that verdict. In August, a 21-year-old college student filed a lawsuit saying he was abused by McGuire from 1999-2003.

'Most dangerous priest'

"He's the most dangerous priest in America," said Marc Pearlman, a lawyer representing the three accusers in the civil suits.

Tuesday's lawsuit says the older Arizona boy, identified as John Doe 117, was abused from 1988-1994, beginning when he was about nine. His brother, John Doe 118, was abused from 2001-2002, beginning at age 13, the suit says.

The abuse happened inside and outside of confession, primarily in Arizona, where McGuire flew to lead retreats organized by the boys' parents, the suit says. One incident is alleged at Canisius House, a Jesuit residence in Evanston, where McGuire once lived.

The Rev. Edward Schmidt, head of the Jesuits' Chicago Province, said in a statement the order learned of the allegations Oct. 12, but waited five days to notify law enforcement. "We abhor any kind of abuse," said Schmidt, who only recently ordered McGuire to stop wearing clerical garb. McGuire could not be reached for comment.

'They've got to stop this predator'

The Arizona dad said he and his wife first met McGuire on a pilgrimage to Catholic shrines in Europe in the early 1980s. She became a Catholic on the trip because of his influence. For the next 25 years, they organized retreats for McGuire in Arizona. Little did they know that during those visits, the priest was molesting their sons, the dad said.

McGuire also insisted upon hearing the boys' confessions. While in a traditional booth or other private setting, the priest molested them, the dad said.

"He did horrid things to them," the dad said. "Then he forced them to confess their sins of impurity."

McGuire, 77, led retreats around the world, most notably for Mother Teresa's nuns, after working in Jesuit schools, primarily in the Chicago area. He introduced the Arizona couple to Mother Teresa in the mid-1980s. "I thought of him as a walking saint," the dad said.

He said his sons only told him about the abuse last month.

The older son, now 28, is a former Marine who lives in California. The younger son, once an altar boy for McGuire, is 20, attends college and lives at his parents' Arizona home.

"They've got to stop this predator," the dad said. "Chicago Province, please, put this man out of circulation."

Contact: shogan@suntimes.com.