Giuliani Hires, Defends Accused Priest

By Kilian Melloy
EDGE Boston
October 24, 2007

http://www.edgeboston.com/index.php?ch=news&sc=glbt&sc2=news&sc3=&id=23919

A Catholic priest accused of sexually abusing teenagers and ordered by the Church no longer to act as a priest was later hired by Republican nomination hopeful Rudolph Giuliani.

ABCNews.com posted the story Oct. 23, reporting that Monsignor Alan Placa's employment by Giuliani has led to protests at the candidate's campaign gatherings.

Placa, the report said, has long been a friend to the former Mayor of New York, and perfomed Giuliani's wedding to second wife Donna Hanover.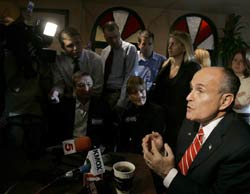 Giuliani defended close friend and accused priest Placa



Richard Tollner, who claims that he was abused by Placa in 1975 while Tollner was a student at a parochial high school in Long Island, said, "This man did unjust things, and he's being protected and employed and taken care of."

Continued Tollner, "It's not a good thing."

At a campaign appearance in Milwaukee last week, Giuliani continued to defend Placa, who he described to reporters as a close friend for 39 years.

"I know the man; I know who he is, so I support him," said Giuliani at a Milwaukee campaign event.

Giuliani said that he and Placa had been good friends for 39 years, and stated, "We give some of the worst people in our society the presumption of innocence and benefit of the doubt."

Said Giuliani, "And, of course, I'm going to give that to one of my closest friends."

The ABC News report said that Tollner claimed to be one of three former alleged victims to testify about Placa before a grand jury five years ago.

The accusations against Placa were made in testimony before a Suffolk County grand jury in 2002.

Said Tollner, "This man harmed children. He still could do it."

Added Tollner, "He deserves to be shown for what he was, or is."

Tollner went before the cameras Tuesday, Oct. 23, to talk about his abuse history on Good Morning America, which is a production of ABC News.

Tollner said that he and Placa were making placards for a Right to Life March at the high school when Placa first abused him.

Recounted Tollner, "As he started to explain how these posters should be done, I realized that something was rubbing my body."

Tollner went on, "After a minute or two, I realized that he's feeling me, feeling me in my genital area."

The grand jury submitted a report about "Priest F," finding that he molested his victims "again and again and again," and that he "was cautious, but relentless in pursuit of his victims."

The grand jury report went on to say, "He fondled boys over their clothes, usually in his office."

However, the report also said that the statute of limitations had passed, and "Priest F," along with other Long Island priests accused of abuse, could no longer be prosecuted.

Tollner claims that "Priest F" and Placa are one and the same.

ABC News heard from other former students who said that the "Giuliani organization" had approached them to share their own, very different, experiences with Placa.

One email was submitted by Matthew Hogan, who wrote ABC News that, "There was absolutely not a hint of rumor of a speculation or a whisper, in four years, or in decades after of any sexual predatoriness on the part of Rev. Placa."

The email did recount Placa's having paid "special attention" to Tollner, and Hogan described having noted Tollner in Placa's office, where Tollner was "laughing, on opposite sides of a desk with Mr. Tollner happily animated sitting up on the couch talking."

Hogan pointed out in his email, however, that the area "was CONSTANTLY trafficked even on off days and hours."

Wrote Hogan, "I will gladly help take apart in public anything that seriously overlooks the above. I'll be watching The Blotter like a hawk."

The grand jury made further findings that "Priest F" was part of how the Church acted to use "deception and intimidation" to keep a lid on sexual abuse perpetrated by priests.

The story noted that Placa had been a lawyer for the Church, and cited attorneys representing the alleged victims as saying that Placa would meet with the victims to discuss their claims. Placa would appear in his priest's attire, but he would not disclose the fact that he was acting in a professional legal capacity on behalf of the diocese.

Said attorney Melanie Little, who has represented alleged victims who say they were abused by other diocese priests, "He was a wolf in sheep's clothing."

Continued Little, "He was more concerned with protecting the priests, protecting the reputation of the diocese and protecting the church coffers than he was protecting the children."

Besides working for Giuliani, Placa remains close friends with the former mayor, having traveled earlier this year with Giuliani and wife Judith to Rome.

Sunny Mindel, spokesperson for Giuliani Partners, said that Placa would not comment to ABC News.com; neither would the spokesperson specify what duties Placa performs foe Giuliani Partners, or what his salary is.

ABC News.com quoted Tollner as saying, "Mr. Giuliani can do what he wants with his money, but he has to pay the price for people like myself who disagree with employing known child molesters."