Jesuits 'Sorry' for Clergy Abuse, Critics Say It's All Talk

By Susan Hogan
Chicago Sun-Times
October 26, 2007

http://www.suntimes.com/lifestyles/religion/621669,CST-NWS-Jesuits26.article

The head of the Chicago Province of Jesuits said Thursday the order had not done enough to stop clergy sexual abuse and unveiled "new" prevention policies that other Catholic leaders adopted years ago.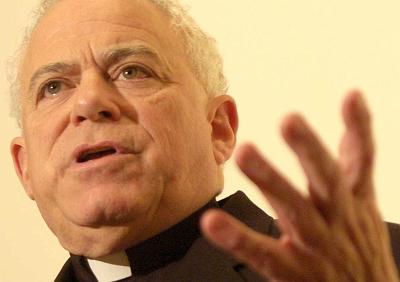 Fr. Edward Schmidt of the Chicago Province of Jesuits addresses issues of sexual abuse in the priesthood at a press conference Thursday.
Photo by Al Podgorski


The Rev. Edward Schmidt spoke out two days after more sexual abuse allegations were lodged against the Rev. Donald McGuire, who last year was convicted of molesting two Loyola Academy students in the 1960s.

"I am personally outraged that anyone, particularly a Jesuit, could abuse a child," said Schmidt, who ordered McGuire to stop wearing clerical garb only last month. "Above all, I want to say that I am sorry."

Abuse survivors called the apology a public relations smokescreen.

"The Jesuits preach safety and still let their predators roam free to abuse children," said Barbara Blaine of the Survivors Network of those Abused by Priests.

'It's an outrage'

Schmidt said the Jesuits weren't monitoring McGuire, who is living in Oak Lawn pending appeal of his case, or the Rev. Bernard Knoth, a Chicago Jesuit who has been living in Florida since the order ruled four years ago he had molested a teen in the 1980s.

Schmidt called Knoth's living situation a "sabbatical." He said he couldn't say whether Jesuits are seeking to remove McGuire and Knoth from the priesthood.

"There's no reason he can't say, and in fact, it's an outrage that he doesn't say," said the Rev. Kenneth Lasch, a church law expert.

Religious orders have long argued against ousting predator members on the grounds that society is safer because orders can provide close supervision. The trouble is that they don't, Lasch said.

Since August, the Chicago Jesuits and McGuire have been slapped with two lawsuits involving three boys. The earliest allegation stems from 1988 and the latest in 2003.

The "new" policies Schmidt introduced include training programs and background checks.

The Jesuits also have enlisted the help of William Gavin and Kathleen McChesney, who have worked with U.S. bishops on clergy abuse.

Schmidt said he didn't know how many Jesuits in his province had been accused of child abuse.

The order received complaints about McGuire as early as 1969, according to trial testimony.