Molester Ex-Priest Will Need a Home
Morris-Area Victims Say They'll Warn Whatever Community He Turns to after Dec. 7 Sentencing

By Abbott Koloff
Daily Record
October 28, 2007

http://www.dailyrecord.com/apps/pbcs.dll/article?AID=/20071028/COMMUNITIES/710280389/1203

James T. Hanley, a former priest who has admitted to molesting at least a dozen children in Morris County, appears to have no place to call home.

He was released this past week from a Hudson County jail after pleading guilty to a weapons offense for waving a bat at Secaucus hotel clerks last year. He told authorities he was going to live at a Garfield boarding house, where he stayed for a time last year.


The owner of this Garfield boarding house says ex-priest and accused child molester James T. Hanley isn't welcome back for another stay, even though he told authorities that's where he'll live.
Photo by Abbott Koloff


But the owner of that building previously told authorities he would not be welcomed back — and confirmed that to the Daily Record this past week. Tenants at the boarding house said on Friday that the former priest had not turned up there. So where did he go?

Hanley's victims say he might be living in a hotel after having saved up money from his stipend and Social Security while he was in the Hudson County jail over the past year. He is expected back in court on Dec. 7 for sentencing. His plea agreement calls for him to be released on time served.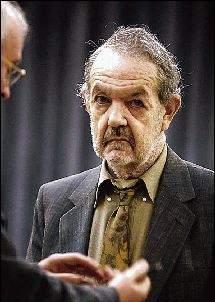 Victims say they'll track down James T. Hanley.



After the sentencing, some of his victims say they will find him, just as they did more than a year ago when they went to a Paterson neighborhood where he was living. They handed out leaflets to notify neighbors that Hanley was an admitted child molester. Hanley later said he left that neighborhood because people were staring at him. That led him to a Secaucus hotel, where witnesses say he threatened clerks with a baseball bat during a dispute over a bill.

His release this week rekindled a debate about what to do about priests who have been accused of molesting children but who don't fall under Megan's Law, with its community notification and counseling requirements. Hanley, 71, a former pastor at St. Joseph's parish in Mendham, never was charged with a crime because the statute of limitations expired by the time law-enforcement officials were notified. Paterson Roman Catholic Diocese officials, who pay Hanley a $2,000 a month stipend, say they no longer have any responsibility in the matter because he was defrocked — removed from the priesthood in a process known as laicization.

"He's laicized, he's provided a stipend, but we have no further information about him," said Marianna Thompson, a diocese spokeswoman. "We have no statement to make on that subject at all."

Hanley's victims say that's why they will continue to pursue him.

"He ought to be monitored," said Mark Serrano, a Hanley victim and board member with the Survivors Network of Those Abused by Priests, known as SNAP. "I don't know why the church won't do it. It's ridiculous for them to say they have no obligation. ... This is not about vengeance. I'm not burning to go after him. My focus is protecting those in harm's way."

Ray Skettini, a Hanley victim who lives in Vernon, said he was conflicted about handing out leaflets in Paterson last year. He said he worried that people might have sympathy for Hanley, that SNAP would be perceived as harassing him. He also said he felt sorry for the former priest.

"I still think it's the right thing to do," Skettini said of the leafleting. "There's a strong chance that what he did to me he would do to other kids."

Serrano said he believes his group provided a service by handing out leaflets in Paterson. One neighbor with three children, including a 10-year-old boy, told SNAP members she had invited the former priest over for dinner.

"I was 10 years old when I was targeted," Serrano said.

But even some victims' advocates have been critical of community notifications, saying it merely forces sex offenders to move from one place to another.

Monsignor Kenneth Lasch, a nationally known victims' advocate from Morristown, said he didn't participate in the Paterson leafleting because he disagreed with it. He said he would like to see local church officials take a role in monitoring Hanley and providing counseling.

"The man is very ill," Lasch said. "There is a legitimate concern about where he lives, especially if there are children around. ... But we don't just throw a man out on the street. We don't do that with animals. ... I would like to see the diocese social services find some way to help him manage his life. ... There can be some monitoring and he can get some counseling."

Victims' advocacy groups say thousands of priests have been accused of abusing children but never charged with crimes. Church officials say almost 6,000 priests have been accused, going back more than 50 years — 1,700 over the past three years.

But it's not clear what happened to them.

Bishopaccountability.org, a victims' advocacy group, estimates that the church has laicized about 200 priests, with thousands of others placed on administrative leave. SNAP officials say they have performed about two dozen community notifications nationwide over the past year.

"It's not being widely done, but I think it will grow," Serrano said.

Abbott Koloff can be reached at (973) 428-6636 or akoloff@gannett.com