Scandal in the Church: Five Years On

NPR
October 30, 2007

http://www.npr.org/templates/story/story.php?storyId=6819690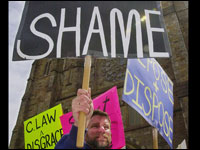 Photo by Getty Images


Concerns about sexual abuse by priests in the Catholic Church had been whispered about for years, but the revelations that began in The Boston Globe five years ago put the story on the nation's front pages. As thousands of victims stepped forward around the country, mounting anger and outrage kept it there. The Catholic Church continues to grapple with the scandal today.