Decades-Old Letters Told of Concerns about Priest
Abuse | Doubts Expressed about McGuire in 1969

By Maureen O'Donnell
Chicago Sun-Times
October 30, 2007

http://www.suntimes.com/lifestyles/religion/626067,CST-NWS-priest30.article

Anguished parents and a troubled priest were writing letters to religious authorities as early as 1969 outlining concerns about Jesuit priest and now-convicted child molester Donald J. McGuire.

The documents were released Monday by lawyers for some of McGuire's alleged victims. The attorneys said the letters were brought to them by parents and others who tried to sound the alarm on McGuire but were ignored by the Jesuits.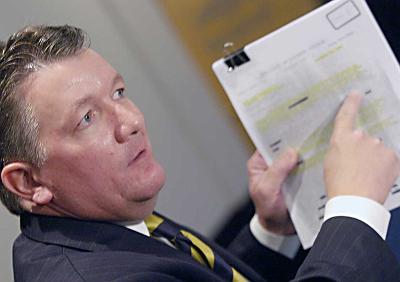 Attorney Kevin M. McGuire points to new records on long term predatory sexual abuse.
Photo by Al Podgorski/Sun-Times


The earliest document alleging inappropriate behavior was from 1969. The Rev. Charles Schlax contacted the Rev. John Reinke, then president of Loyola Academy, saying he was troubled by a youth's complaint about McGuire, a Loyola teacher.

The youth said McGuire was a "pervert," according to Schlax's letter, which the lawyers said was turned over by someone else. Schlax wrote the youth had been staying nights at Loyola, "away from his home for a week or more," which was cause for "a complete investigation."

Subsequent letters from Reinke to McGuire show McGuire was soon informed he was going on sabbatical.

A series of letters from anguished parents were sent to Jesuits and other church authorities starting in 2000 about McGuire's relationships with their teenaged sons, who worked as McGuire aides. One family said their son told them McGuire "was overwhelming him with pornographic pictures and talking to him about sexual matters at every waking moment."

Another family described near-brainwashing, with McGuire pressuring the teen to avoid college, family and friends, and to sleep on a mattress on the floor of McGuire's room -- or in his bed.

Those parents also wrote to church authorities in 2000 in Savannah, Ga., where McGuire was to lead a retreat, and in 2002 to Chicago archdiocesan authorities.

The letters were released by lawyers Jeff Anderson, Kevin McGuire and Marc Pearlman. Anderson called them evidence of a "cover-up" and a "trail of deceit."

Chicago's Jesuit order released a statement Monday apologizing for McGuire's actions and vowing to cooperate with law enforcement.