Priest Now Facing Federal Charge

By Mike Heine
Janesville Gazette
November 2, 2007

http://www.gazettextra.com/news/2007/nov/02/priest-now-facing-federal-charge/

CHICAGO — The Rev. Donald J. McGuire was charged federally Friday with traveling to another country with a minor for the purpose of committing sex acts, according to documents.

The complaint, filed Thursday in the U.S. District Court-Northern District of Illinois in Chicago and unveiled Friday, says McGuire traveled from Chicago to Switzerland and Austria and sexually molested a boy he took with in December 2000.

The boy told investigators McGuire, 77, molested him starting in 1999, when he was 13 years old. The repeated abuse ended in 2003 when the Chicago Province of the Society of Jesus ordered McGuire to move from the Canisius House, a Jesuit home in Evanston, Ill., to another residence in Chicago.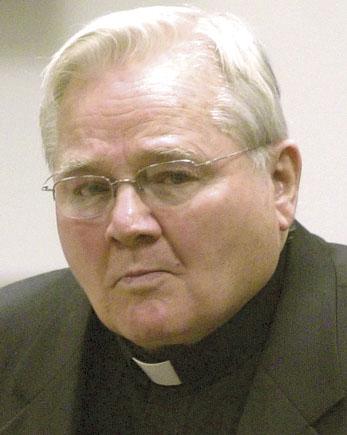 Fr. Donald McGuire



The assaults happened mostly in the Chicago area, but also during trips to 11 other states and two other countries, the boy told investigators, according to the complaint.

Another boy accused McGuire of molesting him when he was 9 years old in the late 1980s, according to the complaint. The first abuse that boy reported happened when McGuire was hearing his confession. Assaults continued at retreats the two attended together until the boy was 13 or 14, according to the complaint.

Starting in at least 1991, the Jesuits placed special restrictions on McGuire regarding his contact with minors, according to documents the Jesuits provided investigators.

He was ordered repeatedly not to travel with or be alone with any minors, according to the complaint.

A 2002 memo from the Jesuits says six complaints were made about McGuire since 1991 that include having a young man sleep in the same room with him, having a young man wash McGuire's feet while he showered, buying underwear for a boy, talking incessantly about sex and showing a boy pornography, according to the complaint.

Under current federal law, the statute of limitations for sexual abuse of a minor extends to the life of the victim.

McGuire could face 15 years in prison or fines totaling $250,000 if convicted of the federal felony.

The charge comes one day after McGuire failed to win a motion hearing for a retrial in Walworth County Court.

He was convicted by Walworth County jury in February 2006 of five state charges of indecent behavior with a child and sentenced to seven years in prison and 20 years probation. The charges stemmed from incidents that occurred at a Fontana residence in the late 1960s with two boys McGuire taught at a Catholic school in Wilmette, Ill.

Should he choose to continue the appeal of his state conviction, McGuire will need to seek a review by the Wisconsin Court of Appeals.

Moments after Walworth County Judge James Carlson denied his motions for a new trial, McGuire was arrested for probation violations and taken to the Walworth County Jail.

He was transferred to the federal courthouse in Chicago on Friday.