Episcopal Bishop Suspended
The Head of the Denomination's Philadelphia Diocese Is Accused of Concealing His Brother's Sexual Abuse of a Minor

By David O'Reilly
Philly.com
November 2, 2007

http://www.philly.com/philly/hp/news_update/20071102_Episcopal_bishop_suspended.html

In a surprise move, the Episcopal Church USA has suspended Bishop Charles E. Bennison Jr., head of the Episcopal Diocese of Pennsylvania, on charges that he concealed his brother's sexual abuse of a minor girl more than 30 years ago.

Presiding Bishop Katharine Jefferts Schori, the denomination's leader, informed Bennison on Wednesday that he was formally "inhibited" and was to "cease all episcopal, ministerial and canonical acts" as of 11:59 p.m. tomorrow.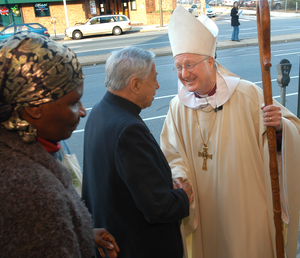 Bishop Charles E. Bennison Jr. will stay on and preside overthe diocese's annual convention, which begins tomorrow. His suspension is to take effect at 11:59 tomorrow night.
Photo by April Saul / Inquirer Staff Photographer


Schori's deadline for Bennison's departure will allow him to chair the annual diocesan convention, which begins tomorrow morning at the diocesan cathedral in West Philadelphia.

The 10-member diocesan standing committee will immediately assume all the duties of bishop until a special Court for the Trial of a Bishop hears the charges against Bennison some time next year.

That court will decide if he may resume his diocesan duties or should be removed permanently.

Bennison, 63, has been diocesan bishop for 11 years in the diocese, which has 80,000 members in Philadelphia, Bucks, Chester, Delaware and Montgomery Counties. A leading church liberal and scholar who supports gay clergy and gay marriage, he has been the target of conservative attacks almost since his arrival.

He did not return calls yesterday seeking comment.

Diocesan leaders said yesterday it was unclear who had filed the formal complaint that led to Bennison's removal. The abuse victim's brother wrote in an e-mail yesterday that he was "surprised" to learn of it.

The 12-page "presentment," or church indictment, said only that in 2006 it had "received materials accusing Bishop Bennison of conduct unbecoming a member of the clergy."

It goes on to assert that in the early 1970s Bennison, then the rector of a parish in the Diocese of Los Angeles, hired his younger brother, John, as parish youth minister.

After a six-month affair with a 19-year-old woman of the parish, John Bennison began having sex with a 14-year-old girl of the parish and continued the abuse for several years.

The presentment further asserts that when Charles Bennison discovered the abuse, he "did nothing to hasten the end" of it and made no objection when John Bennison presented himself for ordination as a priest in 1975.

"I have to be, not a pastor, but a brother in this situation," Bennison told the girl's parents in a 1978 letter, shortly after she revealed the abuse and they confronted him.

John Bennison, who had previously acknowledged the affairs, resigned as a priest in 2006 after a Los Angeles TV station reported on his abuse of the 14-year-old.

Last Nov. 1, Bishop Bennison apologized to the diocese for the "lack of action on my part" after several articles on the abuse and cover-up appeared in The Inquirer.

The diocesan standing committee, which is assuming the duties of bishop, has sought Bennison's removal for nearly two years on the ground that he misused diocesan assets.

On Nov. 8,, it filed a unanimous complaint with the presiding bishop's office asking that Bennison face a church trial for depleting millions of dollars in diocesan assets without proper authorization to create a summer camp and retreat center in Maryland. The Rev. Glenn Matis, president of the standing committee, said yesterday he believed that the standing committee's complaint was still under review.

He said he anticipated that if Schori's office issued a separate presentment against Bennison on grounds of fiscal mismanagement, both charges would be heard at one trial. "That would make sense from a logistical point of view," he said.

If the court rules against Bennison and he appeals the verdict, the standing committee would continue as the diocesan episcopal authority.

Matis, 60, retired last year after three decades as a parish priest and rector in the diocese.

He said yesterday he would begin managing the day-to-day affairs of the diocese at 8 a.m. Monday and would work "on a full-time basis" for the foreseeable future.

He said he had not had any conversation with Bennison since he received word of the bishop's suspension Wednesday night.

Contact staff writer David O'Reilly at 215-854-5723 or doreilly@phillynews.com.