New Leader of U.S. Bishops Faulted in Abuse Case

By Barbara Bradley Hagerty
National Public Radio
November 13, 2007

http://www.npr.org/templates/story/story.php?storyId=16235278 [with audio]

Cardinal Francis George of Chicago was elected president of the U.S. Conference of Catholic Bishops on Tuesday. George has been an outspoken advocate for cleaning up the sex-abuse crisis in the church. But critics say he ignored complaints that a priest in his own archdiocese was actively abusing boys in a case as recent as last year.
Read the Reports: The Defenbaugh report chronicles the failures and missteps by the Chicago Archdiocese in the case of Father Dan McCormack. The Childers report analyzed the "monitoring system" of abusive priests; it concluded that these priests have very few restrictions placed on them.
After the church sex-abuse scandal broke five years ago, Cardinal George led the push for a zero-tolerance policy against abusive priests. His policies for Chicago became the model for reform nationwide. George himself traveled to Rome to persuade the Vatican to accept them.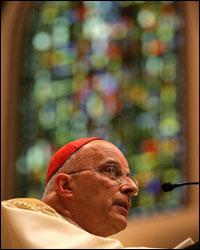 Cardinal Francis George celebrates Mass in Chicago in a 2005 file photo. George, who was elected president of the U.S. Conference of Catholic Bishops on Tuesday, is accused of ignoring complaints of a priest abusing children in his archdiocese. Photo by Tim Boyle


Jimmy Lago, the chancellor of the archdiocese, says those policies are simple: When a minor reports abuse, the church immediately tells the police and yanks the priest from his job.

"We don't wait for the review board," he says, referring to a group of lay people and clergy who investigate cases of sexual abuse. "We don't wait for anyone. When an allegation comes in, the interim action is taken to ask the priest to step aside while we do an investigation."

That's the theory. But in the case of Father Daniel McCormack, those policies failed.

Reporting Policies Ignored

St. Agatha's parish lies in a poor section of Chicago. For the children here, the church and its Lady of the Westside School are a refuge from dangerous streets. Daniel McCormack lived and worked here. He was a young, dynamic priest who asked to serve in this poor community, teaching algebra and coaching basketball.

The kids loved him — he once carved a pumpkin as he was delivering a homily — but some parents grew concerned.

"I didn't really care for that priest," observes one mother, while sitting in her apartment in the suburbs of Chicago. Pictures of her five children and her husband cover the walls.

The mother, who asked that her name not be used, sent her son to Lady of the Westside in the fall of 2003. She quickly noticed a bond between her 8-year-old son and the priest. The family later moved away for a year and returned to Chicago in the summer of 2005. As the family discussed where to send their children to school once they returned to Chicago, the mother says, her son grew agitated.

"He came into the room, he was crying and shaking," she recalls. "He said 'Mom!' I said, 'What's wrong?' He just kept crying. He said, 'Something bad happened. That priest, Father Dan — he molested me.' I was like, 'Wait — what are you talking about? You got to tell me everything.' "

The boy told her that at least twice in December 2003, McCormack cornered him, put his hands down the boy's pants and fondled him. When she heard this, the mother says, she called Leah McCluskey, the official in the archdiocese in charge of abuse investigations. She still has the phone records; one call lasted 22 minutes.

She says McCluskey promised to investigate. Under the zero-tolerance policies that Cardinal George promoted, the archdiocese was required at this point to call the police. According to an outside investigation commissioned later by the archdiocese, the archdiocese did not make that call. The mother also told the school principal, who failed to call the police. So she filed a complaint herself.

The police arrested McCormack on Aug. 30, 2005, but they released him for lack of evidence.

A few weeks later, the mother says, she checked back with McCluskey, the archdiocese investigator.

"She said, 'We're on that now. We took him out of the church,' " the mother says. "And I have friends that are Catholic that have been attending that church, and they told me, 'Father Dan gave a great service. He's not going anywhere.' And I was like 'What?' "

McCluskey could not be reached for comment.

Not Removed from School

Instead of removing McCormack, the archdiocese told him to stay away from children. Unfortunately, no one told Barbara Westrick, the principal of the school where the priest taught.

"The first thing they should have done is inform me that he shouldn't be teaching, that he shouldn't be coaching basketball and that he shouldn't be with kids," she says. "None of that was told to me. None. Ever."

According to the outside investigation, church officials told McCormack's fellow priest to "monitor" McCormack — that is, to keep him from bringing boys into the rectory. But McCormack continued to teach, coach basketball and even take children out of state on shopping trips.

Cardinal George declined to be interviewed. Chancellor Lago will not discuss the case in detail, because it is in litigation.

"Bits and pieces of a lot of information didn't get put together," Lago says. "And a lot of really good people who are committed to the safety of kids didn't come to this smack, bang, hit-between-the-eyeballs conclusion that he needed to be removed. So I think that's all I can say at the moment."

A Trail of Abuse Allegations

A closer look at those bits and pieces of information uncovered by the outside investigator hired by the church reveals the following events:

In 1992, two men and one minor accused McCormack of sexually abusing them while he was in seminary. A letter was put in McCormack's seminary file. That letter has disappeared.

In October 1999, the assistant principal at the school where McCormack taught informed the Office of Catholic Schools and the archdiocese that McCormack had allegedly abused a fourth-grade boy. She says she later wrote a letter and delivered it to the archdiocese. The investigator never found the letter. Church officials say they never received it.

In September 2003, a woman called the archdiocese and reported that her grandson was molested by McCormack. She left her phone number but not her name.

At no time did the archdiocese call the police. The outside investigator concluded that that failure to report violated state criminal laws and the archdiocese's own policies. Marc Pearlman, an attorney who has handled cases against more than three dozen Chicago priests, says the church had a clear duty.

"In a school, in a camp, in other institutions, when you're aware that you have a pedophile in your midst, the first thing you do to protect the public is to get rid of them," Pearlman says. "You call the police, and you get rid of them. They've done just the opposite. They've covered it up, and they've kept them within the ranks."

Delays in Removing McCormack

After McCormack was first arrested and let go in August 2005, the archdiocese's independent review board got involved. The board is a group of laymen and clergy who look into such cases. Several sources confirm that the review board sent a letter to Cardinal George in October 2005, telling him to remove McCormack from ministry. He did not.

Chancellor Lago maintains that the instruction was not clear-cut. "There was no formal recommendation by the review board," Lago says. "We were still trying to get this case in-house."

Pearlman counters that it may not have been a formal recommendation, but it couldn't have been any clearer.

"We have evidence that, in fact, the cardinal got a recommendation to remove McCormack and did not do so," he says. "He ultimately did. But I just don't know, as we sit here today, how many kids were abused between the fall of 2005 and January of 2006, when he was finally removed."

More Victims

Four boys say that they were molested by McCormack in that timeframe. Lago estimates that, over the course of his career, McCormack abused "more than 12 and less than 15" boys. NPR met the mother of one of those boys.

The woman, who also asked that we withhold her name because of the stigma associated with the abuse, says she was delighted when, in the fall of 2005, her 10-year-old son began playing basketball and raking leaves at the church and spending time with "Father Dan."

"I felt I don't have to worry because he's down here at the church and I know by him being at the church, he's all right," she says.

She says around Christmastime that year, McCormack molested her son. The boy stayed silent. But a few weeks later, a third boy came forward.

"My assistant principal called me and said, 'We've got a problem,' " Principal Westrick recalled. "She said, 'This kid says he's been molested by Father Dan.' I said, 'I'll be right over.' "

Westrick immediately called the parents, the police and the archdiocese. McCormack was arrested Jan. 20, 2006. In March 2006 — only after McCormack's arrest and 14 years after the first complaint — Cardinal George publicly apologized.

"I should have found at least some fashion in the canons to remove provisionally Father McCormack," he said in a news conference after releasing the results of two investigations that showed how the McCormack case went wrong. "I take responsibility for not doing that, and I'm saddened by my own failure, very much so."

Still, no top official in the archdiocese has faced any sanctions. And the mother of the second victim wonders why not.

"If Cardinal George would have done the right thing, these other boys would not have been molested," she observes. "It's just like he just opened the door for Father Dan to take advantage of other black children."

Daniel McCormack eventually pleaded guilty to abusing five boys. He is serving a five-year sentence in prison.

Related NPR Stories

Jan. 11, 2007
Scandal in the Church: Five Years On

Oct. 29, 2007
Papers: Jesuits Were Warned About Abusive Priest