Nun Pleads No Contest to Child Sex Abuse
For Crimes in 1960s, She Could Get 20 Years

By Derrick Nunnally
Milwaukee Journal Sentinel
November 13, 2007

http://www.jsonline.com/story/index.aspx?id=685340

On the morning she was to go to trial on charges that she molested two teenage boys 40 years ago, Sister Norma Giannini pleaded no contest Monday to two felony counts of indecent behavior with a child.

The former principal of the St. Patrick's Congregation grade school, 79, spoke with a firm voice that faltered nearly to a whisper as she answered Milwaukee County Circuit Judge M. Joseph Donald's questions about her change of plea, which puts her at risk of up to 20 years in prison.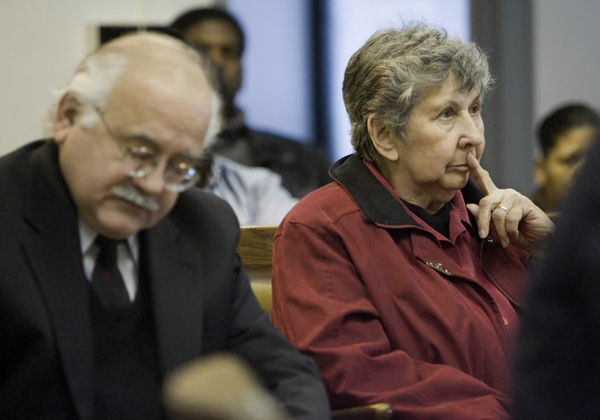 Sister Norma Giannini



The charges she was convicted of say Giannini initiated sexual contact with both of the boys in the 1960s and had repeated sexual encounters with them, sometimes at her house.

In 1996, when the Milwaukee Archdiocese Response to Sexual Abuse panel questioned her, she said, "I thought I was in love with both of them," according to court records.

Giannini wore black casual clothes to court and offered no explanation during the hearing or afterward, speaking only in response to Donald's questions.

As she did, her two victims, now in middle age, looked on intently. One looked upward when his name was mentioned.

Giannini, who lives in Illinois, is being allowed to remain free on a signature bond until her sentencing Feb. 1.

Sorrow and anger

While she trudged silently with her cane toward the courthouse door, her victims discussed what the day signified for them, both lamenting the delay and wishing that a third suspected victim hadn't committed suicide.

"It could have ended so many years earlier and helped so many much earlier," said Gerald Kobs, 55, who said he wanted to speak publicly as a sign of encouragement for other sexual-abuse victims.

He and fellow victim James St. Patrick, 53, called Giannini a complicated woman and said they looked forward to addressing her directly, for the first time in years, at the sentencing hearing.

"I can't forgive her yet," Kobs said. "She has given me that look she has, like the game is not over."

St. Patrick, who like Kobs has gray hair yet finds himself in a confrontation that began in his childhood, said he didn't know how to forgive Giannini.

"It's like going into a horror movie," said St. Patrick, who has changed his surname since his student days.

"She's like Dracula to me. How do you forgive something that's not human?"

Giannini remains a member of the Sisters of Mercy.

The president of the group's Chicago regional office attended the hearing Monday but left without comment.

The official, Sister Betty Smith, later issued a statement calling the situation "tragic for everyone involved."