Miami Priest Tries to Clear His Name in Abuse Cases
A Longtime Catholic Priest Accused of Sexually Abusing Minors Confronted a Canon Tribunal in the Archdiocese of Miami

By Jay Weaver
Miami Herald
November 13, 2007

http://www.miamiherald.com/460/story/305741.html

The Rev. Alvaro Guichard has been trying to clear his name for years, ever since five men accused the Catholic priest of sexually abusing them as boys decades ago.

Last week, before a first-ever canon tribunal in the Archdiocese of Miami, Guichard finally got the chance to defend himself against the allegations.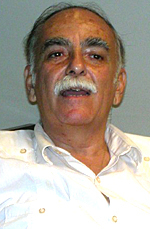 A tribune last week heard from the Rev. Alvaro Guichard, his accusers and other witnesses on decades-old sexual abuse allegation.
Photo by David Santiago


The closed-door tribunal, conducted at the archdiocese's headquarters in Miami Shores, heard testimony from Guichard, his accusers and other witnesses. The Catholic tribunal is a panel of three canonical judges who are priests. They will soon decide Guichard's fate.

Guichard, 67, has been on paid administrative leave since 2002, when the clergy sex-abuse scandal rocked the Roman Catholic Church nationwide. Guichard is the only local priest among dozens of South Florida clerics implicated in the controversy who did not go away quietly.

"I am not guilty of anything because I never abused anyone," said Guichard, who stressed he was "forbidden" from talking about his testimony before the tribunal. "Whatever the final decision, I will tell the press immediately."

PRIVACY POLICY

Archdiocese spokeswoman Mary Ross Agosta confirmed that a canon tribunal was held behind closed doors Wednesday, Thursday and Friday last week, following the policy of the church to keep the evidentiary hearing private. She would not confirm whether the tribunal considered sex-abuse allegations against Guichard.

"It's a proceeding that provides privacy for the accused, accusers and witnesses," Agosta said, adding that canon tribunals are "rare" in the Catholic Church.

She said generally such tribunals are conducted after all civil and criminal disputes have been completed.

There were five negligence complaints filed against the archdiocese alleging misconduct by Guichard. Jose Currais said he was molested at Church of the Little Flower in Coral Gables during the early 1970s. The family of Miguel Chinchilla, who died in 1993, said he was abused at Little Flower in the mid-1970s. Three former Cuban refugees said they were abused in the early 1980s.

SETTLEMENT

In Guichard's case, the Miami archdiocese settled the five civil claims of sexual abuse out of court with Aventura civil attorney Jeffrey Herman. The total payout was hundreds of thousands of dollars. Guichard expressed anger that the archdiocese settled without consulting him.

Guichard, a priest for 38 years whose last parish was St. Francis de Sales in Miami Beach, was not criminally charged by the Miami-Dade state attorney's office.

Guichard, who in past interviews has labeled his accusers "liars," sued them and their civil attorney for defamation. Herman could not be reached for comment Monday because he was traveling on business, his office said.

For decades, the Catholic Church's canon tribunals have dealt primarily with marriage issues. But since the 2002 clergy sex-abuse scandal, tribunals have been conducted in many of the 195 dioceses around the country.

HOW IT WORKS

Here's how the proceeding -- which requires Vatican approval -- works:

• At least three priests schooled in canon law serve as judges. They are the only ones who can directly question witnesses.

• A priest called "the promoter of justice" serves as prosecutor; another priest or lay person educated in canon law serves as "the advocate" for the accused. The two sides submit evidence, arguments and questions for witnesses in writing to the judges.

• The canon judges can reach one of three verdicts: Guilty means the priest will be removed from diocesan ministry, but he can appeal. Innocent means he can be reinstated, though his bishop has the final word. Not guilty means there is not enough evidence to prove his guilt, but he can be retried.

• After the tribunal proceedings, the Vatican can decide to remove a priest permanently. That means he cannot be called "Father," may not say Mass anywhere and is forbidden to act as a priest in any way.