Defiant Molester: 'I Will Always Be a Priest'
Religion | Fights Chicago Jesuits' Efforts to Expel Him

By Susan Hogan/Albach
Chicago Sun-Times
November 15, 2007

http://www.suntimes.com/lifestyles/religion/651784,CST-NWS-priest15.article

The Rev. Donald J. McGuire, convicted of molesting two boys, said Wednesday that he's fighting an effort by Chicago's Jesuits to expel him from their religious order.

"They can't abandon me," a defiant McGuire told the Chicago Sun-Times in a rare interview.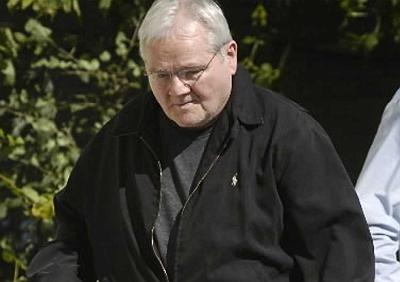 The Rev. Donald McGuire vowed to fight efforts by the Jesuit order to remove him.
Photo by Sun-Times file


Last year, a Wisconsin jury convicted McGuire of molesting two boys from Loyola Academy in Wilmette in the 1960s.

He now faces lawsuits on a string of new child molestation accusations as well as a federal indictment that alleges he traveled overseas with a minor with an intent of having sex with him.

McGuire wouldn't discuss the allegations.

"I'm losing friends because people don't know my side of the story," he said. "But my lawyer says I can't talk."

When asked point blank whether he had molested children, McGuire declined to comment.

The 77-year-old prominent priest once traveled the globe as a retreat leader, often for Mother Teresa's religious order.

"I continue to receive support from friends all over the world," he said.

But one vocal non-supporter is his nephew, Kevin McGuire, a California lawyer representing the priest's accusers.

"What he's done to kids is unconscionable," the nephew said. "He's the original 'Monster of the Midway.'"

Donald McGuire wouldn't criticize his nephew. "I pray for him," he said.

The Chicago Jesuits have presented McGuire with a dismissal decree from the order, which still needs Vatican approval to become official. McGuire said he has appealed to the Vatican not to allow the dismissal.

Citing confidentiality, the Jesuits would not say whether they're also seeking McGuire's removal from the priesthood -- which is different from removal from the order.

"I will always be a priest," McGuire insisted to the Sun-Times. "They can't take that away."

The Jesuits suspended McGuire from public ministry in 2003. Under church law, even if he remains a priest, he's never supposed to publicly function as one.

"That's the theory," said the Rev. Kenneth Lasch, a church law expert. "But if he approached a bishop somewhere around the world who didn't check him out, he could end up functioning again."

'I'm in God's hands'

McGuire has been living in an Oak Lawn apartment while appealing a seven-year prison sentence in the Wisconsin conviction. He's been jailed three times for violating the terms of his release and now wears an electronic monitor.

The priest said he spends his days in prayer.

"I don't know what the future holds," he said. "I'm in God's hands."