$50 Million for Alaskan Abuse Plaintiffs
Plaintiffs' Attorneys Say $50 Million Will Be Paid by Jesuits for 110 Claims of Sexual Molestation Coming out of Remote Villages

By William Lobdell and Stuart Silverstein
Los Angeles Times
November 19, 2007

http://www.latimes.com/news/printedition/asection/la-na-settle19nov19,1,4126840.story?coll=la-news-a_section

The Jesuit order of the Roman Catholic Church has agreed to pay $50 million to 110 Eskimos to settle claims of sexual abuse by priests and missionaries in some of the world's most remote villages.

Attorneys for the plaintiffs announced the settlement Sunday, calling it a record payout by a Catholic religious order. However, officials for the Jesuits — formally called the Society of Jesus — said there were "still many issues that need to be finalized."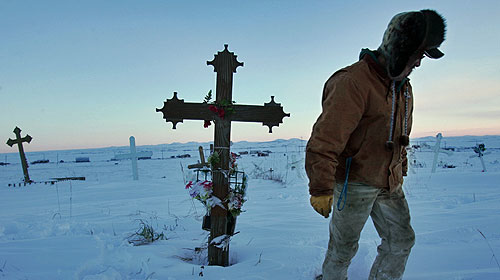 PAYING RESPECTS: Thomas Cheemuk visits the grave of his brother John, who killed himself in 1999, in a cemetery overlooking the Alaska village of St. Michael in February.
Photo by Damon Winter


"We are disappointed by today's actions by the plaintiff's attorneys, which we see as premature and detrimental to the work of healing about which we are all concerned," said John D. Whitney, the provincial superior of Society of Jesus, Oregon Province, in a written statement.

E-mail between the Jesuits' and victims' attorneys indicated a deal was in place, though some details needed to be worked out.

"This e-mail will confirm that a settlement has been reached," wrote Richard K. Hansen, attorney for the Jesuits, to the Eskimos' lead attorney, Ken Roosa, on Friday. "The settlement calls for $50 million to be paid to the plaintiffs/claimants in exchange for releases of all claims against the Jesuit defendants."

The settlement does not require the order to admit fault, Roosa said. None of the priests was ever criminally charged.

A dozen priests and three missionaries were accused of sexually abusing Eskimo children in 15 villages and Nome from 1961 to 1987. The flood of allegations led to accusations that the Eskimo communities were a dumping ground for abusive priests and lay workers affiliated with the Jesuit order, which supplied bishops, priests and lay missionaries to the Fairbanks diocese.

Jesuit officials have denied transferring molesting priests to Alaska, saying that it was a prestigious assignment for the most courageous and faithful. In Jesuit fundraising literature, Eskimo villages were called "the world's most difficult mission field."

Related Stories
Missionary's Dark Legacy

Many plaintiffs said their once devoutly Catholic villages — cut off from the world and without law enforcement — offered a perfect setting for a molesting priest. In 2005, The Times published a story about Joseph Lundowski, a Jesuit deacon who allegedly sexually abused nearly every boy in two small villages on St. Michael Island between 1968 and 1975.

Lundowski's accusers — now in their 40s and 50s — said the abuse led to alcoholism, violence, emotional problems and suicide attempts. They kept their secret — not even talking about it among themselves — until the Catholic Church sex scandal erupted in 2002.

That year, Roosa filed the first civil suit against the Jesuits and the Diocese of Fairbanks. The cases against the diocese are still pending.

Roosa said he spent Sunday on the phone, relaying the news of the settlement to his clients who were scattered across western Alaska: "I'm tired but I'm able to call clients today with good news."

This year, the Archdiocese of Los Angeles paid $660 million to settle with 508 claimants, and the Diocese of San Diego paid $198 million to settle with 144 alleged victims.

In Orange County, the Diocese of Orange two years ago paid out $100 million to 90 people who alleged they were victims of clergy sexual abuse.

In Alaska, the average payout of $554,000 was far below those in Southern California, but comparisons can't yet be made because the Fairbanks diocese hasn't agreed to a settlement.

Contact: william.lobdell@latimes.com, stuart.silverstein@latimes.com