Bishop Prays, Asks for Forgiveness and Healing

By Erik Loney
KXLY
November 21, 2007

http://www.kxly.com/news/?sect_rank=2&section_id=560&story_id=16036

SPOKANE -- Spokane Catholic bishop William Skylstad held a prayer service Tuesday night to pray for the clergy sex abuse crisis that rocked the diocese and cost it more than $50 million.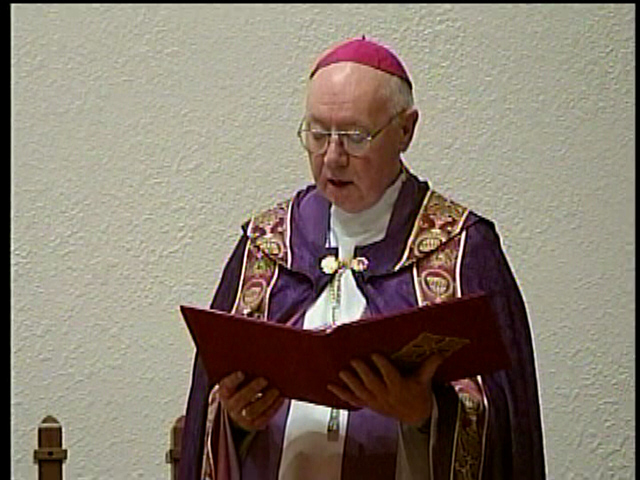 Bishop William Skylstad lead a prayer service for forgiveness and healing Tuesday night at Assumption Catholic Church, as part of the setlement with abuse victims.



One of the mandates of the bankruptcy settlement is Bishop William Skylstad must visit every parish in the diocese where an abusive priest worked. He will visit 30 parishes over the next couple months.

Tuesday, he was at Assumption Parish in North Spokane, and announced two former priests, Patrick O'Donnell and Garry Boulden both worked here at one time, and have credibly been accused of abuse.

"In your church priests have abused your children, in your name we beg your mercy for this sin," Skylstad told everyone at the service.

Skylstad prayed for forgiveness and healing and again said he was sorry.

"I express an apology and ask for forgiveness," he said.

Steve Barber sat in the back row. He was an alter boy here as a child when he was abused by former priest Patrick O'Donnell.

O'Donnell was one of the most prolific pedophile priests to work in the Spokane Diocese. Court documents say he's admitted to molesting dozens of young boys. Lawsuits stemming from O'Donnell's abuse and sexual abuse by other priests have cost the diocese more than $50 million

Related Links:

• Diocese of Spokane

Barber says the settlement money and the words of a prayer service offer him little healing.

"I expected something different," Barber said. "It was mass printed, to the letter. It was rehearsed. People in the pews are sorry, and I'm sure the bishop is sorry he got caught. I don't know."

Skylstad acknowledges the healing will not come easily.

"It's a journey of healing and reconciliation and it hakes time," Skylstad said. "It doesn't happen with one experience. It takes time and we're deeply committed to that."

Even though O'Donnell has admitted to abusing young boys he will never spend a day in jail because the statute of limitations has run out.