Bishop Michael Warfel Prepares to Leave Juneau
After More Than 30 Years in Alaska, Catholic Priest Is Reassigned to a Diocese in Montana

By Kim Marquis
Juneau Empire
November 21, 2007

http://www.juneauempire.com/stories/112107/loc_20071121020.shtml

Bishop Michael Warfel, the first Catholic priest in Southeast Alaska elevated to that position, leaves Juneau in January for reassignment to the Diocese of Billings in Great Falls, Mont.

The decision by Pope Benedict XVI was announced Tuesday in Washington, D.C.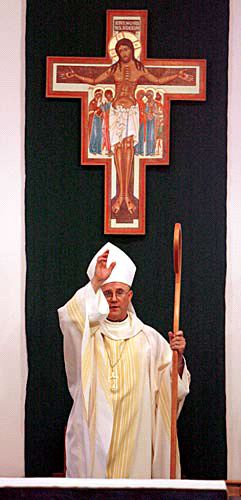 Bishop Michael Warfel blesses the congregation of The Cathedral of the Nativity on July 17 during the celebration of the 125th anniversary of the first Catholic mass in Juneau. Warfel, who has been bishop of the Diocese of Juneau for 11 years, has been reassigned as bishop of the Diocese of Billings in Great Falls, Mont.
Photo by Brian Wallace / Juneau Empire


"I'm sad to leave but also excited for new challenges," Warfel said Tuesday from Billings, Mont., where he made a short visit for the announcement.

Warfel, 59, ministered in Alaska for more than 30 years and in Juneau for 11. During his tenure in Southeast, he oversaw the construction of a large Catholic church in the Mendenhall Valley and improvements at the Shrine of St. Therese. He became a mediator in a heated subsistence debate and dealt with two sex abuse scandals.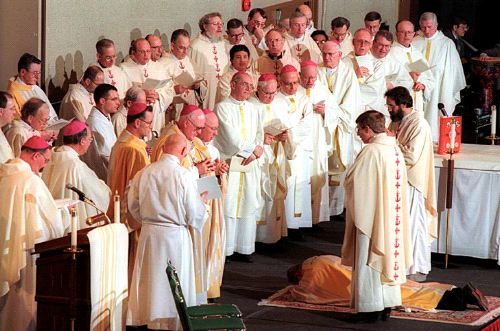 Accepting role: Bishop Michael Warfel lays prostrate, bottom right, before Catholic clergy from Alaska and Pacific Northwest during his ordination ceremony on Dec. 17, 1996, at Centennial Hall.
Photo by Brian Wallace / Juneau Empire


The new assignment reflects well on his service in the Roman Catholic Church, said Deacon Charles Rohrbacher of Juneau.

"It means he has the attention of the church as a good bishop," Rohrbacher said.

Warfel was ordained as a priest in Anchorage in 1980. He was a parochial vicar in Wasilla, Kodiak and Anchorage before being ordained and installed as fourth bishop of the Diocese of Juneau.

One year after his 1996 appointment in Juneau, Warfel said he missed being in a parish but still enjoyed opportunities to meet people in Southeast because of its size. Juneau's is the smallest diocese in the United States, with about 6,000 members.

Warfel succeeded Bishop Michael Kenny, a charismatic clergyman who was popular with parishioners and other community members in Juneau. Kenny died unexpectedly in 1995. When Warfel arrived, church members still grieved the loss.

"He just listened and listened," recalled Dr. Richard Cook, a local dentist and 20-year member of the church. "It's his gift, really. He does a wonderful job of it."

Warfel steered the Diocese of Juneau through two separate sex abuse cases that began in 2002.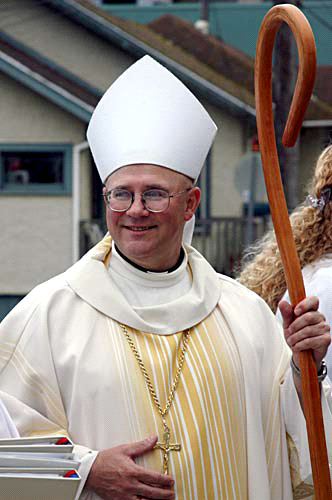 Church leader: Bishop Michael Warfel leads a procession July 17 on Fifth Street to honor the 125th anniversary of the first Catholic mass in Juneau. Brian Wallace / Juneau Empire
Photo by Brian Wallace / Juneau Empire


Local Catholics backed him in a decision to remove the Rev. Javier R. Gutierrez, who admitted to sexual indiscretions in the 1980s with young girls in Haines and Ketchikan.

Under Warfel's management the diocese paid a settlement in 2004 to a former Juneau resident who alleged he had been sexually abused as a boy beginning in the late 1970s by the Rev. Michael Nash, a priest who was later dismissed from the priesthood.

Warfel gave the go-ahead for the local Catholic community's largest construction project. St. Paul's Catholic Church in the Mendenhall Valley opened in June, 2002, to accommodate a growing congregation that previously had to worship in three separate Sunday masses because of a lack of space.

Developments at the Shrine of St. Therese were a personal favorite project, Warfel said. The shrine, located 23 miles north of downtown underwent a $500,000 interior renovation in 2005. The 46.5-acre property received new buildings for retreats, a parking lot and walkways.

The shrine still retains its simple charm, he said. "It's the heart and soul of Juneau, a holy spot."

Besides being a popular spiritual leader in Juneau, Warfel also has been a political figure in the city.

He helped the Alaska Native Brotherhood and the Territorial Sportsmen resolve a dispute over subsistence rights, which, along with other issues, threatened a boycott of the Golden North Salmon Derby in 1997.

He later published a pastoral letter with the two other Alaskan bishops on subsistence fishing and hunting to promote justice in decision-making on the divisive issue.

Warfel traveled to Montana on Tuesday for the announcement of his reassignment. He expected to return to Juneau today.

He will be formally installed Jan. 16, 2008, at Holy Spirit Church in Great Falls, Mont. He plans to leave Juneau the first week of January, he said.

An outdoorsman who enjoys riding his 10-speed bike, kayaking and hiking in the area, Warfel said he would most miss the people of Juneau.

"Personally, I am sad to see him leave," Deacon Rohrbacher said. "I'm hoping we will be sent a bishop who is as good as him."

The Great Falls-Billings Diocese comprises the eastern part of the state and includes nearly 400,000 people and about 50,000 Catholics.

Warfel is the seventh bishop of eastern Montana. He succeeds Bishop Anthony Milone, who resigned for health reasons in July 2006.