Second Trial to Begin for Accused Priest

By Sam Hemingway
Burlington Free Press
November 23, 2007

http://www.burlingtonfreepress.com/apps/pbcs.dll/article?AID=/20071123/NEWS01/71123003/1009

The judge in the upcoming second trial involving claims of long-ago child sexual molestation by a Roman Catholic priest has ruled that church lawyers cannot shift blame for the alleged abuse to a relative of the alleged victim.

"Court will not permit implication that plaintiff's brother caused the harm," Chittenden County Superior Court Judge Matthew Katz wrote in a final pre-trial ruling this week prior to Monday's opening arguments in the case brought by James Turner of Virginia Beach, Va.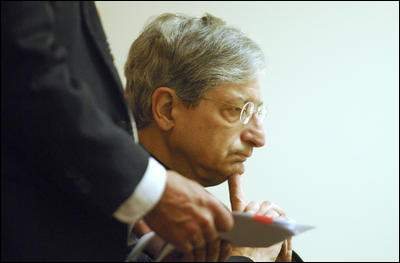 Bishop Salvatore Matano waits for the start on the first day of a trail in Superior Court in Burlington in a lawsuit brought by James Turner against the Roman Catholic Diocese of Burlington alleging he was molested by former priest Alfred Willis in 1997.



Turner, who grew up in Derby, has claimed he was molested by the former Rev. Alfred Willis in a Latham, N.Y. motel room in 1977 and that the diocese was to blame because it failed to supervise Willis properly. Willis settled separately with Turner last year.

Willis has been accused of molesting altar boys in Burlington, Milton and Montpelier, where he was a diocesan parish priest. Willis was suspended from priestly duties in 1980 by then Bishop John Marshall and was later defrocked.

During the first trial in June on Turner's claims, church lawyers asked Turner several times about what they characterized as a special relationship between Willis and Turner's brother, who is also a priest.

Willis and Turner's brother allegedly were in a homosexual relationship at the time, and church lawyers wanted to show that Turner was angry at his brother for not protecting him from Willis.

The inquiry led Joseph to declare a mistrial in the case after Turner's lawyers reminded Joseph that he had issued a pre-trial ruling prohibiting such questioning. Joseph later awarded Turner and his lawyers more than $112,000 in court costs.

Afterward, church lawyers angrily accused Joseph of being biased against the diocese and said they would welcome having a different judge preside over future priest molestation cases. The court has 25 such cases awaiting trial.

Katz has presided in the past over a number of cases involving claims of sexual abuse by Roman Catholic priests and nuns, although none of the cases reached the trial stage.

One of those earlier cases involved similar allegations against Willis and was settled out of court in 2004 for $170,000.

Katz in another recent pre-trial ruling, turned aside a request by Turner's lawyers to drop a juror selected for the upcoming trail because she was an active Catholic and regular reader of the Vermont Catholic Tribune, a diocesan newsletter.

"To conclude that any individual, practicing Catholic necessarily shares the diocesan view regarding liability for past wrongs is essentially to engage in stereotyping," Katz wrote. "The undeniable product of plaintiff's motion would be to ban all Catholics from cases such as this."

After opening arguments to the jury Monday, Turner's lawyers are expected to show the jury hours of video-taped testimony from the first trial, including testimony from Monsignor Wendell Searles, a longtime diocesan official and its onetime vicar general.

At the first trial, Searles had to read lengthy portions of church records detailing sexual misconduct allegations involving Willis and other priests.

Searles later admitted under questioning that the diocese hid information about priests who had molested children as a way to protect the priests' privacy.