Indicted Mesa Priest Preaches Again

KPHO
November 23, 2007

http://www.kpho.com/news/14675402/detail.html

MESA, Ariz. — The former pastor at a Mesa Catholic church who faces seven misdemeanor charges of sexual misconduct has started a new worship center and conducted his first services.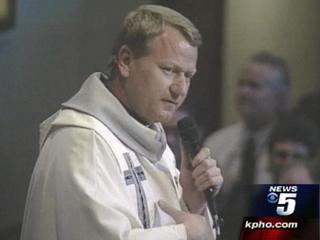 Dale Fushek



More than 500 worshippers gathered to hear Dale Fushek conduct a service at a Mesa hotel Thursday.

Known as "Monsignor Dale" during his 20 years at St. Timothy's, Fushek co-founded the national Life Teen program and served as vicar general of the Catholic Diocese of Phoenix.

But all that came tumbling down in late 2005, when he was arrested on one count of assault, five counts of contributing to the delinquency of a minor and one count of indecent exposure. He is accused of engaging in sexually related discussions with teenagers during confessions and exposing

himself to teens as he got into his hot tub.

Fushek was suspended by the diocese and is now resigning from the priesthood. He is tying to win the right to a jury trial on the charges and a hearing is pending on that issue before the Arizona Supreme Court.

On Thanksgiving Day, he said he was happy to be back before a group of worshippers.

"I feel alive again," he said after the two-hour morning service. "This was inspiring and beautiful. I thought there was a really good spirit among the people here."

Fushek said he started the nondenominational Praise and Worship Center as a place where people can come to worship between regular services, not as competition for the Catholic Church.

"This is not a church. It is not intended to draw people away from their denominations," he said.

People in attendance at the first service waited in long lines to personally thank Fushek for starting the center.

Mesa resident Elizabeth Culverson said she had waited a long time to hear Fushek preach again and felt blessed to be in the audience.

"God gave us a great gift today," she said.