St. Leo's Has First Week without Accused Priest

WJZ
November 25, 2007

http://wjz.com/local/Michael.Salerno.St.2.595088.html

BALTIMORE (WJZ) — It is the first week without their priest for parishioners at a Catholic church in Little Italy. Reverend Michael Salerno has been removed from his post after allegations of child sex abuse going back more than 30 years. Some members at St. Leo's Church tell Tim Williams it will not be the same.

Parishioners walking to Saint Leo's Catholic Church passed signs of support for Father Michael Salerno.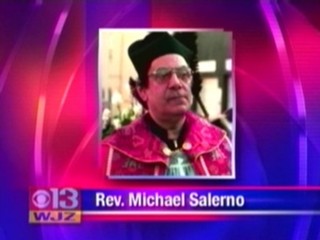 It is the first week without their priest for parishioners at a Catholic church in Little Italy. Photo by CBS


A member of St. Leo's Catholic Church hands out window signs door to door in Little Italy. They say "We Support Father Mike" and, in Italian, "Come Back Soon."

"A bunch of us thought we have to support this man somehow. I mean, he has been so supportive of everyone down here. For good or for bad," said parishioner Givanna Blattermann.

Father Mike Salerno, age 61, has been accused of sexual child abuse by a man who says it took place in Brooklyn, New York, in the 70s. The accuser says he was a young teen then and Salerno was a lay brother, not yet a priest.

This is the first Sunday since Father Mike's removal.

Father Salerno is a member of the Pallatine Fathers.

In a statement, they say he agreed to cooperate fully with their procedures on investigating allegations of child sex abuse and agreed to get counseling.

"We all love him and it happened, what, over 30 years ago. I'm sure he's paid for his sins if he's guilty. Let's get on with it. Really, he's done so much for St. Leo's. He's brought more people into the church," said Anne Rinaldi.

Father Mike had a high profile in Little Italy, promoting events in the community and the church. A victim of priest abuse says a single allegation must be well investigated, but a victim coming forward long after abuse isn't unusual.

"Because the same we carry, we think it's our fault. We think we're the only ones and think we're going to be chastised for it," said Francis Bacon.

At church on Sunday, parishioners were told why Father Mike had not been at St. Leo's all week and the order of priests asked other possible victims to come forward.

No criminal charges have been brought in the case and experts say New York's statute of limitations would prevent it.

No word on how long the diocese investigation will take.