Case Overturned after Years Served

By Peter Smith
The Courier-Journal
November 27, 2007

http://www.courier-journal.com/apps/pbcs.dll/article?AID=/20071127/ZONE10/711270386

Former Roman Catholic priest Daniel C. Clark has pleaded guilty to two charges of sexually abusing boys in Bullitt County under an agreement that could spare him further time in prison.

Clark was scheduled to face a retrial beginning today on two counts of first-degree sexual abuse after the Kentucky Supreme Court overturned his original conviction in 2003.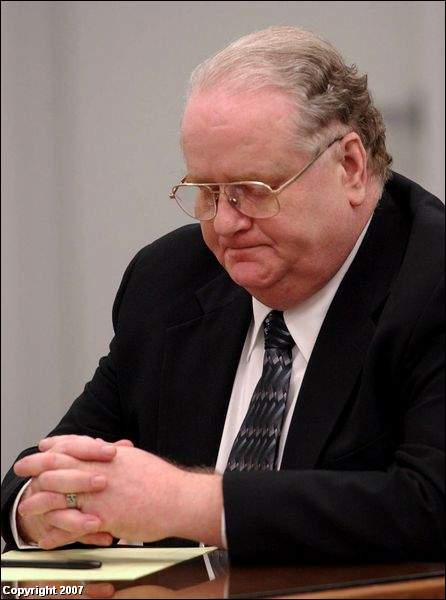 2003 photo Daniel C. Clark served nearly four years of his 10-year sentence.



He already had served nearly four years of his 10-year sentence before the court overturned the conviction, citing errors the trial judge made in instructions to the jury and in allowing testimony from a previous victim of Clark.

Under the plea agreement, Clark would serve probation for the remainder of his sentence, Bullitt Commonwealth's Attorney Michael Mann said. Clark also would have to register as a sex offender.

The agreement, which Clark entered last Wednesday, must be approved by Bullitt Circuit Judge Rodney Burress at a sentencing hearing.

After the Supreme Court ruling, Clark was moved from the Kentucky State Reformatory near La Grange to the Bullitt County Jail, where he was bailed out in July on a $10,000 cash bond posted by John P. Maloney of Louisville, the brother of late Roman Catholic Bishop Charles G. Maloney.

Mann said he didn't know Clark's current address but said he might be out of state.

Mann said that, while he'd "like to see somebody who's been convicted of something like this serve as much time as possible," he agreed to the deal based on the victims' wishes.

"Based on our discussion with the family, the victims in the case, there was a strong desire on their part to keep a low visibility on this thing," Mann said.

He also cited the Supreme Court's ruling that he could not present a witness at retrial who had been instrumental in Clark's 2003 conviction.

Neither of the Bullitt victims or their families could immediately be reached for comment.

Clark was one of the priests at the heart of the scandal of sexual abuse by clergy in the Roman Catholic Archdiocese of Louisville.

He was accused in 19 lawsuits against the archdiocese, including one filed on behalf of the Bullitt County boys. The archdiocese eventually settled all the cases.

The archdiocese paid nearly $30 million in settlements and other expenses involving hundreds of cases in which more than three dozen priests and other church workers were accused.

Clark was accused of repeatedly fondling the two Bullitt County boys between 1999 and May 2002. After his conviction, he was sentenced to the maximum penalty of two consecutive five-year terms.

The Supreme Court ruled in May that Judge Thomas Waller erred by giving improper instructions to the jury and in allowing the previous victim, a man victimized by Clark more than a decade earlier, to testify at Clark's trial.

Though Clark had previously been convicted of sexual abuse and sodomy in 1988, he remained a priest until 2004, when he was removed by the Vatican after it approved stricter rules on abusers in the priesthood.

Because Clark's 1988 conviction took place before the establishment of Kentucky's sex-offender registry, he was not required to register his whereabouts.

The victim in the earlier case testified during the Bullitt County trial in 2003. The Supreme Court ruled that the testimony was prejudicial, prompting the jury to make an unwarranted assumption about Clark's guilt.

Courts generally limit testimony from victims whose cases are not currently being tried unless the testimony could demonstrate specific facts, such as the defendant's identity or pattern of behavior in committing a crime.

The Supreme Court also ruled that Waller gave "seriously flawed" instructions to the jury because he didn't give them the option of convicting Clark on second-degree abuse in the case of the older of the two boys.

The older boy turned 12 during the time the abuse occurred, according to the charges.

State law dictates that fondling children under 12 is a first-degree felony but a second-degree misdemeanor for minors 12 and up. The latter charge carries a lesser penalty and can only be prosecuted within 12 months of the offense, while felonies have no statute of limitations.

Victims' advocates are trying to change state statutes to make all sexual abuse of minors a felony.

Barbara Dorris, an outreach director for the national group Survivors Network of those Abused by Priests, said in a statement: "While we are grateful that … Daniel Clark's victims will be spared the ordeal of a trial, we are worried that he may molest again. Kids are safest when serial predators are jailed."

Reporter Peter Smith can be reached at (502) 582-4469.