Priest Leads Service Despite Sex-Case Suspension

By Jim Walsh
Arizona Republic
November 27, 2007

http://www.azcentral.com/community/ahwatukee/articles/1127fushek1128.html?&wired

A Roman Catholic priest awaiting trial on misdemeanor sex charges broke the rules of his administrative suspension by leading a non-denominational service in Mesa on Thanksgiving Day and faces possible punishment.

Monsignor Dale Fushek, who once was second in command at the Diocese of Phoenix, was placed on administrative leave in December 2004, after he was accused in a civil suit of watching while another priest had sex with a boy.

Fushek was ordered not to function as a priest or in any other form of public ministry.

"He's not supposed to engage in public ministry. It doesn't matter if he is acting as a priest," said Jim Dwyer, diocese spokesman.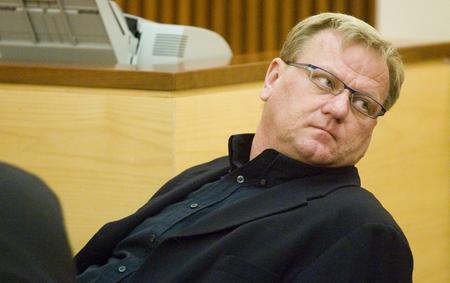 Dale Fushek



"They are in conversations with him about his status as a priest. Obviously, what he did Thursday may affect his status as a priest."

The diocese might not punish Fushek if he agrees to not participate in any more services, but "if he continues to oppose the directives, we'll see what happens," Dwyer said.

Fushek and Mark Dippre, a former Catholic priest, launched the Praise and Worship Center with a mailing address in Chandler and led a non-denominational service at the Phoenix Marriott Mesa Hotel in downtown Mesa.

Dippre served as associate pastor at St. Timothy's Catholic Church in Mesa from 1995 to 2000, acting as Fushek's assistant.

Fushek served as pastor at St. Timothy's for 20 years and launched Life Teen, a national ministry for Catholic teenagers.

Fushek was indicted in November 2005.

The misdemeanor sex charges stem from his relationship with five teenage boys between 1984 and 1993 at St. Timothy.

Fushek is accused in the indictment of engaging in explicit conversations about sex with the boys, inviting one into his bed and into a hot tub, "kissing and snuggling" the boys, and exposing himself to a boy.

San Tan Justice of the Peace Sam Goodman granted Fushek a jury trial on an indecent-exposure charge, but ruled that sexual-exploitation-of-a-minor and assault charges would be handled in a bench trial.

Fushek appealed Goodman's ruling on the bench trial, requesting a jury trial on all counts because prosecutors are seeking a court order requiring him to register as a sex offender if convicted.

The Arizona Supreme Court has agreed to hear the appeal but has not set a date.

The diocese eventually settled the civil suit out of court in December 2006, for $100,000.

Dwyer said Dippre left the priesthood in 2002 to get married.

He had been pastor at Our Lady of Mount Carmel church in Tempe.

The diocese had heard that Fushek might conduct a service but wasn't sure if he was going to follow through, Dwyer said.

"I believe there was a reminder" from the diocese to Fushek that he was not supposed to participate in public ministry under the terms of his administrative leave, Dwyer said.

Dwyer said the church has been paying Fushek "sustenance" for nearly three years, as required by church law for suspended priests, but would not divulge Fushek's salary.

"It's a private matter between him and the church," Dwyer said.

Fushek did not return calls made to a representative of the Praise and Worship Center.

The center's Web site said that the next service is planned for Dec. 23 at the Mesa Convention Center.

Bob Huhn, a Mesa spokesman, said the religious organization has a reservation for the Dec. 23 service but has not signed a contract.

He said the rental fee would be up to $1,200.

The center's Web site said services are neither Catholic nor Protestant.

But is indicated they are for "people who are searching for something to supplement their own spiritual journeys."

It says the center would focus on "unconditional love, acceptance of each person in a non-judgmental way, the centrality of Christ's message of love and forgiveness, and the teachings of the Gospel."

Dwyer said the diocese does not support Fushek's actions.

A statement from Vicar General Fred Adamson said the service is not Catholic and encouraged Catholics to attend Mass.

Adamson declined interview requests.