Man Suing Vermont Diocese Takes Stand

By Sam Hemingway
Burlington Free Press
November 29, 2007

http://www.burlingtonfreepress.com/apps/pbcs.dll/article?AID=/20071129/NEWS01/711290309/1009

The man suing the state's Roman Catholic diocese for failing to protect him from being molested by a priest in 1977 said Wednesday he didn't talk about it afterward because he was embarrassed and unsure anyone would believe him.

"Who was going to believe me, a kid?" James Turner, 47, of Virginia Beach, Va., asked a Chittenden Superior Court jury in Burlington on Wednesday. "I wouldn't know how to say it. I didn't know how to deal with what happened."

Turner claims he awoke in a Latham, N.Y., motel room to find the Rev. Alfred Willis performing a sex act upon him. Willis was in the room with seven Turner family members and friends who were asleep after attending a religious ceremony for his brother, who was about to become a priest.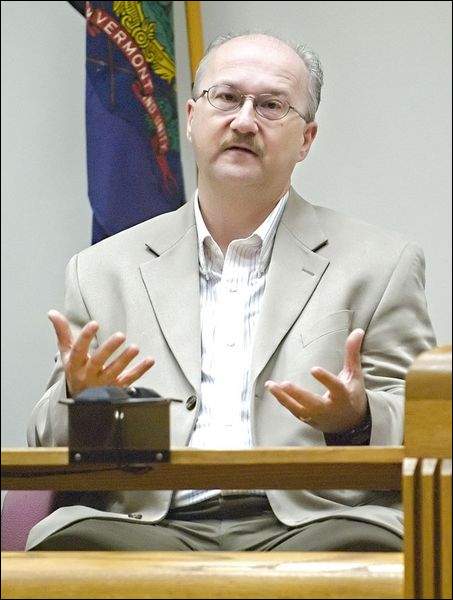 James Turner testifies on the third day of the second trial in his lawsuit against the Roman Catholic Diocese of Burlington in Chittenden County Superior Court in Burlington on Wednesday.
Photo by Glenn Russell


Turner was 16 at the time of the molestation. Willis was removed from priestly service in 1980 after the diocese received a number of allegations about his sexual misconduct with boys. He is no longer a priest.

Turner said he did not begin to deal with the effect of the abuse on his life until 2002. He sued the diocese and Willis in 2004 and settled separately with Willis last year. The diocese, in papers filed with the court this week, said it does not dispute that Willis molested Turner.

Diocesan lawyer David Cleary questioned Turner's claim that he had kept details of the incident to himself, at one point getting Turner to admit he did not know whether he told either of his two former wives about what Willis did.

"I don't recall if I did or not," Turner said.

The timing of when Turner came to terms with the molestation is important because if it appears he understood the molestation and its consequences long ago, the case could be thrown out of court.

Turner also admitted under questioning by Cleary that he gave two stories about what he did to a basketball Willis gave him several months after the motel incident. Turner once claimed he gave the ball to a neighborhood friend. More recently, he said he punctured the ball out of anger toward Willis.

"Which is true?" Cleary asked Turner.

"Both are true," Turner replied, saying in both cases he was trying to be honest. "I remember more now than I did then."

After the jury was dismissed for the day, presiding Judge Matthew Katz told attorneys for Turner and the diocese he was not sure the jury should consider whether to award punitive damages in the case.

Punitive damages, meant to punish the offending party for its conduct, can drive up the amount of money awarded the victim beyond what might be provided through compensatory damages. Katz is expected to hear from lawyers on the matter this morning before the trial resumes.

Turner's testimony came on the third day of the trial and marked the first time a witness has testified in the case. The trial is the second on Turner's claims; the first ended in a mistrial in June, and until Wednesday, the jury had listened to videotaped testimony from the first trial.

Turner told the jury under questioning by John Evers, one of his lawyers, that he didn't know what to do when he awoke in the motel room to find Willis molesting him.

"I couldn't comprehend what was going on," he said. "Next morning, I felt dirty, absolutely dirty and filthy."

Turner said he took a long shower that morning but that "I could not wash it off. Even today, I still feel the filthy feeling." When Willis tried to repeat what he had done with Turner at the Turner home several months later, Turner said he fought him off.

Turner said he didn't tell anyone what Willis had done until his brother, the Rev. Bernard Turner, told him in 1981 that Willis had been caught fondling "boys or campers" in Milton.

Turner said he gave his brother, and later his parents, a brief description of what Willis did to him but did not discuss the matter in detail.

Cleary aggressively questioned Turner's description of his 1981 conversation with his brother. At one point, Cleary divulged that he and Turner's brother were friends and members of a Lake Placid, N.Y., yacht club and implied he knew from Turner's brother that parts of Turner's description of the 1981 conversation were incomplete.

"Did he tell you as he told me ..." Cleary began to ask Turner before John Evers, one of Turner's lawyers, jumped up from his seat to object.

Katz quickly suggested a "change of subject matter."

Turner said he began to see the causes of his two failed marriages and other problems in a new light in 2002 after reading about the priest sex abuse scandal in Boston. Turner wrote to Monsignor Wendell Searles, the Vermont diocese's vicar general. In the letter, he told Searles what happened and asked for help.

According to documents on file with the court, Searles wrote back, advising Turner to ask for counseling through the Richmond, Va., diocese near where Turner was living. Turner told the jury he twice called the Richmond diocese and left messages, but no one called back.

Turner said he decided to sue Willis and the diocese after seeing a Free Press story in 2004 about how another victim of Willis' had won an out-of-court settlement from the diocese.

Contact Sam Hemingway at 660-1850 or shemingway@bfp.burlingtonfreepress.com