Suit Accuses Catholic Brother of Sexual Abuse

By Peter Smith
The Courier-Journal
November 29, 2007

http://www.courier-journal.com/apps/pbcs.dll/article?AID=/20071129/NEWS01/711290412/1008/NEWS01

A Roman Catholic Franciscan brother who manages a Louisville shelter is being accused of sexual abuse in a lawsuit filed yesterday in New Mexico.

The lawsuit accuses Brother Kerry Guillory of sexually harassing and abusing a teenage boy in 1976 and 1977 when Guillory was assigned to parishes in that state.

The plaintiff — who goes by the name "John GE Doe" in the lawsuit — alleges that Guillory sexually harassed, abused and sodomized him when Guillory was supervising Catholic youth activities in New Mexico.

The plaintiff, who said he was about 16 at the time, says Guillory provided him with alcohol and marijuana to weaken his resistance.

Civil complaints contain only one side of a story and are not evidence in a court of law. Guillory denies the charges and said he has never sexually abused anyone.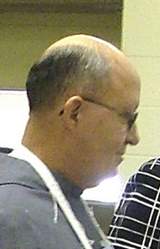 Guillory



"Nothing happened," he said in a brief phone interview yesterday morning from the Franciscan Shelter House, a Smoketown facility that provides meals and clothing to the needy. Guillory is listed as the shelter's operations manager.

Among the defendants named in the lawsuit are Guillory and the religious order to which he belongs — the Conventual Franciscan Province of Our Lady of Consolation, based at Mount St. Francis in Floyd County, Ind.

The conference operates in an eight-state area that includes New Mexico, as well as Kentucky and Indiana.

California lawyer Kevin McGuire, who represents the plaintiff, said he doesn't know of any other public accusations against him, although the lawsuit cites unnamed youths who were present when the alleged abuse and harassment occurred.

Brother Robert Baxter, the province's spokesman, said yesterday he's not aware of any previous accusations against Guillory. Informed of the lawsuit by a reporter, Baxter said he couldn't comment on it until he learned more about it. But he said standard procedure with brothers accused of sexual abuse is the same as with accused priests — to remove them from ministry pending investigation. Guillory's position would come under that policy.

Religious brothers are men who join religious orders and consecrate themselves to doing church work but are not ordained as priests and do not preside at sacraments.

The suit names two Catholic parishes in New Mexico and the Roman Catholic dioceses of El Paso, Texas — which included the southern New Mexico area at the time of the alleged abuse — and of Las Cruces, N.M.

The lawsuit is being filed in the Fifth Judicial District Court in Carlsbad, N.M., where Guillory worked at St. Edward Church, the lawsuit states.

The suit says the victim lived in the La Mesa, N.M., area, and attended churches in both La Mesa and Carlsbad, nearly 200 miles away. But McGuire said in an interview that he actually grew up in Carlsbad and that an incident of abuse occurred in La Mesa. He said Guillory led the region's Catholic Youth Organization.

The lawsuit claims that Guillory took the plaintiff on a road trip and sexually abused him in hotel rooms.

It cites one instance in which the plaintiff drank until he passed out and woke up when he was allegedly being sodomized by Guillory. The suit said the teen then fought him off.

The suit alleges that Guillory sent a subsequent letter referring to the incident as the "night of my impulse;" and describing himself as someone "who is lonely" and "will do anything to get love."

The plaintiff is a "hard-working guy, comes from a very devout, extensive Hispanic Catholic family in the area," McGuire said. The suit said the plaintiff has suffered from nervousness, anxiety, sexual problems, substance abuse and difficulties maintaining employment.

After a heart attack in 2005, the suit says, the plaintiff began to connect his emotional problems with the alleged abuse.

McGuire said New Mexico law allows lawsuits to proceed within three years after a plaintiff realizes the connection between an injury and another party's action.

The Province of Our Lady of Consolation played a significant role in the scandal of sexual abuse by clergy in the Archdiocese of Louisville. The province joined the archdiocese in reaching a $25.7 million settlement in 2003 with 243 plaintiffs. Nineteen of those plaintiffs had accused two Conventual Franciscan priests and a brother of sexual abuse.

Reporter Peter Smith can be reached at (502) 582-4469 or psmith@courier-journal.com