Hostage Suspect Claimed Abuse by Priest
Lawsuit Said Alleged Priest Gave Him Alcohol, Another Showed Him Porn, Molested Him

By Jake Tapper
ABC News
November 30, 2007

http://www.abcnews.go.com/US/story?id=3939084&page=1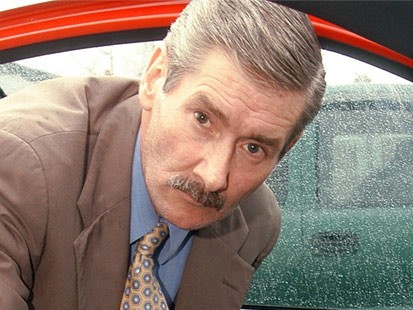 Leeland Eisenberg in 2007, pointing to a warning police left in his car stating the car was unlocked and that police were concerned the owner could become a victim of property crime. A law enforcement official confirmed that Leeland Eisenberg was the man wearing what appeared to be a bomb strapped to his chest who walked into a Hillary Clinton campaign office Friday, Nov. 30. 2007, took several hostages and demanded to speak to the candidate.
Photo by Mike Ross

The suspect arrested for allegedly holding hostages at Sen. Hillary Clinton's New Hampshire presidential campaign headquarters claimed a history of abuse at the hands of a priest, who has since been defrocked amid allegations of sexually abusing young men.

Leeland E. Eisenberg, formerly known as Ralph Woodward, sued the Archdiocese of Boston and Cardinal Bernard Law in 2002 for negligence and infliction of emotional distress, alleging that at a young and vulnerable point in his life he was molested by the Rev. Richard Buntel.

Eisenberg claimed in his lawsuit that in or around 1982 or 1983, when he was about 21 years old, he was "homeless and living in abandoned cars in a local junk yard" in Ayer, Mass., at least in part as a result of the death of his mother and a traumatic childhood at the hands of his "violent, alcoholic father."

Eisenberg went to St. Catherine's Parish in Westford, Mass., where he asked for help. The Rev. Daniel Cronin, who was the senior priest, hired Eisenberg to paint the church in exchange for room and board. Eisenberg was given a cot in the boiler room.

Enter Buntel

On Cronin's days off, Buntel, also a priest at St. Catherine's, would take Eisenberg out for lunch and drinks. Back at the rectory, Cronin allegedly continued to offer Eisenberg "numerous drinks."

After that, Buntel -- who was later forced to resign as a priest -- "would bring out a box of pornographic material, sit beside the plaintiff" -- Eisenberg -- "on a couch, pull out pornographic pictures and magazines and insist the plaintiff look at the pornographic materials," the suit alleged. "Father Buntel would then sexually molest the plaintiff."

Eisenberg claimed that the incidents made him suicidal. The suit, filed by the law firm Greenburg Traurig, claimed that Eisenberg "felt that he needed to stay in the good graces of Father Buntel," since he relied upon him for food and shelter, and feared if he offended the priest his "only means of survival would be ripped away from him."

Concerns about Buntel's inappropriate behavior with alcohol and young men had been voiced as early as 1983, according to documents provided on the Web site BishopAccountability.org. A fellow priest, the Rev. John D'Arcy, wrote to the Archdiocese in 1983 (LINK) that "I think that these allegations are true."

Cardinal Law did not put Buntel on administrative leave as a priest until 1994 (LINK), after which he served as business manager for St. Thomas of Villanova Church. Then as the scandal broke surrounding priests preying on young boys, Law removed Buntel and five other priests from their posts in 2002.

As of Friday evening, it was unclear how Eisenberg's lawsuit was resolved. Buntel could not be reached for comment.