Protest at West Warwick Church Targets Alleged Clergy-Abuse

By Lynn Arditi
Providence Journal
December 3, 2007

http://www.projo.com/news/content/SURVIVOR_PROTEST_12-03-07_OD840IC_v63.2a8173c.html

WEST WARWICK — Parishioners and others attending Sacred Heart Church, on Providence Street, yesterday reacted with surprise, confusion and, in some cases, rage toward a group leafleting outside who said that a former Sacred Heart pastor, who died in 1990, raped a young female parishioner there more than 50 years ago.

The dozen or so protesters, including those who described themselves as "clergy sex-abuse survivors" and their family members, carrying fliers and signs, demanded that the portrait of Monsignor Anthony A. DeAngelis in the church hall be taken down, his name removed from a nearby apartment building and his honorable status in the parish erased. They had gathered in hopes of talking with parishioners leaving morning Masses.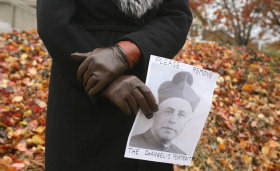 A demonstrator carries a flier picturing the late Monsignor Anthony A. DeAngelis, whose portrait hangs in a hallway of the parish he once headed.
Photo by Kris Craig


Most of the exchanges were civil, if emotional. Many parishioners avoided contact with the demonstrators by leaving through a side door of the church. One protester lost his temper and was charged with "malicious damage" to church property.

The group also denounced two other former Sacred Heart curates — the Rev. Robert A. Marcantonio, also deceased, and the Rev. Edmund C. Micarelli — who were assigned to the parish during the 1960s. Both were sued in civil court for alleged sexual abuse in Rhode Island.

During the 1980s, Micarelli was the pastor of St. Alexander Church in Warren. By 1996, he had moved to Green Acres, Fla., according to his sister's obituary in The Providence Journal.

He is currently living in Florida and "cannot function as a priest," diocese spokesman Michael K. Guilfoyle said.

None of three priests targeted by the protesters was ever criminally charged, but, the diocese acknowledged in a statement yesterday that, "Allegations relative to these individuals have been public for a number of years." Among the protestors were members of national organizations that work to document such abuse. They waited on the cold sidewalk for parishioners. One sign read: "Real Catholics Do Not Protect Child Rapists."

"It's really a shame to hold a man like [Monsignor DeAngelis] in a position of honor," said a silver-haired man in a dress coat and tartan plaid scarf. He clutched a poster bearing a photograph of a young girl dressed in a Sacred Heart school uniform.

Richard Webb, who lives in Wellesley, Mass., said the girl in the photo is his wife, Ann Hagan Webb, who wrote to the Bishop of Providence — at the time Louis E. Gelineau — on June 17, 1994 that "when I was a child I was sexually abused by Monsignor Anthony DeAngelis," according to a copy she provided to The Providence Journal.

William T. Murphy, a lawyer for the diocese, responded in a letter dated Nov. 2, 1994. He wrote that the case was "very difficult" because "the perpetrator is deceased" and there appeared to be "no corroboration of extrinsic facts."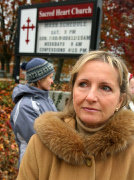 Ann Hagan Webb, who alleges she was raped by the late Monsignor Anthony A. DeAngelis when she was a child, is among the protesters outside the parish he once led.
Photo by The Providence Journal / Kris Craig


But in 1996, after Mrs. Webb granted the lawyer's request for all of her psychiatric records, the bishop gave her a check for $12,500 to cover expenses for therapy and medication. (A copy of the check from the Roman Catholic Bishop of Providence Self Insurance Program dated April 4, 1996 was provided to The Journal. The check is signed "Louis E. Gelineau.")

"She was 55 years old when we came back here for a funeral" about two years ago, said Webb. The portrait of Monsignor DeAngelis, he said, was hanging in the church hallway.

"She was not prepared to see that picture," said Webb. His wife made it through the funeral service, he said, but the experience gave her nightmares.

Several of the parishioners accepted fliers from the protesters and quickly moved on without speaking. One older couple paused.

"He abused children?" said the woman, in disbelief. "He was a good man. My children came to this church for communion. I never heard anything."

"You never know what the private life of a man is like," her husband said. The couple, who said they are from Warwick, gave only their first names, Antonietta and Luigi.

Parishioner Bob Petrarca, 52, of West Warwick, said he was "kind of skeptical" about the charges leveled by the protesters against DeAngelis.

"I was an altar server for years," Petrarca told a reporter, "and I never detected anything going on."

Some parishioners said that the protest could unfairly tarnish the reputation of the church and its current pastor, the Rev. Richard A. Bucci, who did not conduct Mass there yesterday.

"That very good man, it makes him look like he's complicit with this," said a woman as she walked into the church. She accused the protestors of "bullying" the pastor into taking down the portrait.

"What you're doing is casting aspersions on this pastor," she said.

A man with a bible tucked under his arm confronted Webb and the other protestors.

"Whose picture would you put up?" parishioner Saul Goodman, 64, of Warwick, said. "How about a symbol of the Freemasons? ... This is the wrong way to go about it!"

Webb responded, "You don't agree with the First Amendment? Don't you think we should protect children against rapists?"

"…Why don't you go to the police?"

"It wouldn't do any good."

"How do you know that?"

"… I hope it keeps your eyes open and don't be alone with a priest!"

" …I'm a Catholic and I'm proud of it!"

One parishioner leaving the church remarked that she thought the portrait of Monsignor DeAngelis had been removed. So after the parishioners had left the church, Webb decided to see for himself.

He put down his sign and strode up the stairs. He yanked open the heavy doors and entered. Inside, the light was yellow and through the glass windows one could see rows of empty pews.

Then, he spotted it. There, just to the right of the double doors, hung the black-and-white portrait of the Monsignor DeAngelis.

Webb stopped and stared.

"You know what?" he said, eyes fixed on the portrait.

Then, without warning, he lifted his leather-gloved fist and smashed the glass.

Shortly thereafter, a West Warwick police car pulled up. Two officers spoke to Webb, who then followed them to a cruiser.

He returned to the church a short time later with a summons charging him with malicious damage to property. He is scheduled to appear in District Court, Warwick, on Dec. 19.

His wife, Ann, the New England coordinator of Survivors Network of Those Abused by Priests, arrived shortly before her husband left with the police.

"He's not a man of emotional words," she said. "I can't say I haven't felt like doing the same thing."

With staff reports from Richard C. Dujardin.

Contact: larditi@projo.com