Mahony Assaulted near L.A.'s Cathedral

By Rick Coca
LA Daily News
December 4, 2007

http://www.dailynews.com/news/ci_7628053

Cardinal Roger Mahony was physically assaulted by a man enraged by the Catholic Church's sexual-abuse scandal within days of a record settlement with hundreds of victims, the Daily News has learned.

Mahony, 71, revealed the attack during an annual conference in October before hundreds of stunned priests, saying a man assaulted him because of the scandal, according to four priests who attended the conference.

News of the assault comes as the bulk of the church's $660million settlement with victims began being paid out Monday, with more than $500million in checks going out in the mail. The settlement with 508 alleged victims was approved by a Los Angeles Superior Court judge July 16.

The attack on Mahony occurred in July near Our Lady of the Angels Cathedral in downtown Los Angeles, and it took the cardinal about a month to heal, said the Rev. Sal Pilato, principal at Junipero Serra Catholic High School in Gardena. The cardinal was dropping off letters at a mailbox when he was assaulted, priests said.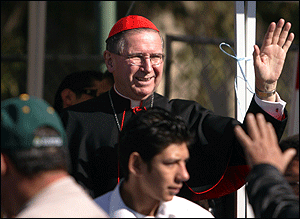 Cardinal Roger Mahony waves to those in the Guadalupe
Photo by Sarah Reingewirtz


"Somebody recognized him and attacked him," Pilato said Mahony told the gathering. "It was shocking because it was an act of violence and it was someone we know and respect."

Mahony declined to comment on the reports.

"Whatever conversation might have taken place between the priests and their bishop was a private conversation and not meant to be public," said Carolina Guevara, a spokeswoman for the Los Angeles Archdiocese.

Mahony told the priests that after his attacker recognized him, the man began shouting expletives and knocked him to the ground, said another priest who asked not be identified.

Leading up to the $660million settlement, Mahony came under fire from victims and attorneys who say he moved sexually abusive priests to different parishes and then blocked efforts in court to keep records of abuse and suspect priests secret.

Coupled with an earlier settlement of $114million given to 86 claimants, the total represents the largest payout for sexual abuse by any archdiocese in the country.

Church officials have said Mahony made a concerted effort to reach out to victims, meeting with many of them and their families in person and offering free counseling to those who need it.

Barbara Blaine, national president of the Survivors Network of those Abused by Priests, or SNAP, a support group for victims, said attacks on church officials are rare.

"I think that incidents like this alleged incident are pretty rare because most abuse victims turn their pain inward and engage in self-destructive behaviors," Blaine said.

"If this happened, we feel sorry for Mahony as we do anyone who's been assaulted in any way."

It was not known whether Mahony's attacker was a victim.

Those at the October conference at Our Lady of the Angels said Mahony shared the story about the assault within the context of the sexual-abuse scandal. Priests described the confession as both deeply moving and, because of the violence, disturbing.

Mahony was telling the priests they all had a price to pay for the sexual abuses perpetrated by their brethren when he relayed the story of the assault as an example of the personal toll he's endured, several priests said.

Bruised after the attack, he said it gave him a deeper understanding of the suffering the victims of the sex scandal have endured, the priests said.

"The main message was that his wounds healed within a month, bruises and all, but the victims of child abuse are still suffering after many years, that their wounds are far deeper than what he experienced," Pilato said.

He apparently decided not to go public with the assault, and Los Angeles Police Department officials said they were unaware of any such incident.

"Roger Mahony's name hasn't been mentioned around here," LAPD Lt. Roger Mora said Monday.

Mahony also revealed at the conference that he thought he might be attacked earlier when tensions over the allegations of sexual abuses by priests were at their peak, said the priest who did not want to be identified.

The priest said he thinks Mahony and others mismanaged the scandal by not removing priests who were sexually abusing children sooner and failing to settle cases earlier. That lack of action has damaged the church's reputation and cost it millions of dollars, he said.

Still, the fact that Mahony was attacked over the scandal and chose not to make it public impressed the priest.

It appeared to him that Mahony was telling those gathered that if he needed to endure the assault to help people get through this trying time, so be it, that he "should just take it because people were so mad, and rightly so," the priest said.

"I was moved. I really was," he said.

The Rev. Joseph Shea, pastor of Holy Family Catholic Church in Glendale, sees Mahony's reaction to the attack as Christ-like.

"Like Jesus, we must offer our lives and even suffer for Christ, even for things we didn't do," said Shea, who was also at the convocation.Some of the priests in attendance said Mahony should have reported the assault to police, while others were shocked that something like that could happen to the leader of the more than 4million Catholics in the Los Angeles Archdiocese.

"That's the kind of world you live in," Shea said. "People do some crazy things sometimes."

Contact: rick.coca@dailynews.com 818-713-3329.