Jury Issues Split Decision in Priest Molestation Case

By Sam Hemingway
Burlington Free Press
December 5, 2007

http://www.burlingtonfreepress.com/apps/pbcs.dll/article?AID=/20071205/NEWS01/712050309/1009/NEWS05

The jury in a priest molestation trial issued a split decision Tuesday night, ruling that the state's Roman Catholic diocese did not adequately supervise the offending priest but saying the victim filed his lawsuit too late to receive a damage award.

The Burlington jury did award $15,000 in compensatory damages to the victim, James Turner, 47, of Virginia Beach, Va. The diocese, however, will not have to pay him the money unless the judge rejects the jury's statute of limitations finding regarding the lateness of the lawsuit, diocesan lawyer Tom McCormick said.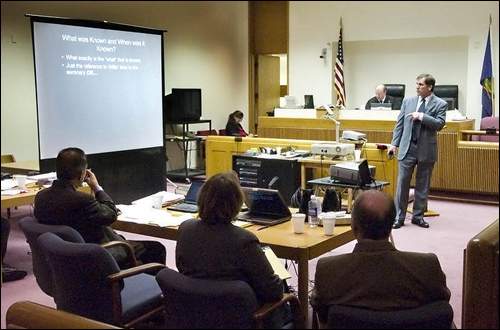 James Turner hugs his wife, Denise, after the jury returned a verdict in Turner's lawsuit against the Roman Catholic Diocese of Burlington in Chittenden Superior Court in Burlington on Tuesday night.
Photo by Glenn Russell


Turner claimed he was molested at a Latham, N.Y., motel in 1977 by the Rev. Alfred Willis after a religious ceremony for Turner's brother, who was about to become a priest.

The diocese did not dispute that the molestation occurred, but said it lacked any evidence before to the motel incident about Willis' potential for sexual misconduct.

The diocese, through its attorneys, also argued that Turner told family members in 1981 about what happened but did not tell the diocese about it until 2002. Turner was 16 at the time of the incident.

"We're gratified by the result," McCormick said moments after the jury issued its verdict after eight hours of deliberation. "It was hard fought. We meant everything we said to the jury. We're grateful for the time and attention they paid to it."

•Court Photos

McCormick said it was possible that the diocese might pay Turner the $15,000 award even if the court decides to uphold the statute of limitations portion of the jury verdict.

"Whether the money would be paid in spite of that legal finding would be up for discussion," McCormick said. Asked if that might happen, McCormick responded, "I wouldn't hazard a guess."

Under the statute of limitations, a person must bring a legal action within a set time period after the incident in question occurred or after the impact of the incident is understood.

Bishop Salvatore Matano, who attended all five days of the trial and waited at the courthouse for the jury's verdict through the afternoon and evening, said no one was a victor in the case.

"This has been extremely painful, I'm sure for the plaintiff and any victim of abuse, for their families and for our diocesan family," Matano said. "It has been a very hard week for all of us ... . At the same time we respect the decision of the court."

Jerome O'Neill, expressed disappointment in the verdict and blasted the diocese for what he said was its decision to "beat up" Turner by poring through his psychological history during the trial and in its closing arguments.

"It exposes the diocese for what they are," O'Neill said. "They try to bring him out in front of a jury and treat him in a mean-spirited kind of way and then pontificate at some point."

O'Neill said he expects to ask the court to overturn the jury's verdict on the statute of limitations finding, as well as a pretrial decision by Judge Matthew Katz to allow an active Catholic to sit on the jury.

"Obviously, when you have somebody who is a member of the diocese sitting on your jury, it causes you some concerns that the jury might not come with a fair settlement," O'Neill said.

O'Neill said Turner, who hugged his wife after the jury's verdict was read, would not comment on the decision. Turner, showing no emotion, left the courthouse with his wife minutes later.

"He told the story, he got it out, it's no longer some deep, dark secret hidden within," O'Neill said. "He gave great strength to other people who were abused ... . He's a man of great courage."

Willis, who was banned from priestly work in 1980 amid allegations he had molested boys in Burlington, Montpelier and Milton, has settled separately with Turner. Willis, who lives in Virginia, did not attend the trial.

During closing arguments before the jury earlier Tuesday, lawyers for both sides homed in on a diocesan document from a 1981 secret trial the diocese undertook concerning other molestation claims involving Willis.

In the document is a disclosure that Willis was investigated for "alleged homosexual conduct" by seminary officials in the early 1970s while undergoing training to become a priest.

"Investigation failed to reveal substance to this concern," the document said, adding that the seminary's rector, or president, had asked "that the matter be dropped."

Diocesan lawyer David Cleary said the message from the seminary official showed only that the seminary had heard something about Willis, investigated it and concluded the allegation was without merit.

"The seminary said to the diocese, 'Drop it. We're wrong,'" Cleary told the jury. "What the seminary didn't say was, 'Don't ordain Father Willis. In fact, they gave him a glowing recommendation."

John Evers, another of Turner's lawyers, told the jury the diocese should have more fully investigated the allegation.

"We know from the documents in this case that 'homosexual conduct' was code for inappropriate sexual contact with minors," Evers said, citing at least eight examples in church documents that he said backed up his claim.

Cleary told the jury Turner was not a trustworthy individual, citing tests conducted by a psychologist hired to examine Turner.

"He has a poorly integrated conscience," Cleary said, citing a computerized finding from one of the tests. O'Neill berated Cleary's using of a portion of one of several tests conducted of Turner, saying Cleary's action was part of a diocesan "smear campaign."

Evers said had the diocese done a better job of checking out Willis, it would have discovered that he was molesting boys at St. Anthony's Church in Burlington in 1975.

A witness testified last week about Willis' molestation of him, and said Willis was known to youths at St. Anthony's as "Deacon Al, your bedtime pal."

"How is it the playground knows about Willis but the head office didn't?" Evers asked.

Cleary said there there was no proof the diocese knew anything about Willis' conduct at St. Anthony's Church until early 1978 -- eight months after Turner's molestation -- when some parents complained of "sexual involvement" by Willis with young boys at the parish.

"Where is the evidence?" Cleary asked. "The first notice the diocese had of this was February 1978."

The trial was the second in the case. The first trial ended in a mistrial in June when the judge ruled that diocesan lawyers had violated a pretrial order by eliciting testimony on a subject the judge had ruled was off limits.

Another 23 cases alleging sexual abuse of minors by former diocesan priests are pending in Chittenden County Superior Court.

Contact Sam Hemingway at 660-1850 or e-mail at shemingway@bfp.burlingtonfreepress.com