Ex-Priest Pleads Guilty in Molestation Scandal
Michael Stephen Baker's Case Was a Key Part of Cardinal Roger M. Mahony's Fight to Withhold Records

By John Spano
Los Angeles Times
December 4, 2007

http://www.latimes.com/news/local/la-me-priest4dec04,0,2297246.story?coll=la-home-local

Former Roman Catholic priest Michael Stephen Baker, who authorities say ranks among the Los Angeles Archdiocese's most prolific child molesters, pleaded guilty Monday to sexually abusing two boys and was sentenced to 10 years and four months in prison.

The 59-year-old defrocked priest, who was wearing a jail-issued orange jumpsuit, sat impassively as some of his accusers and their supporters testified about how he had ruined the lives of innocent children.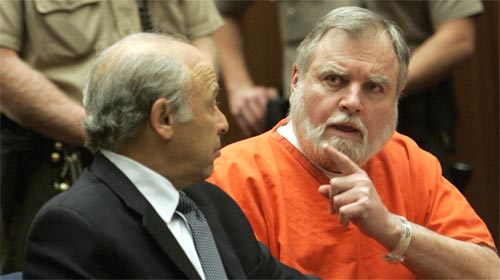 Defrocked Priest Michael Baker, Right, with His Attorney, Leonard Levine, Asks for Clarification on a Question Directed to Him.
Photo by Mel Melcon


"I felt trapped in an alternate universe of fear and silence," said Matt Severson, who has accused Baker of molesting him as a boy. "As a result of this, I was deprived of much of my adolescence and the ability to mature and grow as a normal teenager."

One woman, who was allowed to testify without giving her name, looked directly at Baker. "You're going straight to hell," she said, "to Satan."

For many, Baker symbolized the church's failure to protect its most vulnerable parishioners: He allegedly molested more than 20 youngsters in his 26 years as a priest and had confessed his problem to Cardinal Roger M. Mahony in 1986. Instead of alerting police, Mahony, then a bishop, sent Baker to a treatment center in New Mexico and later reassigned him to serve at nine other parishes, where he allegedly victimized other children.

And, when authorities sought records from the church to help build a case against Baker, church officials vigorously fought to keep that information secret.

The church issued a statement Monday on behalf of Mahony, saying that Baker "deceived parishioners, therapists, church leaders and most of all, his victims."

The sentencing should "bring some sense of justice and solace to his victims and to the church community that he so grievously harmed," the statement read.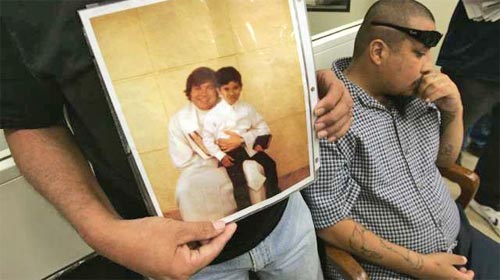 At left, Dominic Zamora's father Frank, 62, is holding a photograph of his son, as an 8 year old with catholic priest Michael Baker, during his confirmation in 1980. Frank Zamora spoke out against Baker during his sentencing.
Photo by Mel Melcon


Among the more than 500 alleged victims and 200 clergy members accused of misconduct, Baker's case was the one Mahony had said "troubles" him the most. The cardinal, who is considered the most powerful prelate in North America, publicly apologized in 2004 to the diocese's 5 million Catholics for his mishandling of Baker.

Baker was first charged with more than a dozen crimes against young men in 2002 — including the molestation of Severson — but those charges were voided by the U.S. Supreme Court. The high court ruled that California lacked the power to retroactively extend deadlines to prosecute older crimes, known as statutes of limitations.

The decision wiped out hundreds of potential criminal prosecutions, and left largely to civil lawyers the task of determining the nature and extent of the scandal.

Police and prosecutors, however, continued to pursue Baker, subpoenaing his personnel files. Church lawyers spent years fighting those subpoenas. Last year, the Supreme Court ruled against the church and ordered that it turn over the records.

One document that was given to authorities reflected a church investigation — and dismissal — of an allegation that Baker had an inappropriate relationship with a boy at St. Columbkille's parish, in South Los Angeles. The document noted that the boy, the boy's sister and their mother denied that any misconduct had occurred.

Sheriff's investigators spent six months trying to find the boy before discovering that the name provided by church officials was not the youngster's actual name. When investigators ultimately found the young man, he told them that Baker had befriended him as a boy and molested him repeatedly.

At one point, he said, Baker performed a gruesome, secret ceremony at the altar of St. Columbkille's in which the priest mingled their blood and proclaimed them "joined for life."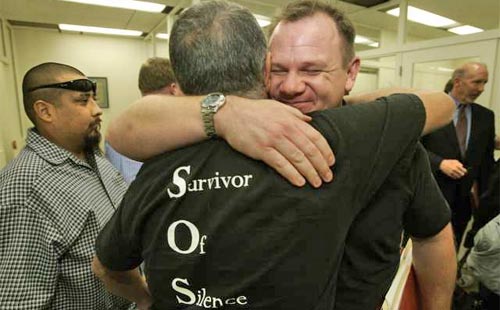 Matt Severson, 40, right, an alleged victim of molestation by defrocked catholic priest Michael Baker, hugs Frank Zamora. Zamora's son Dominic, 35, left, was also an alleged victim of molestation by Baker.

"It's a symbolic victory for those of us who have suffered," Severson said. "I'm not really a believer any more, but it's an amazing coincidence. I honestly, truly feel thankful. ...This will truly be a new chapter in my life."
Photo by Mel Melcon


Contrary to the church's report, sheriff's detectives said the victim and his mother and sister were never questioned by church officials at any time.

Baker pleaded guilty Monday to 12 counts in connection with molesting the boy from St. Columbkille's parish and another boy, now 27, whom he assaulted in the rectory of a church. Authorities allege that the conduct occurred over a two-year period starting in 1996.

Before the sentencing by Los Angeles County Superior Court Judge Curtis B. Rappe, six people spoke at Monday's hearing, including Mary Grant, an official of Survivors Network of those Abused by Priests, a victims' group. She said 10 years in prison was not enough.

"Their lives are not going to be repaired," Grant said. "They're never going to have their childhoods back. They're going to continue to have to cope and deal with what this has done to their lives."

Frank Zamora, whose son Dominic was allegedly molested by Baker, said his family had always believed that the church was "the safest place for our children." He said his son is now a recovering alcoholic and former drug user.

"You made my son lose his faith," the elder Zamora told Baker.


In addition to the prison term, Baker was ordered to pay $20,000 to one victim and required to register as a sex offender for the rest of his life.

Because of good behavior and other jail-time credits, Baker, who has been behind bars for two years, is expected to serve at least three more years in prison.

Deputy Dist. Atty. William Hodgman, the chief prosecutor in the clergy cases, said Baker's plea deal was fair, and emphasized that the 5 1/2 -year investigation was not over.

"As our district attorney, Steve Cooley, said when we started this endeavor, we have to follow the evidence and we will go where the evidence takes us," Hodgman said.

Ray Boucher, the lead civil attorney for the victims, said he was not happy with the sentence.

"I've lived with these clients and I've seen the impact on their lives," he said. "It's a slap on wrist, it's a parking ticket. This man should never be allowed back on the street."

The developments in Baker's criminal case Monday coincided with the Los Angeles Archdiocese's first settlement checks on behalf of hundreds of alleged abuse victims.

More than $504 million in payments was expected to be made by the end of the day, attorneys said.

Additional payments next year are expected to bring the total paid to victims by the church to $660 million. Boucher estimated that Baker's conduct accounted for $40 million of the total.

Carolina Guevara, a spokeswoman for the Archdiocese of Los Angeles, said the church's portion of the settlement would come from "investment or other internal resources, sales of real estate and from borrowings."

She emphasized that no parish properties or schools would be sold, but that the church would continue to reevaluate "all of our ministries and services since we will not be able to offer them at the same levels as in the past."

Contact: john.spano@latimes.com