Hostage Suspect's Rap Sheet Long, Grim

By Dave Wedge
Boston Herald
December 4, 2007

http://news.bostonherald.com/news/regional/general/view.bg?articleid=1048651

ROCHESTER, N.H. - The troubled, bogus bomber who allegedly held Sen. Hillary Clinton's campaign workers hostage is a two-time rapist who once tried to cash in by selling cloth from a seat used by Mother Teresa.

Leeland Eisenberg, also known as Ralph Elliot Woodward, served about 20 years in Bay State prisons for rapes in Worcester in 1985 and Leominster in 1986. The Leominster attack, at knifepoint, occurred after he escaped from prison while serving 10 years for the Worcester rape, authorities said.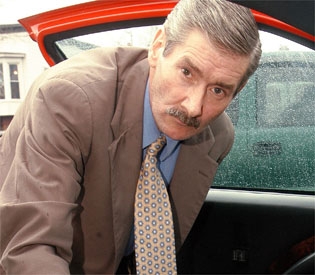 Leeland Eisenberg.



According to published reports, in 1988, while serving an 11- to 20-year sentence for the Leominster rape, he and another inmate hatched a plan to sell pieces of cloth from a seat cover used by Mother Teresa during a visit to MCI-Concord. In a 1988 newspaper interview, Eisenberg said he and the other inmate were going to sell 50 squares for $1,000 each and would use the money to better themselves upon their release.

"We just feel that this is a blessing bestowed upon us," Eisenberg, who used his former name in the interview, told the newspaper. "The fact that she came here is a miracle and now we have the cloth, well, it's just phenomenal."

Eisenberg, who apparently told the paper he was serving time for breaking and entering, not rape, claims to have been a survivor of the priest sexual abuse scandal and reportedly won a settlement from the Archdiocese of Boston in 2002. In a lawsuit, Eisenberg alleged that the Rev. Richard Buntel of Chelmsford got him drunk, showed him porn and molested him. Buntel has denied the charges.

Eisenberg, 46, was ordered held on $500,000 cash bail yesterday for allegedly kidnapping Clinton campaign workers with a fake bomb and touching off a terrifying five-hour standoff with more than 100 cops. He was ordered to undergo a psychological examination.

A high school dropout with a record dating back to 1978, Eisenberg was released from MCI-Concord in March 2005 and was charged in 2006 with failing to register as a sex offender in New Hampshire. Strafford County Attorney Janice Rundles, who is prosecuting the hostage case, said he is currently registered.

His rap sheet also includes:

Bay State weapons convictions in 1978 and 1981;

Theft charges in Florida in 1981 and 1982;

Burglary and larceny in Massachusetts in 1982, for which he served one year.

He currently has a stalking case pending in New Hampshire.

In 1995, Eisenberg sued the Massachusetts Department of Correction for $7 million for prisoner's rights violations. The suit was dismissed, records show.

Eisenberg's court-appointed attorney, Randy Hawkes, said Friday's standoff was a "desperate plea."

Hawkes said Eisenberg called the New Hampshire governor's office Thursday asking for help to no avail. He also tried to admit himself to a hospital last week but was told he had no insurance and would not be admitted, Hawkes said.

Contact: dwedge@bostonherald.com