Justice, Not Mercy, for a Priest
Thefts from Church to Fund Lavish Lifestyle Earn Ex-Pastor 3-Year Prison Term

By Edmund H. Mahony
Hartford Courant
December 5, 2007

http://www.courant.com/news/custom/topnews/hc-fay1205.artdec05,0,6764245.story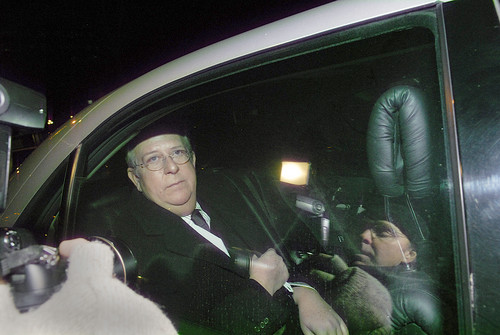 MICHAEL JUDE FAY, former pastor of St. John's Roman Catholic Church in Darien, leaves the federal court in New Haven Tuesday after he was sentenced to 37 months in prison. He pleaded guilty to misusing $34,000 in church money, but allegedly stole more than $1.3 million over seven years.
Photo by Rick Hartford


A Catholic priest who stole more than $1 million in charitable contributions from his Darien church to finance a lavish, globe-trotting lifestyle was sentenced to three years and a month in prison by a federal judge Tuesday.

Michael Jude Fay, former pastor of St. John's Roman Catholic Church, pleaded guilty in September to a single charge of interstate transportation of money obtained by fraud. Under his plea bargain with federal prosecutors, Fay admitted using $34,000 in church money for the down payment on a Philadelphia condominium.

But other information made public in court and by the Roman Catholic Diocese of Bridgeport shows a seven-year pattern of fraud against his church that was far more extensive than Fay's condominium purchase.

Federal prosecutors said he also had an interest in a Miami condominium. And investigators hired by the Bridgeport diocese have reported that Fay, who had complete control of all financial matters at his church, pilfered money intended for religious good works to hire limousines, stay at four-star hotels and adorn himself with jewelry and expensive clothing.

He shopped at Bergdorf Goodman, Saks Fifth Avenue and Nordstrom, the diocese said. He drove a Jaguar, joined a sports club and accessorized himself at Cartier. He spent $130,000 on limousine rides for himself and his mother. While traveling in Europe, the Caribbean and the United States, he stayed at the Ritz Carlton, the Hotel De Paris and the Four Seasons hotels. He was sometimes accompanied by a friend, an interior decorator from Philadelphia, people familiar with the case said.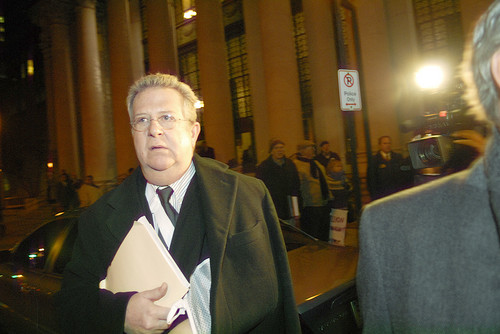 Michael Jude Fay, former pastor of St. John's Roman Catholic Church in Darien, is followed by reporters and news photographers as he leaves court Tuesday.
Photo by Rick Hartford


Fay, a tall, narrow-shouldered man with highlights in his blond hair, made a rather artistic plea for leniency to U.S. District Judge Janet B. Arterton — a plea that Arterton clearly wasn't buying.

Fay opened with a reference to Lillian Hellman, suggesting that in her book, "Pentimento," she aptly described his multi-layered character — apparently larceny painted over religious good works.

"People have painted me," Fay said. "History has painted me, as has the press. I am deeply sorry for the whole situation. The suffering and the hell that I have lived through would deeply attest to my repentance."

Fay's lawyer, Lawrence Hopkins, and others have said he is dying of prostate cancer. They said the disease has spread to his bones and lymphatic system and has proved resistant to treatment. Fay and a half-dozen friends, relatives and former parishioners pleaded with Arterton for a sentence of public service rather than imprisonment. "A prison sentence is the same as a life sentence," Fay's brother said.

Fay asked for much the same.

"I beg your mercy to not send me to prison," Fay said. "I am already in prison."

But Arterton said her sentence had to be crafted to serve justice, not mercy.

"Forgiveness is going to have to come from elsewhere and from others, because that is not a part of what the court is charged with doing," she said.

If Fay wants to redeem himself through good works, he can do so in prison, Arterton said.

"In our prisons we have many needy people," she said. "There is an opportunity for you to utilize your ability and talents."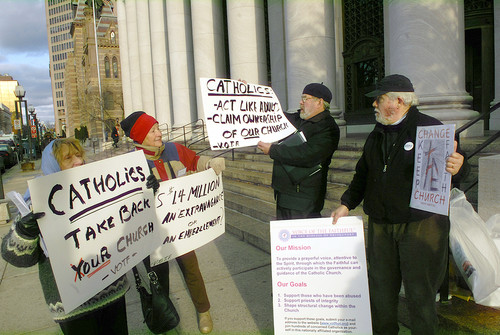 MEMBERS of Voice of the Faithful, a lay Catholic organization, rally Tuesday outside the federal court in New Haven where Michael Jude Fay was sentenced for using money from his Darien parish for his own benefit. From left are group members Marie Rose of Wilton, Virginia Doyle of Stratford, John Marshall Lee of Bridgeport and Jim Alvord of Norwalk.
Photo by Rick Hartford


But Arterton was not deaf to Fay's health. Although she said Fay could not prove that he was too infirm to be incarcerated or that the federal inmate health care system was unable to treat his condition, she allowed him to participate in an experimental cancer treatment program before reporting to prison.

Assistant U.S. Attorney Richard J. Schechter argued against any reduction in Fay's prison sentence based on his 28 years of work as a priest. Such a reduction, Schechter said, would amount to preferential treatment based solely on Fay's profession.

Schechter said Fay stole $1,306,970 between 1999 and 2006. He said the fraud predated the cancer diagnosis and escalated afterward. He said Fay's replacement at St. John's church reports that the "devastating effect of Father Fay's misconduct cannot be overestimated."

Many parishioners left the church after learning that Fay had used their contributions to support an ostentatious lifestyle.

Schechter said Fay has repaid about $278,000 of the stolen money — most of it raised through the sale of his share of the Miami condo, an expensive mirror and jewelry.

Arterton ordered restitution of the remaining $1,027,989 as part of Fay's sentence, but she and the prosecutor agreed that repayment is "academic" because Fay is broke and, if his prognosis is accurate, won't live long enough to raise the money.

U.S. Attorney Kevin J. O'Connor called three years in prison an appropriate sentence.

"We're pleased with the sentence," he said. "We think it sends the right message: No matter what your profession is, theft is theft."

Contact Edmund H. Mahony at emahony@courant.com