Navy Priest's Case Raises Host of Legal Concerns
Sodomy, Hiv Charges against Chaplain Reveal Gap between Civilian, Military Laws
By Lou Chibbaro Jr
Washington Blade
December 14, 2007

http://www.washblade.com/2007/12-14/news/national/11720.cfm

The case of a local HIV-positive Navy chaplain who pleaded guilty last week in military court to seven violations of the Uniform Code of Military Justice, including forcible sodomy, raises a hornet's nest of legal and religious questions, many of which have ramifications for sexually active gay men.

Lt. Cmdr. John Thomas Lee, 42, of Burke, Va., was sentenced to two years in prison on Dec. 6 after admitting he had sex with an Air Force officer without disclosing he was HIV-positive and forced himself on a Naval Academy midshipman, according to wire reports confirmed by the Marine Corps Base in Quantico, Va., where Lee was tried.

Lee, who faced life without parole if he'd been convicted on all charges, according to the Army Times, a military newspaper that quoted Lee's attorney, saw his sentence reduced substantially by entering a pretrial agreement with the government.

Lee pleaded guilty to violation of a lawful general regulation, consensual sodomy, forcible sodomy, aggravated assault, conduct unbecoming a military officer, indecent acts with another and fraternization.

Because the Uniform Code of Military Justice is different from civilian law, Lee was eligible for some charges a civilian wouldn't face. Some aspects of Code law have been denounced by gay activists.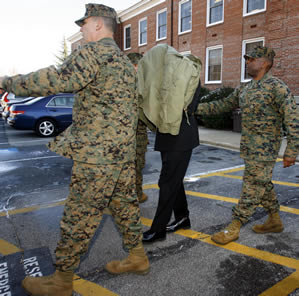 Lt. Cmdr. John Thomas Matthew Lee, 42 (second from right) seen under a jacket, is escorted in shackles from his general court martial at Marine Corps Base Quantico in Quantico, Va., on Dec. 6.
Photo by Jacquelyn Martin


In addition to fighting for a repeal of "Don't Ask, Don't Tell," the military's policy that prevents gays from serving openly, Servicemembers Legal Defense Network has been lobbying the military to overturn Code article 125, which outlaws sodomy. The Supreme Court ruling in Lawrence vs. Texas overturned the nation's remaining sodomy laws for U.S. civilians in 2003.

"A lot of [Code] law is very similar to what it is for civilian society," said Kathi Westcott, deputy director for law at SLDN. "Things like breaking and entering, murder, perjury — these are all the same … but some are broadly written and out of date."

Antonio Agnone, public policy advocate for military issues at Human Rights Campaign, the nation's largest gay advocacy group, is a former U.S. Marine and said civilian and Code law exist for different reasons with the latter typically lagging behind the former when it comes to updates.

"It definitely hasn't evolved as quickly," Agnone said. "There's a natural resistance built into it so that everything works slower."

Agnone said the military's rigid, structured nature has resulted in some laws — adultery for example is outlawed by the Code — that are considered social anachronisms by some.

"The structure itself is difficult and requires many people to make the same decision. All decisions have to move up the chain of command to higher-ranking officers before they become policy," Agnone said. "The bigger the change, the higher it must go in the chain of command. Changing something like military law is considered a huge decision. Therefore, the [Code] has not kept up with civil society and its ideals."

Other nuances between civilian and Code law are apparent in Lee's case. Lee was charged with forcible sodomy instead of rape because sodomy implies anal penetration while Code law restricts rape to vaginal penetration. Code sodomy laws are gender-neutral and don't specify what body part or instrument is used for penetration, according to Westcott, who added that she thinks Lee's case has little to do with "Don't Ask, Don't Tell."

"He went far beyond the conduct ordinarily used for a recommendation of separation under 'Don't Ask, Don't Tell,'" she said.

Lee was dismissed from the Navy during sentencing, according to a statement from the base in Quantico.

Lee was relieved of his religious duties in June, according to a statement from the Archdiocese for the Military Services of the Catholic Church. The statement said he was suspended by the Archdiocese after he informed them Naval authorities were investigating sexual misconduct allegations involving adults. The Archdiocese of Washington also suspended Lee. He was ordained in Washington in 1993. He had been a chaplain with the Naval Academy since 2003.

Lee's case is significantly different from the priest abuse scandals that have haunted the Catholic Church in that Lee is not alleged to have molested children. Some Catholics, though, have said the church's celibacy requirement for clergy is part of the problem in both scenarios.

"The problem is how do we grow to be healthy, astute gay people when the church teaches not only that gay sex is sinful, but you have these gay priests who have never developed a healthy sense of their sexuality," said Bob Miailovich, a long-time board member of Dignity Washington, a Catholic group that advocates for acceptance of gay Catholics.

Dignity's stance on celibacy for clergy is that it should be optional. Others agree. A 2002 Catholic University of America study found that 56 percent of priests said celibacy should be optional. A.W. Richard Sipe, a former Benedictine monk who studies celibacy and was quoted in a January Associated Press story about the issue, said he guesses about half of Catholic clergy are sexually active, a figure that has drawn criticism from some church leaders.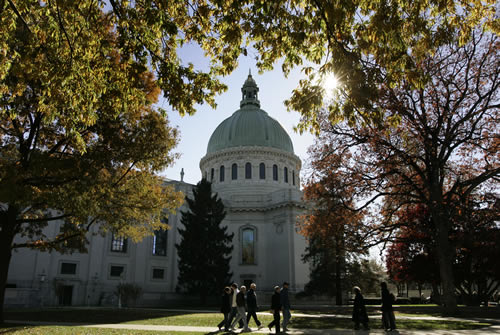 John Thomas Matthew Lee had been a chaplain with the Naval Academy since 2003. He pleaded guilty to seven violations of the Uniform Code of Military Conduct last week.
Photo by Susan Walsh


In the same article, Rev. Donald Cozzens, author of "Freeing Celibacy," argued that making celibacy optional would help in multiple areas, from boosting declining numbers of men entering the priesthood to curbing abuse scandals.

"I don't think it's fair to say that mandatory celibacy is a clear cause of clergy abuse, but it may be a factor in a number of cases," Cozzens told the AP.

"The real issue is there are Catholic priests dealing with some very repressed sexual issues and the secrecy exacerbates these issues so you wind up with this kind of fellow," Miailovich said, referring to Lee.

In 2005, Lee learned he was HIV-positive, according to various media accounts. He admitted in military court he had sex the following year with an Air Force lieutenant colonel at the colonel's house in Fairfax, Va. Lee testified that he met the man online and lied when directly questioned about his HIV status.

Under military law, concealing his HIV status constituted a risk of "grave physical danger or death" and is considered an aggravated assault under military law (the forcible sodomy incident was alleged to have happened in 2004; nobody who testified in the trial claimed to have contracted HIV from Lee).

HIV disclosure laws vary

Civilian HIV disclosure laws vary wildly from state to state.

"Some are very specific and nuanced while others are totally vague and ambiguous," said David Webber, a Philadelphia attorney who specializes in HIV law and is author of "AIDS and the Law."

Webber said military Code law is much more specific in this area but the ramifications for civilian gay men and HIV disclosure are significant.

"Some of these lawmakers haven't taken the time to study all the nuances, so they've just put all kinds of restrictions on it basically saying if you're HIV-positive you shouldn't be having sex which is completely unrealistic," Webber said. "I mean, let's face it."

Incidents of gay men being convicted under HIV-disclosure laws are not uncommon. And while some feel that anyone who has unprotected sex while knowing he or she is positive should face charges, the laws are controversial in that they don't always specify what constitutes sex, factor in various sexual acts based on how HIV experts rank them in terms of risk factor or consider whether condoms were used.

Since there are only a few hundred such convictions across the country each year, Webber said the chances of getting charged with such a crime "is extremely remote."

Local laws vary from non-existent to moderate according to Dan Bruner, director of legal services for Washington's Whitman-Walker Clinic.

The District of Columbia has no HIV disclosure statute, though Bruner said there have been cases where similar charges have been used against someone charged with something more serious.

"It tends to be in situations where someone is charged with something violent and the prosecution wants to add charges and, essentially, throw the book at them," Bruner said.

Maryland has a law that says knowingly transferring or attempting to transfer HIV is a misdemeanor punishable by $2,500 or three years in prison or both.

"Where this gets tricky is how do you prove legally that someone planned to transmit the virus and is that really how it happens?" Bruner said. "I think most of the time when [HIV is transmitted], it's because someone was reckless or misinformed — I wouldn't say very often that they intentionally tried to infect another person."

Bruner said the Maryland law, passed in 1989, hasn't been used often, though he didn't know exact numbers.

Virginia's law is more complex and states that if a person has HIV, syphilis or Hepatitis B and has sex with the intent to transfer via vaginal intercourse, anal intercourse, anallingus (rimming), fellatio or cunnilingus, it's a felony crime. Exposing someone to the virus without disclosing HIV-status but not specifically "intending to infect" them, is a misdemeanor in Virginia. The law dates to 2000 but was amended in 2004 with the misdemeanor clause.

Neither Maryland nor Virginia's law mentions insertive or receptive partners or gay versus straight sex.

"The danger with these laws is that there's so much prosecutorial discretion," Bruner said. "There's nothing to prevent, say, a homophobic prosecutor prosecuting such cases only against gay men or something like that."