Former Priest and Admitted Child Molester Skips Sentencing

By Jeff Diamant
The Star-Ledger
December 14, 2007

http://www.nj.com/news/index.ssf/2007/12/former_priest_and_admitted_chi.html

A judge today issued a bench warrant for the arrest of James Hanley after the former priest and admitted child molester failed to appear for his 9 a.m. sentencing on a weapons offense connected to a 2006 incident at a Secaucus hotel.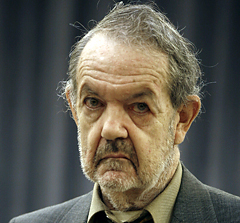 JFormer Catholic priest James Hanley pleads guilty on assault charges as part of plea agreement in Hudson Superior Court on October 24, 2007.
Photo by Jennifer Brown


Hanley, 71, had pleaded guilty Oct. 24 to unlawful possession of a weapon, admitting he used an aluminum bat to intimidate three employees of the Extended Stay Hotel on march 10, 2006.

His lawyer, assistant public defender James Convery, said he was unaware of Hanley's whereabouts and would not comment further.

Hanley had not been expected to receive any more jail time on the offense; he already spent a year in the Hudson County Jail awaiting trial. Missing today's sentencing hearing could result in a new sentence with more prison time.

In late October, Hanley was released from custody on his own recognizance. Sentencing was originally set for Dec. 7, but Convery asked for a postponement, and the hearing was reset for 9 a.m. today. Judge Paul DePascale issued the warrant today at noon.

New Jersey's worst known clergy sex offender, Hanley was removed from the Catholic clergy five years ago. He later admitted in a sworn statement for a civil lawsuit that he sexually abused about a dozen child parishioners in Mendham and Pompton Plains between 1968 and 1982.