Prosecutors File Brief against Overturning Conviction of Priest

By David Yonke
Toledo Blade
December 15, 2007

http://toledoblade.com/apps/pbcs.dll/article?AID=/20071215/NEWS10/712150408

The Lucas County Prosecutor's Office filed an 80-page brief yesterday detailing its reasons why Toledo priest Gerald Robinson's murder conviction should not be overturned.

The document, filed with Ohio's 6th District Court of Appeals, makes point-by-point rebuttals to arguments Robinson's attorneys made in August claiming the 69-year-old Catholic cleric did not receive a fair trial.

Robinson was convicted in May, 2006, for the 1980 murder of Sister Margaret Ann Pahl, a 71-year-old Catholic nun who was strangled nearly to death, then stabbed 31 times.

Her body was found in the sacristy, the room next to the chapel, in the former Mercy Hospital early on the morning of April 5, 1980 - Holy Saturday.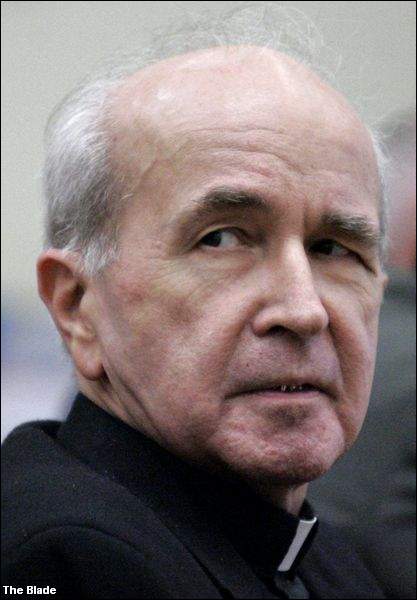 Robinson



Robinson was a chaplain at Mercy and lived in an apartment at the hospital at the time. He was arrested by cold-case detectives April 23, 2004, more than 24 years after the murder.

After a three-week trial in Lucas County Common Pleas Court, the priest was convicted of murder May 11, 2006. He is serving a 15-years-to-life sentence at Hocking Correctional Facility in southern Ohio.

The brief was filed yesterday by county Assistant Prosecutors John Weglian, Dean Mandros, and Lawrence Kiroff for Prosecutor Julia Bates in response to the brief filed in August by Robinson's appellate case attorneys, Richard Kerger and John Donahue.

The prosecutor's office said Robinson's appeals attorneys made numerous errors that were either "factually untrue," "misleading," "totally unsupported by the record," "fantastical," or "fiction."

The brief gave a recap of the evidence and testimony that led to the priest's conviction, then addressed individual allegations by Robinson's appeals attorneys.

It rejected Robinson's claim, for example, that a 24-year delay in bringing charges prejudiced the priest's right to a fair trial, saying that "none of the appellant's five attorneys ever raised this issue in the court," so the priest waived any claims of error on that charge.

The prosecutor said though some witnesses have died since the 1980 murder and were therefore unavailable to testify, Robinson "had every opportunity to take the witness stand and tell the jurors anything that he felt was relevant to, contradictory of, or explanatory of any false accusations," the prosecutor's office said.

The priest did not testify.

The state never closed its investigation of Sister Margaret Ann's death, the prosecutor's office said, but the case gained new interest in 2003 after a Toledo Catholic nun accused Robinson "of sadomasochistic sexual abuse."

Contact David Yonke at: dyonke@theblade.com or 419-724-6154.